Tuff E Nuff are the 2012 Interoffice Basketball League Champions
Wednesday, August 22nd, 2012
At the start of the 2012 Interoffice Basketball (IBL) season, Coach Rico Black stated that Tuff E Nuff had what it takes and stood a good chance of winning the title. After three months of competition, it seems Coach Black knew very well what his team was capable of, as they came out on top in the end to claim a win in Game Five of the IBL finals, making them the 2012 IBL Champions!
The championship game was held at the Bird's Isle in Belize City and commenced around 9PM. With a sold out stadium, San Pedro's own Tuff E Nuff went up against Alamilla's to decide the champions for the season. The game saw some of the country's best basketball players battle it out to showcase their athletic skill. After a tight game Tuff E Nuff emerged on top with a score of 58 to 45.
Rico Black received a trophy for Coach of the Year while team mate, Barron Lauriano received MVP for the 2012 IBL season. An elated Rico stated, "We've been playing since 2005, since then we've won it three times. The IBL is one of the most prestigious tournaments in Belize besides the Semi Pro. It's one level below. It's the number one competition that's going on in the country of Belize, next to the Semi Pro and we are honored to be the champions. We worked for it. We deserve it."
For winning the championship, each team member received individual trophies as well as championship rings.
This is the second ring that Tuff E Nuff has received. The first was in 2010 when they won the IBL Championship for the second time. The team also won a 6 ft 5-inch tall trophy which is on display in Belize City at their major sponsor's place of business – San Pedro Belize Express Water Taxi.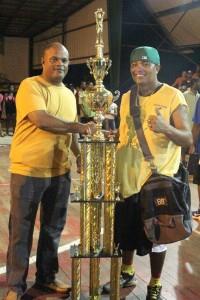 In speaking of their sponsors, Rico stated; "We'd like to give much thanks to all our sponsors. Our number one sponsor was SP BZ Express; Doug Pendland who also plays on the team and took on half of the expenses and Tuff E Nuff tours. And of course The San Pedro Sun for advertising us. That's the first time we got so much exposure and we really appreciate that."
The San Pedro Sun congratulates the Tuff E Nuff Team for representing the island well. According to Rico, the team will be planning their victory parade through the streets of San Pedro in the upcoming weeks.
Follow The San Pedro Sun News on Twitter, become a fan on Facebook. Stay updated via RSS