Interoffice Football Tournament begins!
Wednesday, June 8th, 2016
On Thursday, June 2nd the first games of the long anticipated 6-a-side-interoffice Football League 2016 took place at the Honourable Louis Sylvester Sporting Complex. 26 teams divided into six groups signed up for the competition, which is organized by the San Pedro Sports Council.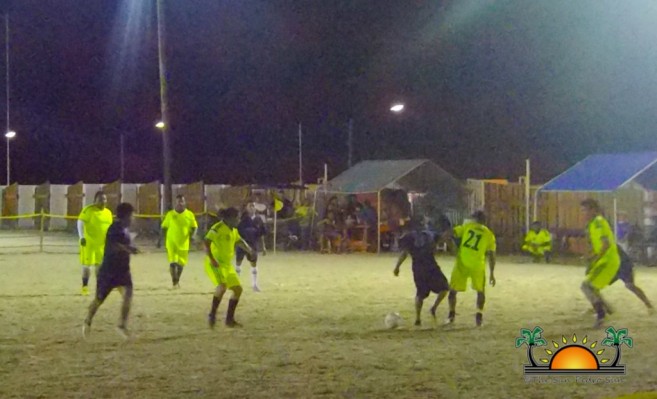 The games spanned four consecutive days and saw the players demonstrating great skill. Despite not being regular athletes, players were in high performance, reviving some of those hidden football skills within them. After the games over the past weekend, these are the team results:
The next match is scheduled from Thursday, June 9
th
through Sunday, June 12
th
at the Sporting Complex starting at 7PM. Fans are encouraged to come cheer for their favourite team, as they play this great sport.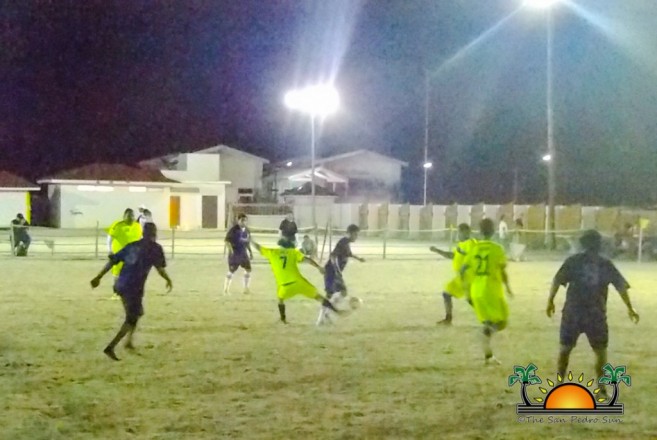 The up-coming schedule is as follows:
Thursday June 9th
Mambo Boys vs Belize Pro Divers            
@ 7:00 pm
Caribbean Villas   vs  Cayo Espanto          
@ 7:50 pm
S.P.T.C Boys vs Martha's Ice                       
@ 8:40 pm
Captain Morgan Pirates vs Pimp Your Ride           
@ 9:30 pm
Gonzalez Adventures   vs  Graniel's United Boys              
@ 10:20 pm
Sea Strikers vs Deep Penetration             
@ 11:10 pm
Friday June 10th
Costa Boys vs Tropical Disturbance                          
@ 7:00 pm         
Victoria House vs Healthy Fire Police                      
@ 7:00 PM
Genesis   vs Taxi Strikers                                                              
@ 8:40 PM
Caribeña F.C. vs Tropic Strikers F.C                          
@ 9:30 PM
Harmouch Boys vs Bowen & Bowen Raptors      
@ 10:20 PM
Plan B    vs Tropic Turbine                                                            
@ 11:10 PM
Costa Blu vs Rain                                                    
@ 11:55 PM
Saturday June 11th
Mambo Boys vs Plan B                                                  
@ 7:00 PM
Costa Blu vs  Harmouch Boys                                     
@ 7:50 PM         
Rain vs  Caribeña F.C.                                                    
@ 8;40 PM
Tropic Turbine vs Genesis                           
@ 9:30 PM
Bowen & Bowen Raptors   vs Victoria House       
@ 10:20 PM
Tropic Strikers F.C vs Costa Boys                               
@ 11:10 PM       
Taxi Strikers   vs Sea Strikers                                 
@ 11:55 PM
Sunday June 12th 2016                                  
Healthy Fire Police vs Gonzalez Adventures                        
@ 7:00 PM
Tropical Disturbance vs Captain Morgan Pirates 
@ 7:50 PM        
Deep Penetration vs S.P.T.C Boys                                              
@ 8:40 PM
Graniel's United Boys vs Caribbean Villas                             
@ 9:30 PM
Pimp Your Ride   vs Belize Pro Divers                                      
@ 10:20 PM
Martha's Ice vs  Cayo Espanto                                            
@ 11:10 PM
Follow The San Pedro Sun News on Twitter, become a fan on Facebook. Stay updated via RSS