Legends F.C and United F.C currently led the 2017 Copa San Pedro Football Tournament
Wednesday, September 27th, 2017
Copa San Pedro continued at the Ambergris Stadium in San Pedro Town on Friday, September 22nd. On the third week of the tournament, four games took place, with the first two games played on Friday, September 22nd.
The first game began at 7pm, with G Strikers facing Boca Bombers, and winning 5-2. At 9pm, Sandy Point defeated One Shot One Kill, with a sound 7-0 final score.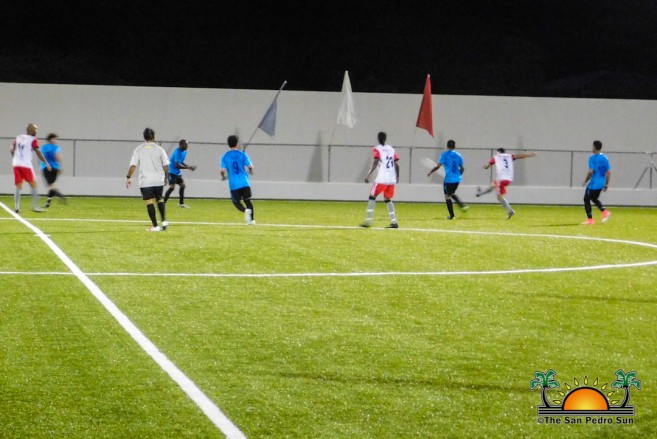 On Sunday, September 24th, the last two games were played, with Terror Squad challenging Martha's Ice at 5pm. With a 5-1 win, Terror Squad defeated their opponent. The second match took place at 7pm, featuring United F.C against Legends F.C, the game ended in a draw of 0-0.
The current standings after the third week of the Copa San Pedro have Legends F.C and United F.C with seven points, followed by Boca Bombers and Terror Squad with six points. Martha's Ice and Sandy Point have four points. and Jokers F.C, San Mateo F.C, and G. Strikers have three points. Victoria House Jr. and One Shot One Kill have one point each, and yet to make it on the board is Assassins F.C.
Copa San Pedro continues this weekend with six more games. On Thursday, September 28th, One Shot One Kill face Martha's Ice, and Boca Bombers face Victoria House Jr. On Friday, September 29th, the first game starts at 7pm with Legends F.C facing Assassins F.C, and at 9pm Terror Squad takes on San Mateo F.C. The last two games for the fourth week of Copa San Pedro are scheduled for Sunday, October 1st, starting at 5pm with Jokers F.C facing on G. Strikers. The last game will be at 7pm, with Sandy Point challenging United F.C. All islanders are invited to come out and support their favorite team this weekend.
Follow The San Pedro Sun News on Twitter, become a fan on Facebook. Stay updated via RSS