Copa San Pedro 2017 football tournament gets underway
Saturday, September 16th, 2017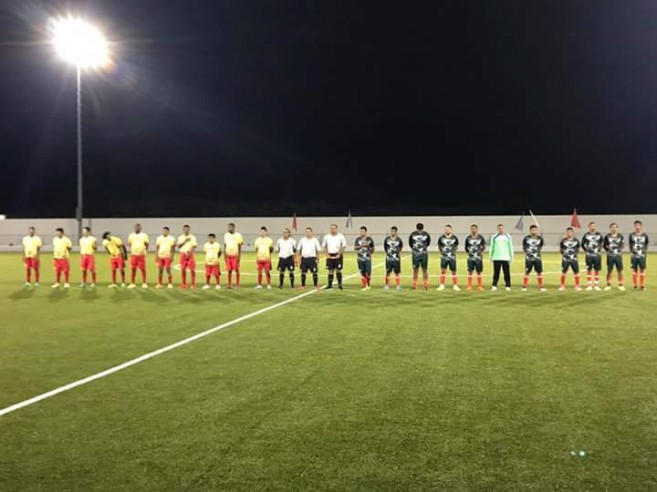 On Thursday, September 7th, the Copa San Pedro 2017 began at the Ambergris Stadium in San Pedro Town. Forming part of this year's Copa San Pedro are Martha's Ice, United F.C, Legends F.C, Boca Bombers, Jokers F.C, San Mateo F.C, Assassin F.C, Sandy Point, Victoria House Jr., Terror Squad, G. strikers and One Shot One Kill.
Six games kicked off the newest football tournament, with the first two games played on Thursday, September 7th.  At 7PM, Terror Squad faced Sandy Point, emerging victorious with a 3-2 score. 9PM Legends F.C against One Shot One Kill with a whopping 13-0.
The following day saw two games as well. At 7PM, Boca Bombers took on Jokers F.C, with the Boca Bombers winning 5-3. The second game saw San Mateo F.C emerge victorious, 3-1, against G. Strikers.
On Sunday, September 10th the last two games saw United F.C VS Assassins F.C and  Martha's Ice VS Victoria House Jr, United F.C ended up with the victory, 4-2, Martha's Ice squeaked a narrow victory with 3-2.
The current Copa San Pedro standings have Legends F.C, Boca Bombers, United F.C, Martha's Ice, Terror Squad, and San Mateo F.C at three points each. Jokers F.C, Assassins F.C, Sandy Point, Victoria House, G Strikers and One Shot One kill all have yet to make it on the Board.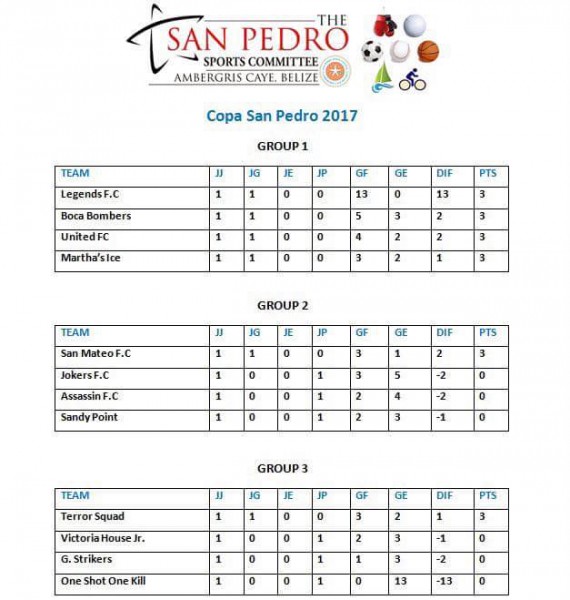 Copa San Pedro continues weekly with six more games played over these days. On Thursday, September 14th, Jokers F.C faced Terror Squad, and San Mateo F.C faced Legends F.C.  On Friday, September 15th, the first game starts at 7pm featuring Assassins F.C VS Boca Bombers. At 9pm, Victoria House Jr takes on one shot One Kill. The last two games of the second week of Copa San Pedro are scheduled for Sunday, September 17th, starting at 5pm with Martha's Ice VS Sandy Point, while the second match begins at 7pm with United F.C VS Strikers. All islanders are invited to come out, and support their favorite team this weekend.
Follow The San Pedro Sun News on Twitter, become a fan on Facebook. Stay updated via RSS