Team 'Nuh Worry Bout Nothin' wins Grand Caribe's 2nd Annual Deep Sea Classic
Tuesday, August 14th, 2018
Grand Caribe held their 2nd Annual International Deep Sea Classic Fishing Tournament in collaboration with the Belize Game Fishing Association (BGFA) from Friday, August 10th to Sunday, August 12th. A total of 29 teams participated in the three-day fishing extravaganza, competing for $50,000 in cash and prizes. The tournament was a great success, and after three days of hard efforts out at sea, Team Nuh Worry Bout Nothin from Belize City captured the grand prize. Second Place went to Knotty Pirates, and Team As You Wish placed third, Trophy Hunter took fourth place and Seaductress placed fifth.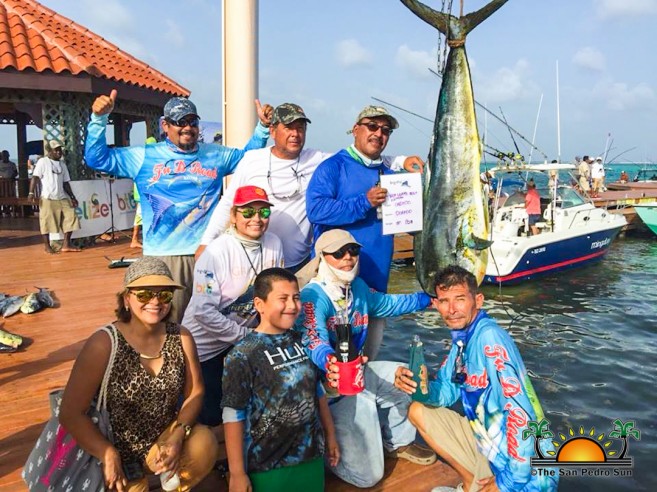 All teams had to check in every day before 7AM at the weigh station, before heading out to sea. Throughout the three days of the tournament, all boats left together en-route to the deep sea beyond the reef. According to most of the participants, the weather conditions were favorable, and added to the excitement and challenge of the competition.
On the last day of the tournament on Sunday, August 12th a large crowd of fishing fans gathered at Grand Caribe north of Ambergris Caye to support their favourite teams. All boats were back at the weigh station by 2PM and after points had been tallied, winners were announced, starting with the individual prizes.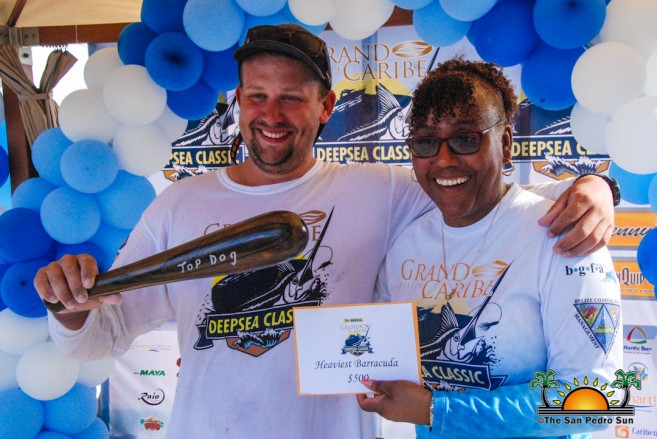 Toby from Team 'Out on Bail' won himself $500 and a trophy for the heaviest Barracuda (26lb).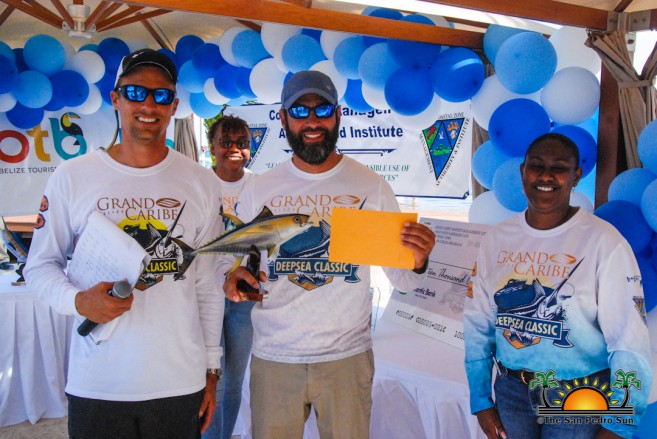 The prize for the Heaviest Tuna, eight pounds, went to Sein Feinstein who won $500 and a trophy.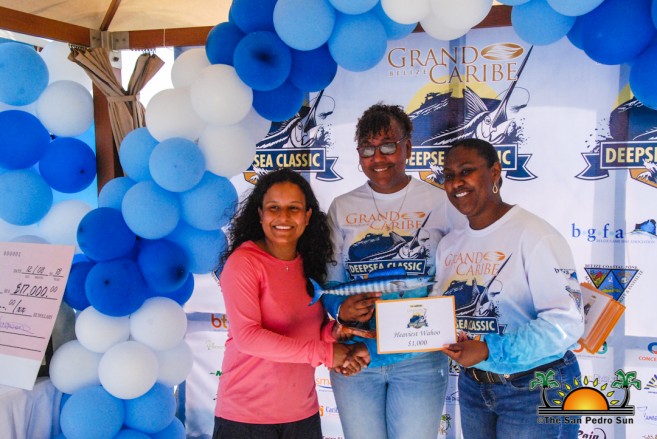 The prize for the Heaviest Wahoo of the competition, 22 pounds, went to San Pedro's Alyssa Arceo who won $1,000 and trophy. She also claimed the prize of $500 for the Top Female Angler with 79 points.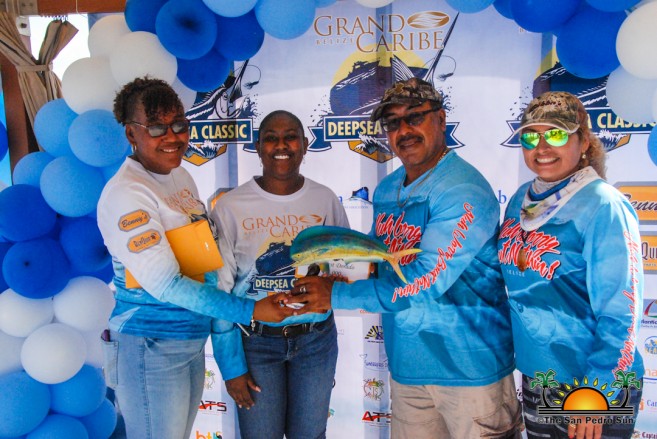 Taking the prize of $1,000 and a trophy for the Heaviest Dorado (50lb) was Chendo Urbina from Team Nuh Worry Bout Nothin.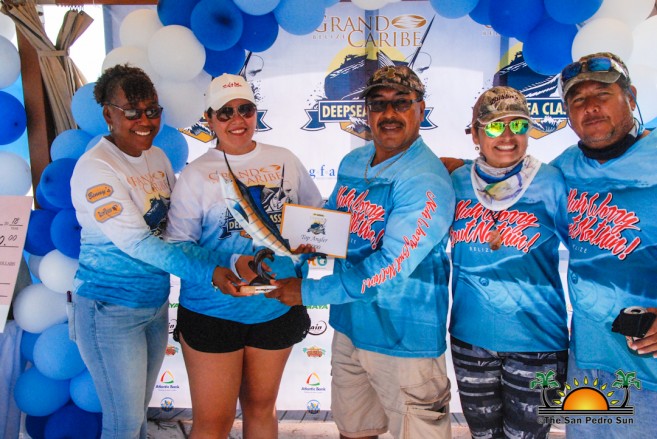 Urbina also claimed the Top Angler prize of $1,000 and a trophy with his 2,560 points.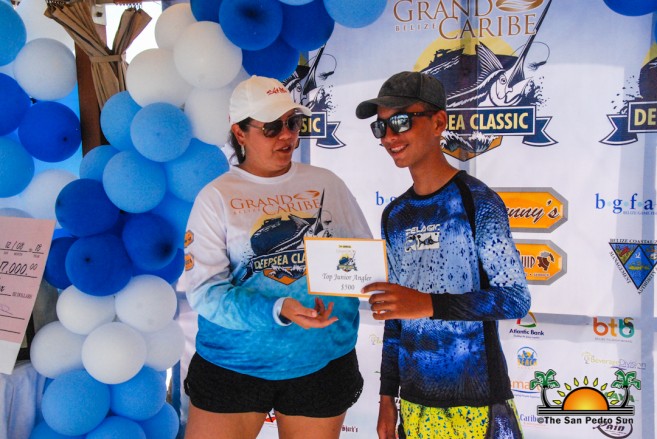 The award for the Top Junior Angler went to Matthew Codd from Team Mad Stone, who won $500.
Following the individual awards, the top five teams were called out for their prizes.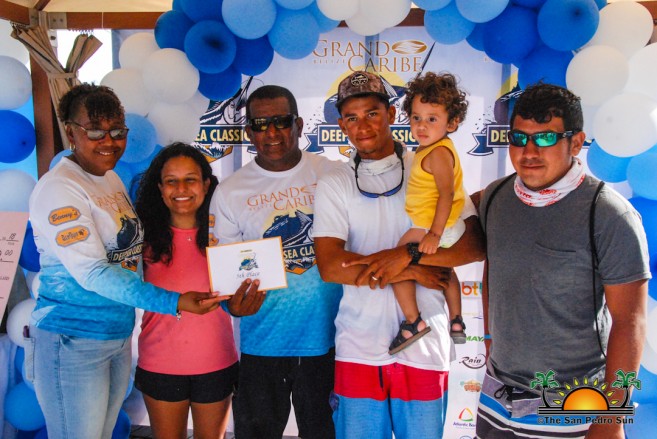 In fifth place and with a total of 94 points was Team Seaductress from San Pedro Town, who took home a cash prize of $2,000.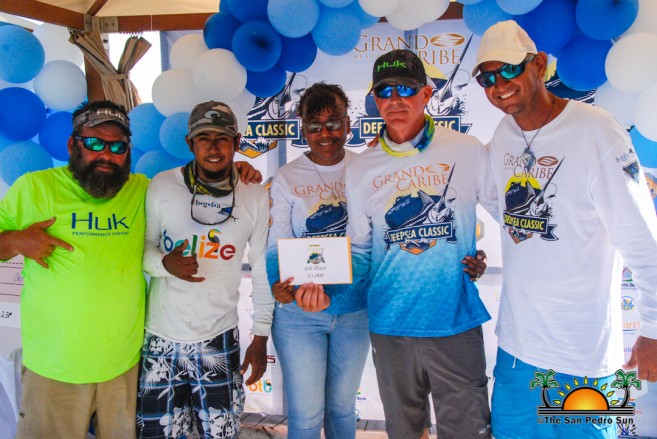 Team Trophy Hunter placed fourth with 515 points and took a cash prize of $5,000.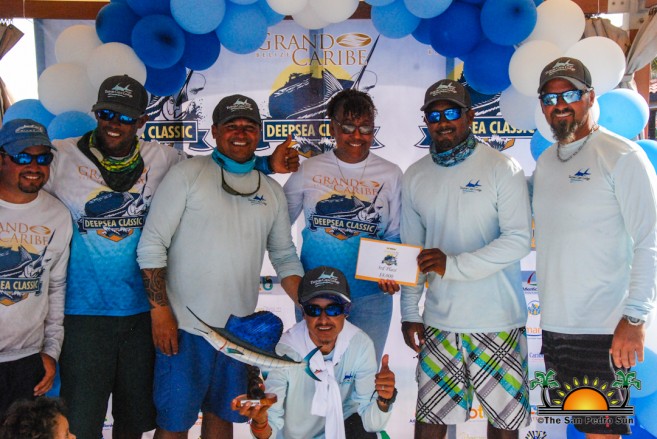 In third place was Team As You Wish, who gained a total of 2,528 points. They took home $8,000 and a trophy.
Team Knotty Pirates claimed the second place with 2,540 points and won a cash prize of $11,500 and a trophy.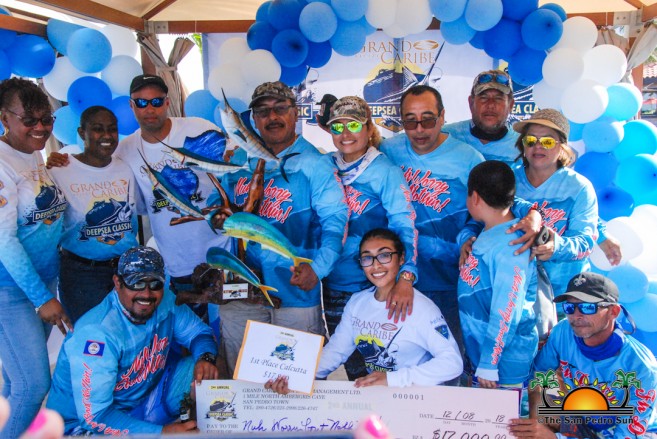 The first place trophy and grand prize of the tournament went to Team Nuh Worry Bout Nothin, who tallied a total of 2,569 points over the three-day tournament and walked away with a cash prize of $17,000 and trophy.
In addition, the winners of the competition's Calcutta were also awarded. The second place went to Knotty Pirate who won a cash prize of $8,970, while in first place was Nuh Worry Bout Nothin taking home $11,940.
Grand Caribe and the BGFA thank everyone who made the event possible in one way or another. A big thank you goes to all the sponsors and all teams who participated in the tournament. Sponsors include: BGFA, Coastal Zone Management, Belize Tourism Board, Benny's, BenQuip, Karl H Menzies Beverage Division and Madisco, Atlantic Bank, Concept Studious, A & R, Beach Basket, Maya Island Air, Ambergris Divers, Smart, Rain Rooftop Terrace Restaurant, Tuff E Nuff, Caribena Enterprises, Palapa Bar and Grill, Adventures Travel Solutions and Captain Sharks.
Follow The San Pedro Sun News on Twitter, become a fan on Facebook. Stay updated via RSS