SPTC to revive Traffic Board
Thursday, January 28th, 2016
As The San Pedro Sun has been reporting, traffic in San Pedro is a major issue. Residents and visitors alike are complaining about traffic congestion, lack of parking, speeding and the constant influx of more, larger private vehicles and additional rentals. This has prompted the question: 'Where is the traffic board?' According to records, a Traffic Board has not been active since June of 2014. The San Pedro Town Council has responded, indicating that indeed, a board needs to be put in place to keep things in order.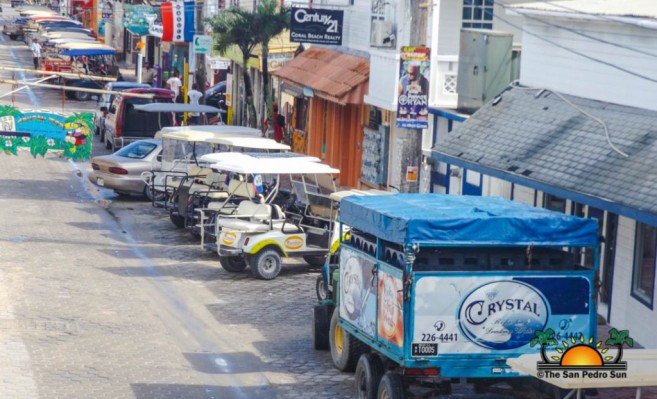 Mayor Daniel Guerrero agrees that it is vital to re-establish a traffic board in order to maximize the control of the vehicular influx to the island. The board will once again provide information to residents via the media houses through a report that will detail what vehicle permits have been approved. "At the moment we have a Traffic Board that has been submitted to me and which will be gazetted anytime soon. We are looking into reviving the board in like two weeks, but first we need to sit down with the respective Councilors before it is official again," said Guerrero. He has seen the need for this initiative to come into effect to address the traffic situation.
Guerrero indicated that regarding the same topic, he has received a letter from the Belize Tourism Industry Association (BTIA) and he is excited to starting working with them. However, he wants to clarify certain things to the BTIA. "I have been very clear to them, that the traffic department is run by the Town Council and not by the BTIA. I have no problem working with them, and I welcome all their suggestions, but they must realize that not everything that they ask can be accomplished. We want to work together with them, and I am sure we will work well, but they cannot get 100% of what they want," said Guerrero.
Guerrero admits that had proper planning been in place, traffic congestion could have been avoided. There were no preparations for what is happening now. "No one had a clue that this island would grow so fast," he added. The SPTC will be issuing moratoriums when it comes to traffic conditions based on ideas and plans from the Town Board. The Mayor is willing to work with any institution that wants to contribute to the alleviation of the problem, as long as it is clear to them that the final decision is done by the SPTC. "We are an elected body, elected by the people to run their affairs. At the same time we appreciate everyone's input towards the solution of a problem. But not because we welcome their recommendations does it means that we have to do what they are requesting. I agree with the BTIA in putting moratoriums on the golf cart rental businesses to not bring anymore carts to the island, on the luxurious vehicles and not issuing anymore permits for larger vehicles for taxi, I totally agree with that. But when it comes to personal golf carts, that will not stop, permits for personal golf carts I will never stop it," stated Guerrero.
In the upcoming weeks, when the new Traffic Board is back on duty it is expected that there will be a difference. The SPTC once again asks everyone's support. All recommendations and suggestions are welcome. All are considered and the Town Board discusses them and the necessary decisions for the betterment of San Pedro Town are finalized. Anyone with any ideas that can contribute tremendously to the development and resolutions to the problems of the island can always visit SPTC offices on Barrier Reef Drive.
Follow The San Pedro Sun News on Twitter, become a fan on Facebook. Stay updated via RSS