More carts arrive on the island despite constant complaints
Monday, April 4th, 2016
Despite constant complaints, letters from disgruntled visitors, and residents' vocal opposition, overwhelming traffic remains a major problem on Ambergris Caye. On many occasions, the Mayor of San Pedro Town has stated that no golf cart rental companies would be allowed to increase their fleet. However, the arrival of containers full of carts says otherwise. The question remains: "How does the addition of so many more carts resolve our growing traffic problem?"

In an interview with The San Pedro Sun, Mayor Daniel Guerrero indicated that effective Friday, April 1, 2016, a moratorium on the importation of golf carts to the island will kick in, ending the situation. "The moratorium has already kicked in for the vehicles, as no more luxurious or big vehicles are allowed on the island. But starting April, the moratorium will apply to everything, especially for golf cart companies that want to bring additional golf carts, it will not happen," said Guerrero.

He did admit that in the past week a few additional golf carts made it to some of the island's golf cart rental companies. However, he assured it is coming to an end very soon. "No more golf carts are coming for the rentals and no more new golf cart rental companies will be granted permits to open," said Guerrero. "The only additional golf carts you might see coming to the island is because these places have permits to bring over a certain amount of carts and they have not brought in all of them. However, when a permit is issued, is only good for three months, after that it is voided. So they need to bring whatever it is within that period of time." Guerrero also mentioned that after April 1st no more permits will be issued and to his knowledge, if there are any additional golf carts coming to the island after that date, it is a very minimal amount.

"If there are people out there with permits to bring in a golf cart, they need to get it before their permits expires. We have to honour the valid permits. But after all permits have expired, and anyone else wants to apply for new permits, they will probably have to wait until the new term of the Town Board," explained Guerrero.
According to the Mayor, if there have been new golf cart rentals opening in town, it is probably because the permits already existed and rentals have just received their fleet. "Everyone knows that the moratorium is coming into effect very soon, thus, you might see some extra golf carts because like I said, when this norm kicks in and there are no more permits to honour, golf cart companies will not be able to bring in any new carts," he stated. However, when it comes to private golf carts, these will be granted to individuals after a thorough screening that will indicate if they qualify.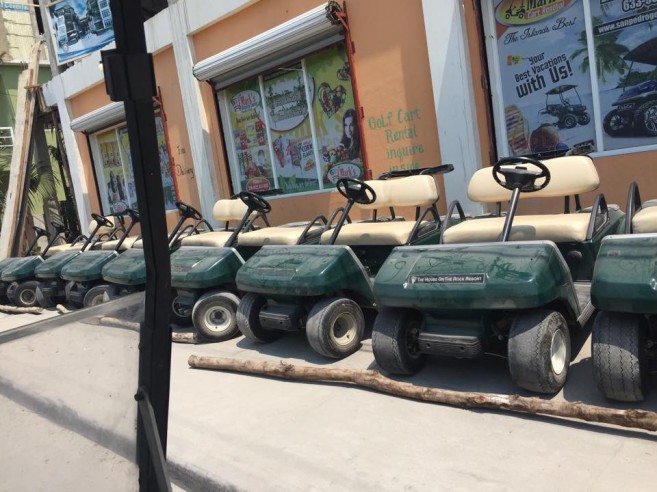 In the case of bringing in heavy equipment, only the SPTC will be able to obtain such permits, along with any contractor who may be doing works on the island. Companies on the island: such as construction firms will not be able to bring in any additional heavy equipment besides the one they already have.
Guerrero reiterated that they are doing everything possible to alleviate the traffic conditions and at the same time create parking areas. The first public parking lot has been built next to the San Pedro House of Culture, while according to the SPTC; there are plans to build another one on the northern part of the island.
Additionally, the SPTC would like to encourage everyone to use their vehicles and carts only when necessary. "Let's all start walking. We will alleviate the traffic flow, there will be an improvement in the lack of parking space, and more importantly people will help themselves health wise," ended Guerrero.
Follow The San Pedro Sun News on Twitter, become a fan on Facebook. Stay updated via RSS