Large cargo truck tips over in Northern Ambergris Caye
Tuesday, January 24th, 2017
The San Pedro Traffic Department (SPTD) has confirmed that a large cargo truck loaded with lumber tipped over in northern Ambergris Caye on the afternoon of Monday, January 23rd. The vehicle apparently slipped off the road as it attempted to make the curve 3.5 miles north of San Pedro Town. No injuries were reported.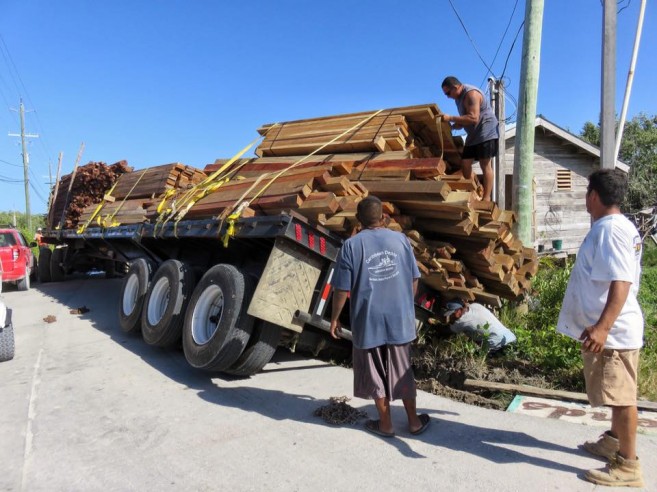 SPTD was called to the scene to assess the situation. According to them, the traffic in that section of the northern road was interrupted for hours as workers unloaded the lumber from the truck. A large fork-lift was then used to pull the truck back onto the road.
The SPTD expressed concern about the use of such large cargo vehicles on the island. The Department believes that such heavy-duty trucks may cause damage to the roads, including the Sir Barry Bowen Bridge which connects the town with the northern part of the island. A meeting with Mayor Daniel Guerrero has been planned to discuss the issue.
In the meantime the SPTD is advising delivery companies to exercise caution when using such large vehicles. Drivers are asked not to overload their vehicles, and to slow down before a more serious incident happens.
The San Pedro Sun will continue following this story.
Follow The San Pedro Sun News on Twitter, become a fan on Facebook. Stay updated via RSS