Hyperbaric Chamber Clinic in San Pedro, serving the community for over 25 years
Monday, October 20th, 2014
Belize's Ministry of Tourism has reported a constant increase in tourism arrivals to Belize. Many of those tourists that visit the country are engaged in recreational diving and snorkeling activities in Belize's pristine waters. For that reason, having a hyperbaric medical treatment facility is essential to the country's visiting and diving community. This allows for timely and adequate treatment should a diver suffer from decompression sickness. In Belize, the Sub-aquatics of Belize Limited has been offering this service via San Pedro Town's Hyperbaric Chamber Clinic for over 25 years.

One of the founding members of the Hyperbaric Chamber Clinic on Ambergris Caye is Mauricio Moreno who officially opened the chamber in 1989. The Chamber is a member of the 12 Sub-Aquatic Safety Service (SSS) Network which has similar facilities in every continent. Some of those places include Mexico, Africa, the Galapagos in Ecuador and even Australia. This attests to the facility's high standards and experience in hyperbaric medicine. One of the founders of the SSS Network, the mother company of the Hyperbaric Chamber Clinic on Ambergris Caye, saw the need for such a facility over 25 years ago after realizing the diving potential in Belize.
One of the most common dive related illnesses requiring hyperbaric medical treatment is decompression. Decompression related illnesses can occur when divers emerge from deep water too quickly without making periodic safety stops. Such action can cause a reaction that will form air bubbles that enter the blood stream and eventually find their way to the spinal cord. The second form of decompression illness is when oxygen bubbles accumulate when a diver remains underwater for a prolonged time, or may go to extreme depths over a period of time.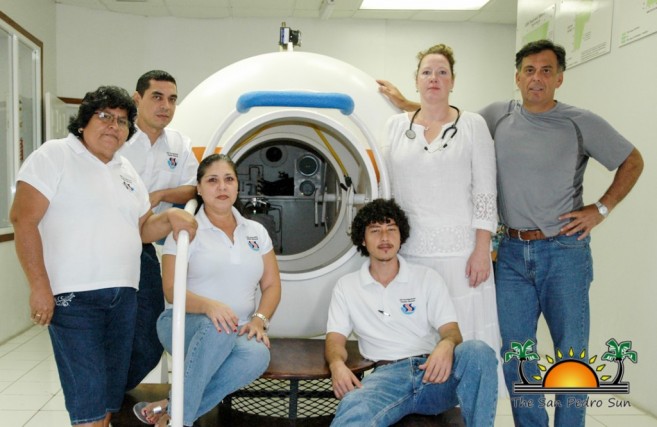 According to Moreno, having experience in the area of hyperbaric medicine is essential because timing can mean life or death for divers undergoing these dive related complications. "When there is a dive accident, people will require specialized care, and this is not in general medicine. It requires specially trained technicians and equipment. Without this, a diver suffering from decompression sickness could potentially have life altering problems, such as being wheelchair bound or even potentially die. With the proper equipment and at the hands of specially trained technicians, if treatment is applied promptly and properly, the person can walk out of our care perfectly normal."
For that reason, the management of the San Pedro Chamber Clinic has invested in proper training for their staff technicians, as well as medical doctors who are on 24-hour standby. "We are very happy to be a part of why Belize is at the forefront of diver safety in the Caribbean. When we go to these travel shows, one of the things they talk about is the great reef, the potential it has to grow in dive tourism and the safety record that it has. That is largely due to the collaborative efforts between the dive shops and this chamber," indicated Moreno. He added that one of the things that makes the SSS Network staff stand out is that beside being trained, their medical doctors and staff also get to visit other sister facilities to experience how other facilities operate in their respective communities.
According Moreno, the staff is amongst some with the most experienced in hyperbaric treatment. In fact, the Hyperbaric Chamber in San Pedro has one of a hand full of experienced technicians worldwide. Antonia Guerrero has over 10,000 hours of hyperbaric medical treatment experience under her belt. "Not everyone has this experience. In fact Guerrero is only one of a very few people that are still living with that much experience… The success rate of this facility in Belize is amongst the best in the Caribbean; it is unequalled."

Having knowledge of hyperbaric medical treatment is essential for dive guides and instructors, since they will be able to detect and activate emergency procedures. In fact, the service is so essential to divers that the chamber is inviting members of the diving community on Ambergris Caye that would want to know and learn more about hyperbaric medicine to visit them. "We are inviting interested parties, Belizean divers to become a part of the Diver Safety Operation Program. We will teach them how to operate the hyperbaric machine so that they can become an assistant paramedic inside the machine. We want them to become updated with first aid and CPR training. All the training will be free." The first training session is expected to be carried out in the near future, and those interested are asked to contact the Hyperbaric Chamber Clinic.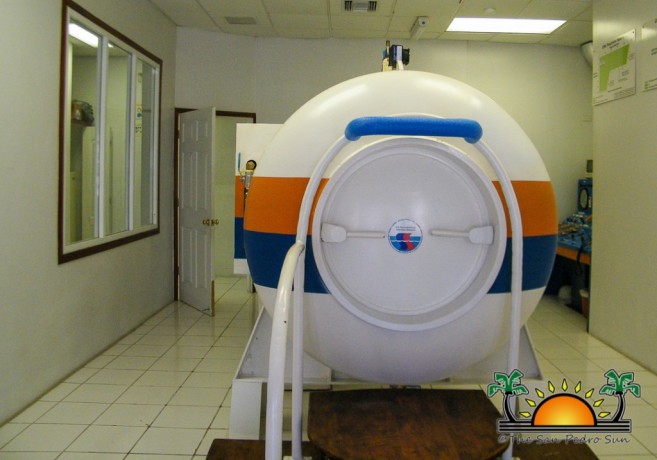 Hyperbaric medical treatment is very expensive, but SSS Network has an open door policy in which no patient can be refused treatment. For tourists requesting hyperbaric medical care, those expenses are incurred by the patient's insurance company. Dive shops in Belize have an option of becoming affiliated with the chamber by paying a minimal fee. Amongst the many benefits of having a chamber on site is that Belizean divers requiring hyperbaric medical care as a result of diving complications, can access treatment without a fee. For this year alone, three Belizean dive instructors have received and benefited from that open door policy at the Hyperbaric Chamber Clinic.

The San Pedro Hyperbaric Chamber is located right across the San Pedro Airstrip opposite Maya Island Air on Lion Street. You can contact them at telephone number (501) 226-2852, 226-3195 or email them at [email protected].
Follow The San Pedro Sun News on Twitter, become a fan on Facebook. Stay updated via RSS