Sub-aquatics of Belize Limited educate tour operators on healthy dive practice
Thursday, November 20th, 2014
Sub-aquatics of Belize Limited hosted seminars in Caye Caulker Village and San Pedro Town to educate local tour operators on healthy dive practices. The seminars are part of a dive accident prevention training campaign and are being offered to all persons in the diving industry, free of cost. Sub-aquatics has been offering dive medicine and treatment to the country for over 25 years via the Hyperbaric Chamber Clinic. With the ever-growing number of visitors partaking in diving activities, there is a need to ensure that safety measures are being taken to ensure the well-being of tourists and instructors alike.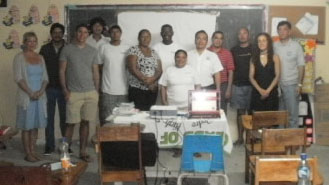 According to founding member of the Hyperbaric Chamber Clinic, Mauricio Moreno, the training campaign is aimed to prepare dive masters and instructors for the high tourism season to reduce diving accidents such as decompression sickness. "Having people prepared to handle a situation where an accident might happen, or if there is a case where a dive situation is impairing the health of a diver or crew member, is crucial. If the instructor knows what to do in any of these scenarios, then the situation will be addressed efficiently and speedily, ensuring that the person fully recovers," said Moreno. The training was carried out by a dive medicine doctor from Cozumel, Mexico, certified in both the United States of America and Europe. "The long term aim of this training is for Belize to offer the best possible dive service. We want tourists to hear about the great diving experience in Belize and nothing on diving problems. We want to create a safe diving environment for Belize," said Moreno. Also in attendance at the seminar was the chief diving officer of the Spanish Navy in Spain who offered diving tips for those in attendance.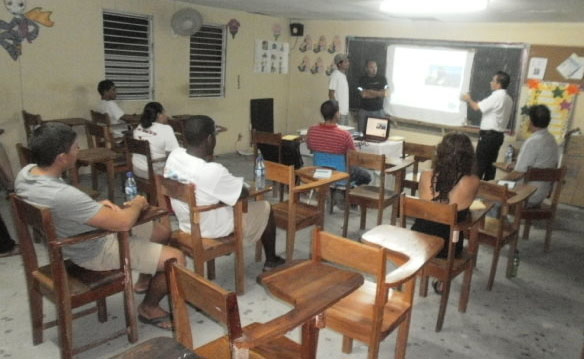 In addition Sub-aquatics has sponsored doctors from both San Pedro and Placencia to train in a specialized course for dive medicine. San Pedro currently has Dr. Daniel Gonzalez and Dr. Teresa Damera certified in dive medicine, while Dr. Giovanni Solórzano is in the process of completing his training. "The more certified doctors we have, the easier and faster it is to diagnose and treat dive accident patients. So when people address the chamber, they are calling a collection of dive medicine specialists. Likewise, we have trained a doctor in the south of the country to cover emergencies in Placencia and Hopkins so that countrywide, we have a network of dive safety physicians," said Moreno.
The Hyperbaric Chamber Clinic is located right across the San Pedro Airstrip opposite to Maya Island Air on Lion Street. The clinic can be contacted via telephone number 226-2852, 226-3195 or email at [email protected].
Follow The San Pedro Sun News on Twitter, become a fan on Facebook. Stay updated via RSS