Belizean certified as Emergency Diving first Aid instructor
Saturday, September 15th, 2012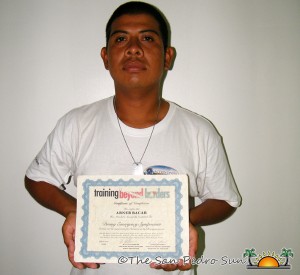 A Belizean living on Ambergris Caye has recently returned to the island newly certified as an Emergency Diving First Aid Instructor. Abner Bacab was certified after he attended a diving emergency symposium offered by Diving Alert Network (DAN) through the Training Beyond Borders program in Cancun, Mexico in July of this year. Bacab becomes the only Belizean living on the island certified as an instructor that can offer Emergency Diving First Aid training in Belize.
"It is important that we make Belize an even safer diving destination for everyone including our tourists. Diving is one of the base products we sell to our tourists, which is a good tourism product. The rule is that once you are diving you have a risk of suffering from decompression sickness and we need to make sure we can respond to diving accident when it happens," said Bacab. For that reason Bacab said it was very important for dive guides to get the adequate training so that they know how to deal with emergencies at sea.
Bacab will be able to offer emergency diving first aid training in the areas of life support/first aid, emergency oxygen for scuba diving injuries, first aid for injuries as a result of hazardous marine life, neurological assessment, dive medicine for divers, diving first aid for professional divers and basic life support health care provider courses.
Bacab has worked for many years at the Hyperbaric Chamber in San Pedro Town but has now pursued certification to offer courses on how to deal with emergencies pertinent to diving. Bacab says that in the very near future he will be offering training to personnel at dive shops, dive instructors and dive masters in an effort to better equip them to handle diving emergencies. According to Bacab, once a person attends and completes the courses, they will be provided with a certificate sanctioned by DAN. He also has Hyperbaric and undersea medical training from Hyperbaric International.
The first course that will be offered is Emergency Oxygen for Scuba Diving Injuries scheduled for October. Anyone wishing or interested in taking the courses can get in contact with Abner Bacab at [email protected] or by telephone at (501) 629-5205. Bacab becomes the only known Belizean to be certified as an Emergency Diving First Aid Instructor living in Belize.
Follow The San Pedro Sun News on Twitter, become a fan on Facebook. Stay updated via RSS