Water taxi Companies to relocate to Sunset Boardwalk in 2016
Monday, December 14th, 2015
The year 2016 will come with a lot of changes in San Pedro, and one of those will be the relocation of the water taxi and tour operator boats to the Sunset Boardwalk. At the completion of the Boardwalk in 2014, all boats that operate on the leeward side of the island were expected to move to the new boat terminal at the Sunset Boardwalk in order to alleviate the congestion on the windward shores of the island. However, that did not happen as boat owners complained that the area near the Sunset Boardwalk is not suitable for large vessels.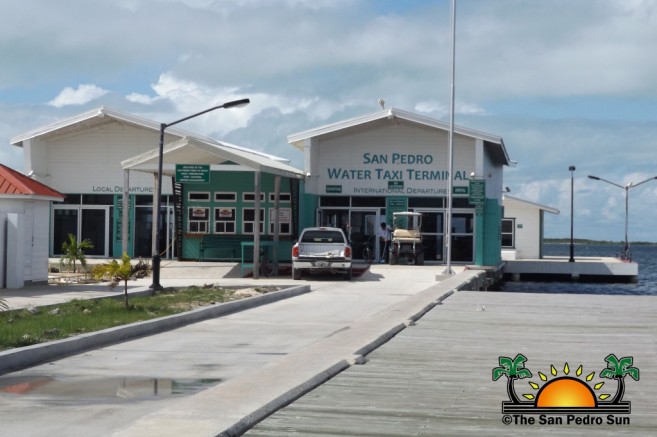 According to Mayor Daniel Guerrero before any boats can move to the Boardwalk, the area needs to be prepared for everyone. "We need to relocate all boats and the water taxi vessels to the Sunset Boardwalk area, however before we do that, we need to dredge the area for the big boats. We do not have a date yet when the dredging will begin. The entities that would do the dredging are the Port Authority, Belize Tourism Board and The San Pedro Town Council and definitely it will be next year," said Guerrero. He emphasize that it will bring a big change.
Another plan that will accompany the new boat terminal will be a boat manifest which is currently being drafted with the help of the San Pedro Police Department. "The boat manifest is almost ready. It will give us control to know who all are travelling to the island. A manifest is important so that in case of accidents, we know who all were in that boat. It will also help us to identify possible criminals who might want to come aboard the boats. Once their names are identified, police can be there waiting for them. Again, this will add more professionalism to the services provided to the island," stated Guerrero.
It is expected that by having the manifest operating with the new boat terminal at the Sunset Boardwalk, there will be better organization and a better impression to those arriving on the island. It will also help with the proper screening of who all come to the island and increase the safety of the town. At the same time it will benefit the artisans who will already be in the area after being relocated from the Central Park area. The San Pedro Town Council (SPTC) believes that this move will benefit everyone in the short and long run.
The SPTC is committed to bring all the changes the island needs to move forward, and therefore asks the general public's cooperation when necessary. It is expected that in 2016, the boat terminal will officially be fully operational at the Sunset Boardwalk.
Follow The San Pedro Sun News on Twitter, become a fan on Facebook. Stay updated via RSS