BTB reports a Positive Increase in the Tourism Industry
Friday, December 8th, 2017
For the past ten months of 2017, the tourism arrivals to Belize has been showing a positive trend according to a statistics report issued by Belize Tourism Board (BTB) on Monday, December 4th. The latest report shows that from January to October of this year, there was a 6.79% increase in overnight arrivals with a total of 341,777 visitors, representing over 26,265 more visitors than in the same time last year. Further shown in the industry's statistics are that Ambergris Caye continues to be the leading tourism destination in the country, hosting 25% of all visitors to the country.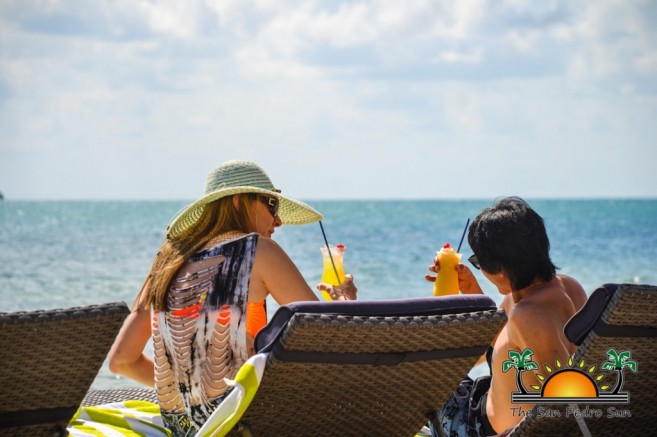 While 2017 saw a larger diversity of foreign visitors from different counties, the United States of America continues to be Belize's largest market for tourism. Approximately 224,467 Americans visited Belize this year, registering a 6.4% increase when compared to the same period in 2016. Most of 2017 tourist arrived through the Philip Goldson International Airport with a recorded 262,084 arrivals. When compared to the 245,420 persons that visited Belize through the international airport from January to October in 2016, 2017 figures show an astounding 6.79% increase.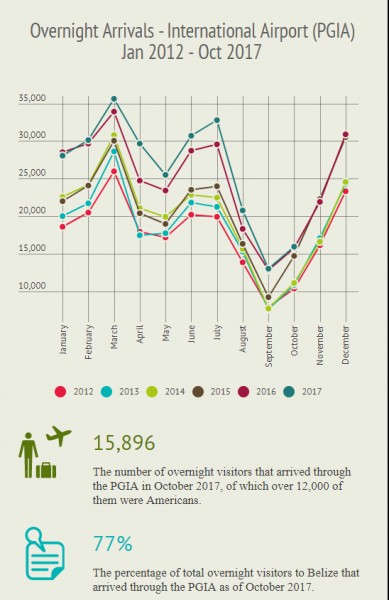 The top destination in Belize was Ambergris with 145,205 visitors, closely followed by Caye Caulker with 112,218 visitors. As for Cayo and Placencia, they registered 93,088 and 50,460 visitors respectively. However, hotel occupancy across the country saw a .04% decrease in 2017 when compared to the same period in 2016. This is attributed to the increase of AirBnB and private home rentals in the country.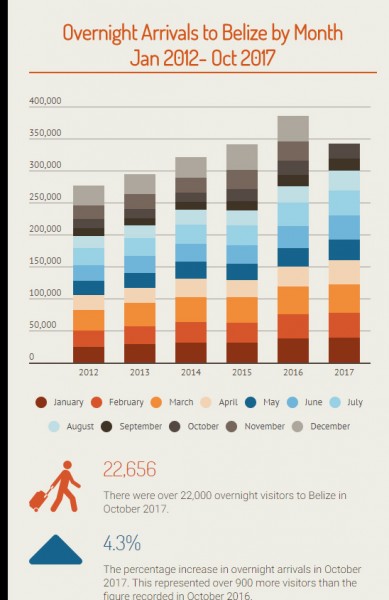 As for the Cruise Ship arrivals, 2017 has registered a total of 802,263 visitors from January to October, a 6.02% increase when compared to the same time in 2016. A total of 260 ships made call to Belize, with 480,453 passengers coming onshore and 310,301 employing the services of local tours. The top cruise line for Belize is listed as Carnival Cruise Line registering 395,526 arrivals and 104 calls. Close behind is Norwegian Cruise Line with 215,555 arrivals and 69 calls.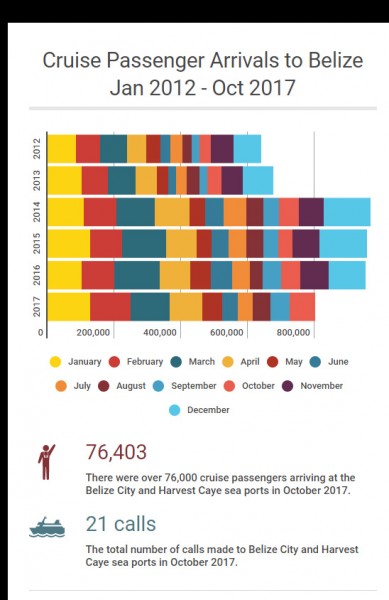 With this increase in growth, the BTB is confident the country is up for a very successful 2017-2018 high season as more travelers are choosing Belize as their next vacation getaway.
Follow The San Pedro Sun News on Twitter, become a fan on Facebook. Stay updated via RSS