Belize featured in National Geographic guide to Top 50 dive destinations
Tuesday, May 29th, 2018
Belize's barrier reef is to be featured in a National Geographic travel guide book to the top 50 dive destinations in the world. Professional dive master Chris Taylor and travel writer Carrie Miller of New Zealand arrived in Belize from Panama on Monday, May 28, for a week-long visit to research the Belize chapter of their travel guide commissioned by National Geographic to the top 50 destinations in the world.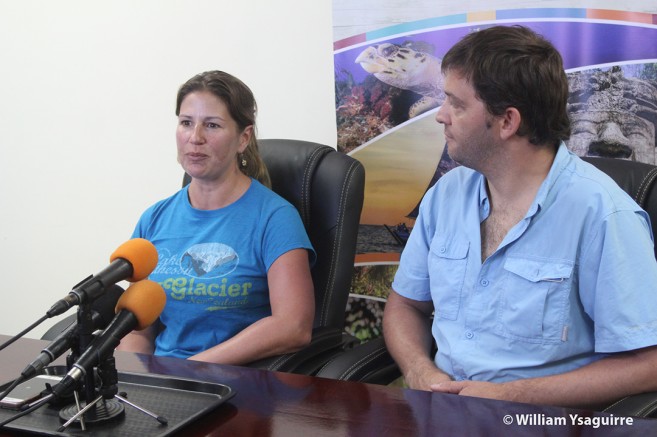 Belize is the ninth stop for this husband-and-wife team, who began their odyssey around the world in New Zealand in March this year, and have made their way across the South Pacific and up the coast of South America with their last dive destination before Belize being Curacao. They hope to complete their fact-finding tour by March 2019, at which time their book will be published by Random House, and distributed by book dealers like Barnes & Noble and Amazon.com. World renowned aquanaut and marine biologist Dr. Sylvia Earle of the U.S. National Oceanic and Atmospheric Administration (NOAA), who last visited Belize in 2010, will write the introduction.
Taylor explained that while divers will search out the most beautiful and colourful sites beneath the waves, they are often travelling with companions who are non-divers, and so they are seeking out dive destinations, which not only offer the widest diversity of marine flora and fauna in all their colourful array, but which also offer other activities which might entertain non-diving visitors. Miller said in the case of Belize, there is so much to see and do, such as the rain forest and the many archaeological sites; in fact, they were heading out to Altun Ha immediately after the short meeting with the local press.
It's a first for Belize, but also for the duo; and for National Geographic which has never before commissioned a year-long assignment of this kind. Miller is a contributing editor for National Geographic's Traveller magazine, and has been writing for National Geographic since 1998.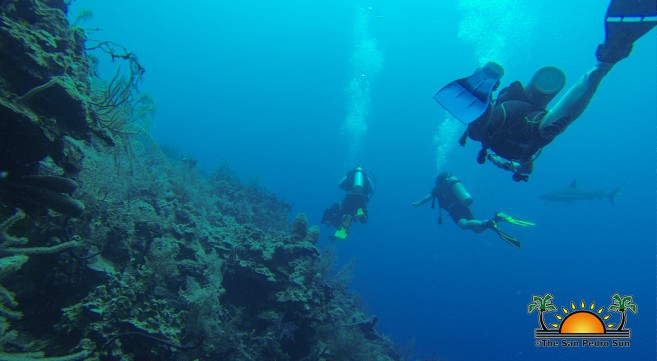 The duo will be focusing on South Water Caye and the southern reefs, Taylor explained that in his research, he was seeking out overall good dive sites, which were a little bit off the beaten path, since Belize is already on most divers' radar around the world. Most already know of World Heritage sites like the Blue Hole and Hol Chan Marine Reserve. He was also looking for sites which would be within the abilities of less-skilled divers, to offer a more fun-filled vacation to a broader range of visitors. He noted that divers are generally looking for the B.B.B. (the biggest bang for their buck) and so would be searching out places where there is a lot to see and do, like near a marine park, while maintaining that feel that you are the first one there, to find this secret, beautiful underwater landscape.
Miller said there is also a strong conservation component to their book, particularly to find ways to rid the environment of plastic trash, a daunting task when you consider that there are a million plastic bottles sold around the world every minute! She noted that while tourists do bring a lot of revenue to destinations like Belize, they also put a lot of pressure on the environment. Their book will also notch in with another National Geographic project: "Planet of Plastic" in which they will encourage readers to recycle, reuse re-usable containers and utensils, and to stay away from plastic disposables as much as possible. She said Belize has the opportunity to become more attractive for visitors by becoming a world leader in this fight to rid the world of plastic flotsam, and their book will encourage this sort of education to conserve nature, and to manage tourism in an environmentally sustainable manner.
Inland diving to such places as St. Herman's Cave would not be on the itinerary for this trip, Taylor admitted, as it would be impossible to see all Belize's natural wonders in a week. But as Miller noted, visitors like to discover hidden beauties for themselves, they don't want to be told the list of must-see places in Belize, but once in country, the visitor will probably stumble on these natural treasures by themselves, and it would spoil the thrill of finding them if they were told about these less known places in advance.
Coral bleaching is a major concern, Taylor noted, particularly in Australia, where scientists have been studying the Great Barrier Reef from since 1973, and the situation looks bleak, as while bleaching events happened once every 10 -20 years, the frequency has increased to once every five years, or even every other year. Warmer seas from climate change are only part of the problem, as there are many other human pressures, such as agricultural run-off from land that was once forest that has now been converted to agriculture, as well as industrial pollution, and the many effluents from shipping. He said losing the world's barrier reefs would not only be a huge blow to the ocean's biodiversity, but also to the world's production of oxygen, and might be worse than losing the Amazon rainforest, in terms of the sheer acreage of chlorophyll vegetation producing oxygen.
This is why environmental education is so important, Miller emphasized, because it is no longer time to think about what action to take, the time to act is NOW! It is time now to seek every way to clean up the environment, to elect political leaders who favour the passage of legislation to protect the environment and to save our world.
Follow The San Pedro Sun News on Twitter, become a fan on Facebook. Stay updated via RSS