BTB releases updated Traveller classifications and entry protocols for Belize
Thursday, September 24th, 2020
As Belize's Philip Goldson International Airport (PGIA) is set to open for international tourism on October 1st, there are a number of entry protocols travellers must bear in mind before arranging their trip. These protocols not only apply for foreign tourists, but to Belizeans/residents, investors, and foreign second-home owners.
The Belize Tourism Board announced these updated requirements for travellers and stakeholders on Wednesday, September 23rd. A similar announcement was made back in August when the PGIA was to open on the 15th of that month. The updated protocols for October are slightly different than those in August, making travel to Belize more convenient.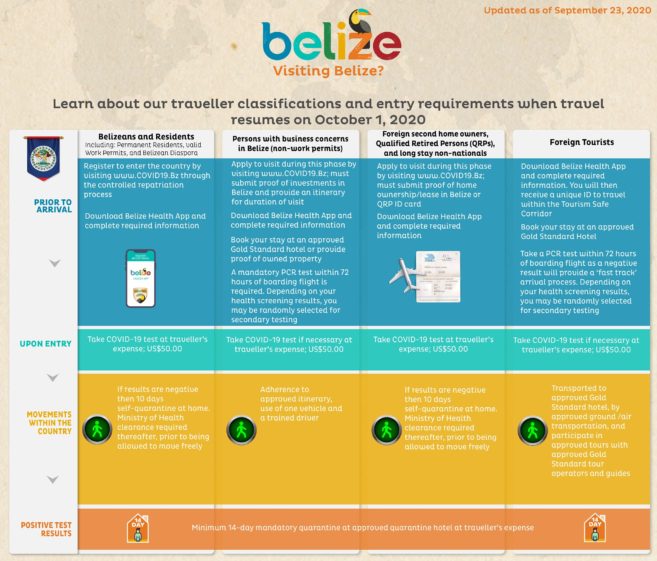 Foreign Tourists
Tourists must download the Health App (https://conta.cc/367KrQJ) and complete the required information to receive a unique ID to travel within the Tourism Safety Corridors, including approved
Gold Standard Hotels, transportation, and tour operators. Guests must book their stay at a Gold Standard Hotel and take a PCR test within 72 hours before flying to Belize. Once they have been cleared at the PGIA, approved Gold Standard land/air transportation will provide transfer to their respective
destinations.
Belizeans and Residents
Before traveling, Belizeans/Residents must register through the controlled repatriation process by visiting www.covid19.bz. They will then download the Health App and complete the required information. Upon entry, a COVID-19 test ($50US) at the expense of the traveller will be required. If the results are negative, the person is required to quarantine at home for ten days. Following this time, the Ministry of Health (MOH) will need to give clearance for free movement.
Persons with business concerns in Belize (non-work permits)
Registration for traveling must be made at www.covid19.bz and proof must be provided of investment in Belize. An itinerary must be provided for the duration of the visit. The Health App needs to be downloaded and persons must stay at an approved Gold Standard Hotel or produce proof of owned property. They must bring with them a PCR test done 72 hours prior to the trip. A second screening may be conducted when arriving in Belize, depending on health screening results. Businesspersons must adhere to approved itineraries and are expected to move around in a particular vehicle and with a trained driver.
Foreign Second Home Owners/Qualified Retired Persons
After registering on the COVID-19 page, they must provide home ownership/lease in Belize or their Qualified Retired Persons ID card. After downloading the Health App, they must take the $50US COVID-19 test at the airport in Belize. If results are negative, just as Belizeans, they will be required to quarantine at their home for ten days, after which the Ministry of Health (MOH) will advise if they can move around freely.
In August, the protocols required most of the travellers, except for the foreign tourists, to spend their first night of arrival (at their own expense) at an approved hotel in Belize City until their PRC test results were issued. If they tested negative they could continue to their final destination. This requirement was not included in this latest updated set of regulations. The number of days for self-quarantining at home, for those testing negative, has been reduced from 13 to ten.
BTB reminds travellers in any of the categories that if they do not come with a PCR test, they will have the option to get one at the PGIA at their own expense. In the case that a COVID-19 test comes out positive, the persons will be required isolate for 14 days at an approved quarantine hotel at his/her own expense.
Follow The San Pedro Sun News on Twitter, become a fan on Facebook. Stay updated via RSS