Meteorologists monitoring three storms in the Caribbean
Thursday, August 17th, 2017
Nearly three months remain in the 2017 Atlantic Hurricane Season, and the National Meteorological Service (NMS) is monitoring three storms which could possibly make landfall in Belize. So far into the season, Belize has not been seriously affected by any storm, but the NMS along with the National Emergency Management Organization (NEMO) continue to remind people to be mindful of all potential storms. These three latest weather formations, could possibly become storms in the coming week, and their projected paths could possibly affect the country.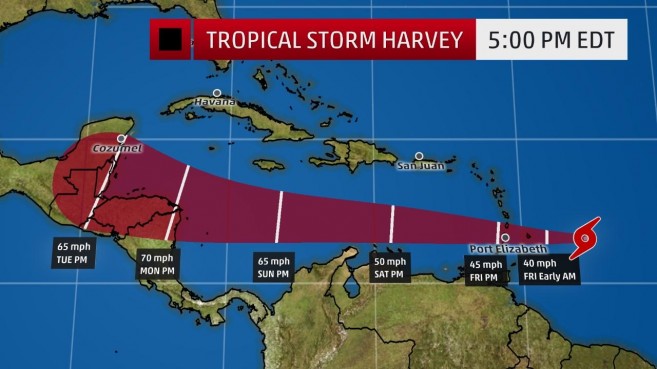 So far, the National Hurricane Center is issuing advisories on a Tropical Storm Harvey, located several hundred miles east of the Windward Islands. The low pressure's center is located 13.0 N 55.8W moving at 18 miles per hour (mph) with maximum sustained winds of 40 mph. Meteorologists are predicting that the low pressure has a 100% chance of developing into a Hurricane within the next 48 hours and 100% chance to grow further in strength within the next five days.
Another low pressure, Invest 92L being monitored is located about 1,200 miles east of the Leeward Islands and continues to show signs of organization. As it moves west-northwest at near 20 mph, the low pressure has 60% chance of forming into an organized storm in the next five days.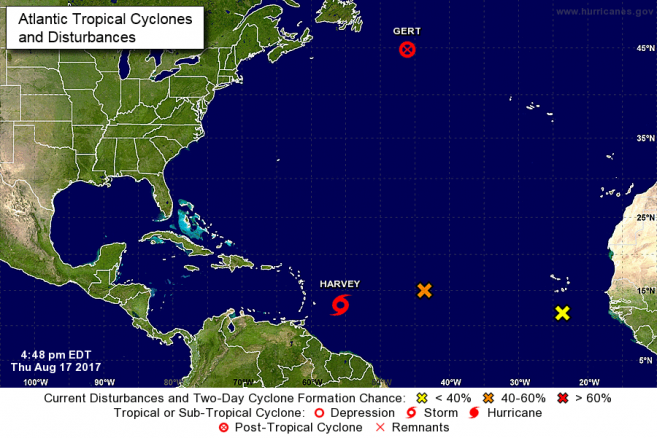 The finally activity being monitored is a Tropical wave located over the far eastern Atlantic Ocean near the Cabo Verde Islands. This Tropical Wave is currently producing disorganized showers and thunderstorms in the area. Gradual development of this system is possible during the next several days while it moves west-northwestward at about 15 mph.
The public is asked to pay attention to the official reports and advisories from the National Meteorological Service and NEMO. NEMO emergency coordinator from San Pedro, Vanessa Parham can be contacted at 632-3698.
Follow The San Pedro Sun News on Twitter, become a fan on Facebook. Stay updated via RSS