Tropical Storm Franklin spares Belize
Tuesday, August 8th, 2017
Tropical Storm Franklin made landfall on Mexico's Yucatan Peninsula on the evening of Monday, August 7th, narrowly sparing Belize.  Franklin, which formed on Sunday, August 6th, became the first named storm of the 2017 Atlantic hurricane season. It slowly organized, moving west-north-west, threatening the northern coast of Belize and the Mexican Riviera Maya. However, during the last hours before landfall, the storm veered further north, causing just a few showers in Belize and bringing heavy rain to Mexico.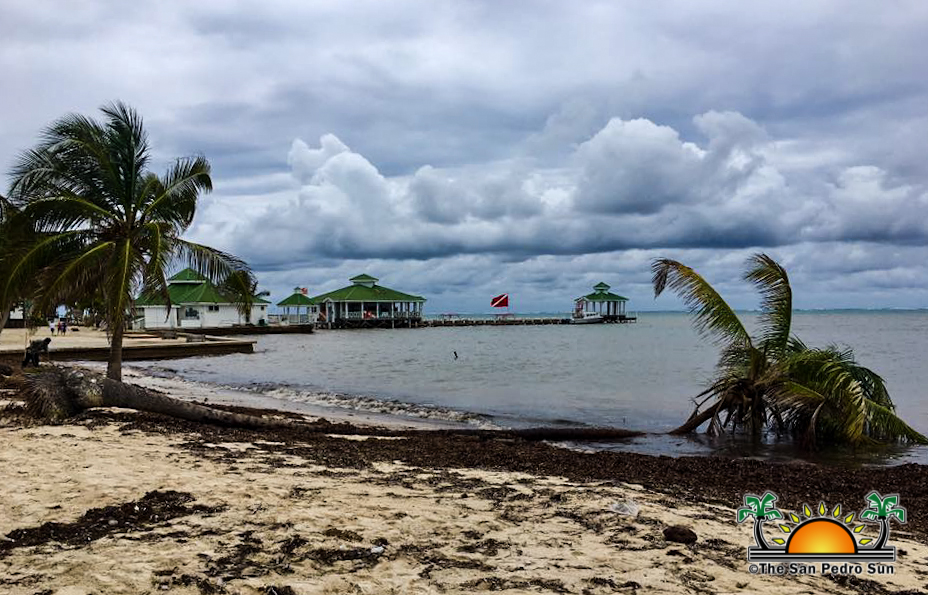 At the time it hit the Yucatan Peninsula around 10:30PM, Franklin had sustained winds of 60mph and moved at a slow speed of 13 mph. By 2AM the storm's winds were at 40 mph with some higher gusts and moving north-west at 12 mph. The tropical storm is forecast to continue moving westward during the next couple of days. A hurricane watch is in effect for the coast of Veracruz as the weather enters the Gulf of Mexico.
In Belize, residents in northern Belize and the Cayes took the necessary precautions as the storm was approaching. Many businesses on the island closed early on Monday, August 8th and a few persons decided to spend the night at the available hurricane shelters. Supermarkets ran out of bread and other basic goods as islanders prepared for the worst. But throughout the night, there was little to no rain and wind was normal.
On Tuesday morning, August 8th, residents woke up to cloudy skies and a few showers. Along the beach minimal erosion was observed, and most importantly, no serious damages. At 8AM, the National Emergency Management Organization (NEMO) issued an 'All Clear' notice, discontinuing the tropical storm warning for the coast of Belize, from Belize City to the Corozal District. NEMO was also glad to inform the entire nation that according to information gathered from the District and City Emergency Committees, there were no reports of injuries or damages. It was reported that in Corozal District, the Cayes and Belize City, a total of 330 persons took refuge in shelters. Also, around 157 persons voluntarily relocated to the mainland from Ambergris Caye and Caye Caulker.
Follow The San Pedro Sun News on Twitter, become a fan on Facebook. Stay updated via RSS