ADVISORY NO. 1: TROPICAL STORM HARVEY MOVING WESTWARD IN THE CARIBBEAN
Friday, August 18th, 2017
The National Emergency Management Organization in collaboration with the National Meteorological Service hereby informs the general public that Tropical Storm Harvey is located near latitude 13.4North, and longitude 62.9 West or approximately 1, 700 miles east of Belize. Harvey has sustained winds of 40 miles per hour (mph) and is moving to the West at 21 miles per hour. If it maintains its projected path over the next 3-4 days based on the forecast, the country could be affected by tropical storm or higher conditions sometime between Tuesday and Wednesday or thereafter. Over the next 3-4 days the only concern
for Belize is Tropical Storm Harvey.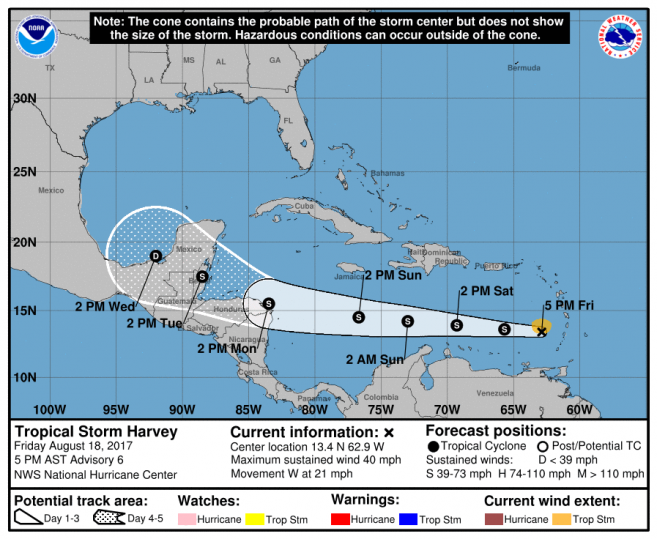  The public is hereby advised to make some preparations to protect life and property. If you are at risk to bad weather and flooding make arrangements for the next week you will move away from the coast to higher grounds. If you have to seek shelter next week, know which shelter you will go to.
Prepare how you will reach to your shelter. Check on family members and neighbors who may be in need of assistance. On the current projection for TS Harvey, the window of opportunity to relocate from coastal areas will be next Monday evening August 21st, 2017.
 During the weekend, if you don't have plans to go to sea, stay on the mainland. Start reviewing and implementing parts of your family, business emergency plan. Be prepared to put up shutters, fuel up your vehicle and generator. If you can, put together at least 3 days supply of water and nonperishable food. Ensure you purchase only approved medication. Essential services and Public Officers use the weekend to prepare your home and family in the event you are called out for emergency
duties next week.
 Enjoy your weekend but take precaution and start your preparations. It is not expected that TS Harvey will affect the country over the weekend. Stay calm, this is just an alert.
 Drivers are always reminded to drive with extreme caution.
NEMO emergency coordinators can be reached as follows:
 Corozal, Mr.Williard Levy at 623 0237;
 Orange Walk, Ms. Suliema Celiz at 605 5046, or Mr. Aragon at 636 6094;
 Belize District, Mr. Lionel Tillett at 6154834 and Mr. Kevin Pollard at 621 2275;
 San Pedro, Ms. Vanessa Parham at 632 3698;
 Belize City, Ms. Timrose Augustine at 600 8672 or Councillor Willoughby at 630 9793;
 Belmopan, Ms. Clare Moody at 630 9791;
 Cayo, Mr. Al Westby at 630 3224 or Mr. Johnny Ramclam at 625 2526;
 Stann Creek, Mr. Keith Emmanuel at 615 9711; and
 Toledo, Mr. Kenton Parham at 630 9787.
 The NEMO Emergency Hotline is 936. NEMO IS ON ALERT BUT NOT ACTIVATED.
The public is asked to pay attention to the official reports and advisories from the National Meteorological Service and NEMO. Advisories will be sent out as the need arises. All are encouraged to monitor TS
Harvey.
Follow The San Pedro Sun News on Twitter, become a fan on Facebook. Stay updated via RSS