Meteorologist monitoring three storms in the Atlantic
Wednesday, September 6th, 2017
Category Five Hurricane Irma is causing massive destruction in the northern Leeward Islands as it makes it way past the Caribbean and potentially into the Gulf Coast. The ninth named storm of the 2017 Atlantic Hurricane Season, Irma is not the only threat as Tropical Storm Jose and Tropical Storm Katia continue to strengthen as well. Meteorologist have indicated this to be one of the most active hurricane seasons recorded, with Hurricane Irma breaking records as potentially the strongest storm in ever recorded.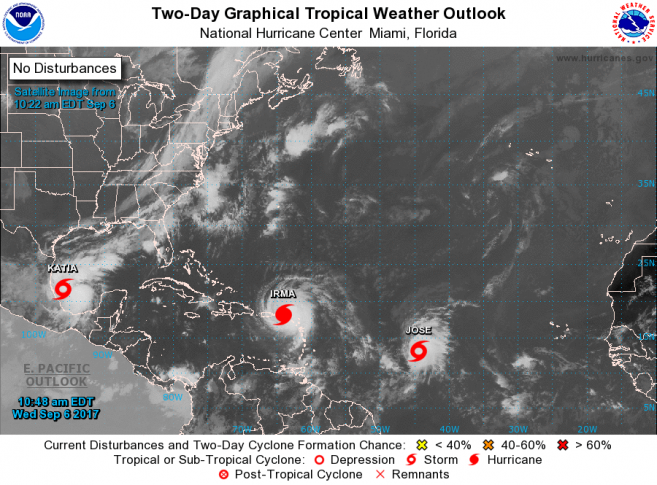 Hurricane Irma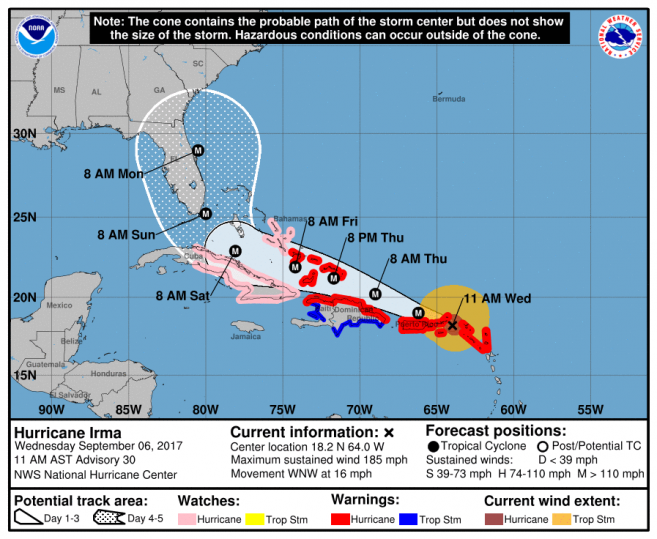 With maximum sustained winds of 185 miles per hour (mph), Hurricane Irma is currently located 18.2 N 64.9 W and moving West-North-West at 16mph. In its path are the Virgin Islands, Puerto Rico, Domincan Republic, Haiti, the Bahamas and Cuba. Irma is projected to then pose a threat to Florida and the south-eastern area of the USA later in the weekend.
Irma has already passed over Barbuda, St. Martin, St. Barthelemy and Anguilla causing heavy rain, massive flooding and extreme wind damage. The storm is also causing coastal storm surges of up to 20 feet above normal tide level, which can increase if Irma continues to strengthen.
Tropical Storm Jose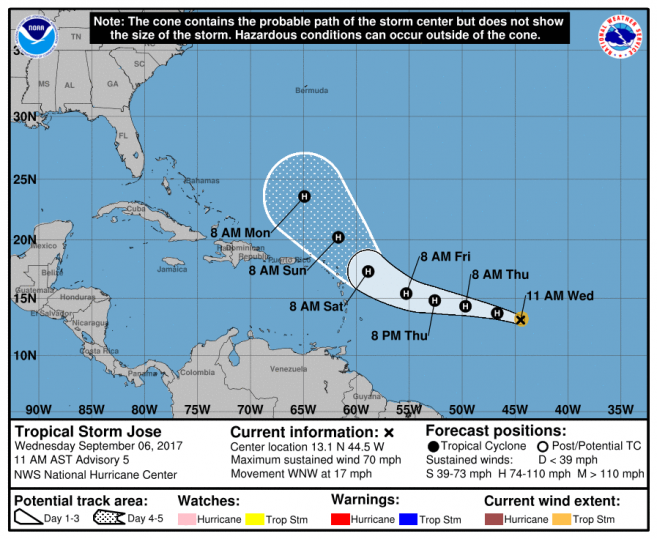 Directly behind Hurricane Irma, is Tropical Storm Jose. Located at 13.1 N 44.5 W, the storm is moving west-Northwest at 17 mph with maximum sustained winds of 70 mph. While Jose is still 1,000 miles east of the Lesser Antilles, it is expected to strengthen before making contact in the Caribbean. No official storm watches are in effect in relation to Tropical Storm Jose, but residents of the Leeward Islands, including areas hard hit by Irma, should monitor this storm.
Tropical Storm Katia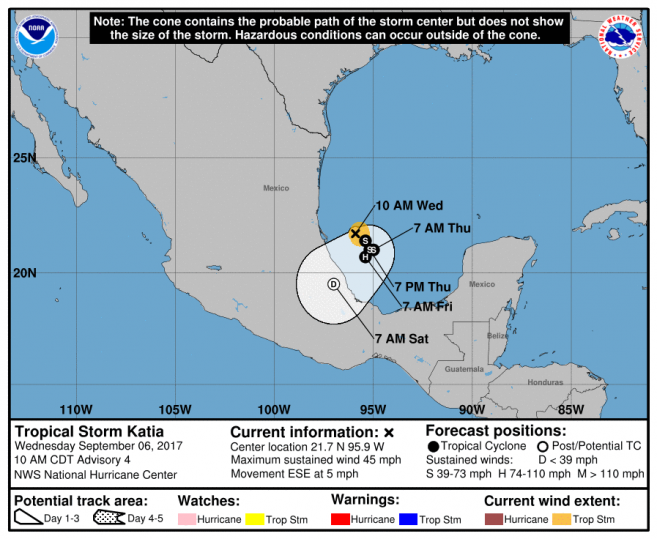 The most recently formed storm being monitored is Katia, which is located in the Gulf of Mexico with maximum sustained winds of 45 mph. Katia strengthened overnight on Tuesday, September 5th to become a Tropical Storm on the morning of Wednesday, September 6th. The storm is not expected to make landfall until later in the weekend and can cause heavy rain and flooding in eastern Mexico.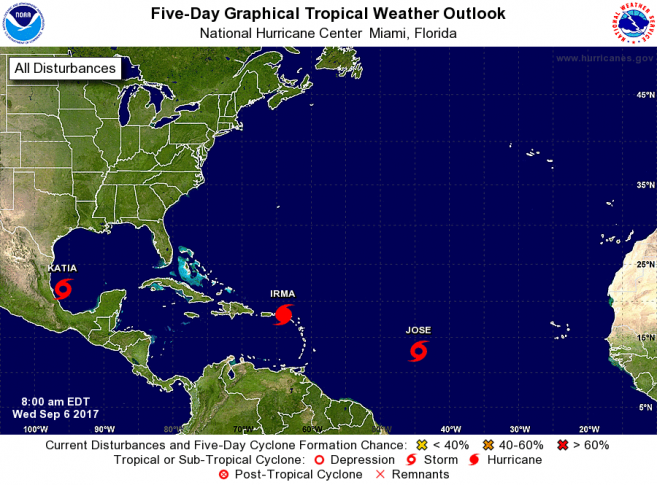 The most recent hurricane was Hurricane Harvey which hit the state of Texas, USA last week. Harvey cause unprecedented damage and catastrophic flooding. The losses are estimated to be between $70 to $190 billion dollars.
Among the area devastated was Houston, a major travel hub for visitors to Belize. It is not yet know what effect this will have to the tourism industry in Belize. Also of note, is the expected increase in the price of oil. With the passage of Hurricane Harvey over southern and coastal Texas last week, the oil refineries in the Houston area have shut down and are not expected to resume normal operations and return to full output for some weeks to come. The oil industry in Texas refines about 25% of all crude oil in the USA. The resulting shortages in refined petroleum products have caused a sharp spike in pump prices across the USA and also in other countries that purchase refined fuel product from the Houston suppliers. This has also affected Belize, as Belize does import a substantial quantity of refined fuel from Houston suppliers on a regular basis in addition to purchasing refined fuel from Venezuela under the Petrocaribe Accord. With this source of supply temporarily closed, Belize is having to purchase and truck in overland fuel from El Salvador at higher costs than would otherwise be the case. Such costs are being reflected in the local pump prices which are expected to increase in the days ahead. The extent of the increase is not known at this time. The Government of Belize is working closely with the key supplier, PUMA, to ensure that such increases are kept to a bare minimum and remain for the shortest possible time.
While Belize has been spared from any major storm this year, residents are still asked to remain alert as over two months remain in the Hurricane Season.
Follow The San Pedro Sun News on Twitter, become a fan on Facebook. Stay updated via RSS