NEMO Still Monitoring Potential For Development Of A Low Pressure Area Near to Belize (AS AT 8:00 A.M )
Friday, October 11th, 2019
ADVISORY #1 – FRIDAY 11TH OCTOBER, 2019
The National Meteorological Services of Belize and the National Emergency Management Organization (NEMO) hereby advises the general public that a broad area of low pressure is expected to form over the western Caribbean Sea during the weekend. This system is forecast to move westward toward Central America early next week, and some development is possible if the low remains over water while moving near the coasts of Honduras, Guatemala, and Belize.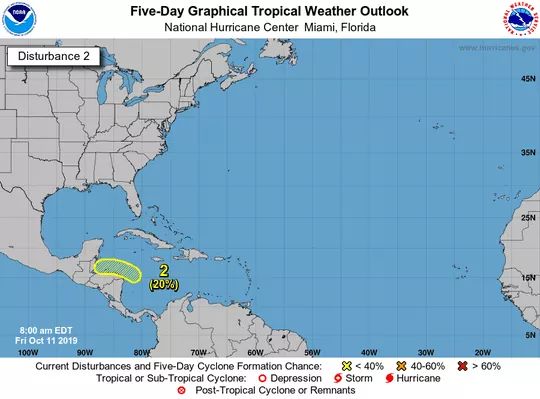 * Formation chance through 48 hours…low…near 0 percent. * Formation chance through 5 days…low…20 percent. If the prediction changes for the worse, considering all the factors, by Tuesday we might be facing a significant threat. All members of society are advised to review their plan and make all necessary preparations. Public Officers are advised to be prepared for possible NEMO emergency duties by early next week. All are advised to use the weekend to prepare, review your family emergency plan. People in flood-prone areas, farmers, fishers, and people on the islands need to remain vigilant and be prepared.
The NEMO Emergency Hotline is 936. NEMO's Emergency Coordinators can be reached as follows:
• Corozal, Mr. Ronnie Hernandez at 614 7140;
• Orange Walk, Mr. Aragon at 615 2264; or Mr. Leiva at 614 7177
• Belize District, Mr. Alphius Gillett at 614 4735;
• San Pedro, Ms. Vanessa Parham at 614 5865;
• Belize City, Mr. Al Westby at 614 8604 or Mr. Pollard at 6143244;
• Belmopan, Ms. Clare Moody at 614 5705; or Mr. Eiley at 624 2365
• Cayo, Mr. Al Westby at 6148604 or Mr. Johnny Ramclam at 614 5891;
• Stann Creek (Coastal- Dangriga including Mullins River to Independence),
Mr. Kevin Flores at 604 3632
• Stann Creek (Interior- Hummingbird and Southern highway communities), Mr. David Cruz at 614 8514; and
• Toledo, Mr. Kenton Parham at 614 2158 or Mr. Dennis Williams at 614 2393
NEMO will keep the general public updated on any further developments. The public is advised to stay alert. Please adhere to the official release from the National Met Service and NEMO.
Follow The San Pedro Sun News on Twitter, become a fan on Facebook. Stay updated via RSS