Heavy rainfall expected in Belize as Category 5 Hurricane Iota hits Central America
Monday, November 16th, 2020
As much as 20 inches of rain are expected in Belize as Category 5 Hurricane Iota moves inland across Central America. The major storm is forecast to hit Nicaragua, Honduras and Guatemala – areas still recovering from Category 4 Hurricane Eta. These areas could see as much as 30 inches of rainfall in the coming days.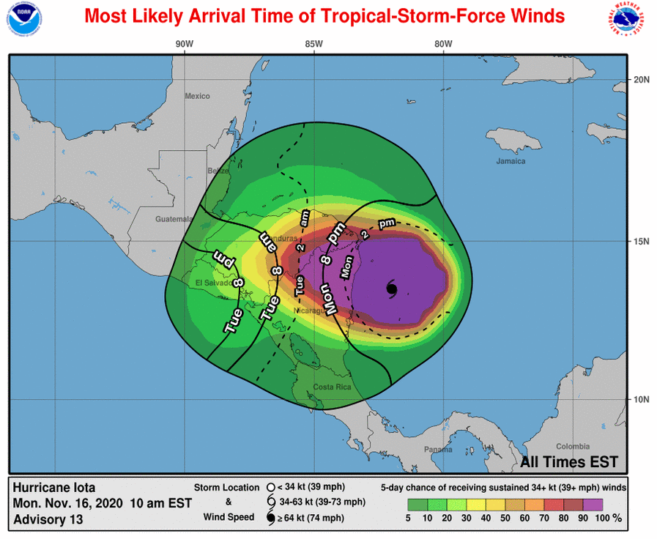 According to the National Hurricane Center, Iota has maximum sustained winds of 160 Miles Per Hour (MPH) and is expected to create life-threatening storm surge of up to 20 feet. Hurricane Iota continues to move westward at about 9MPH and one of the areas expected to directly hit is Puerto Cabezas, Nicaragua. Iota is the first Category 5 storm in this record-breaking Atlantic hurricane season, which has recorded 30 named storms so far.
The National Meteorological Service of Belize posted on Monday, November 16th that a Flood Watch is in effect for the possibility of flooding in central and southern Belize this week. Hurricane Iota is being closely monitored, and a small craft warning will likely go into effect later today. Operators of small crafts are advised to start preparations to safeguard their vessels.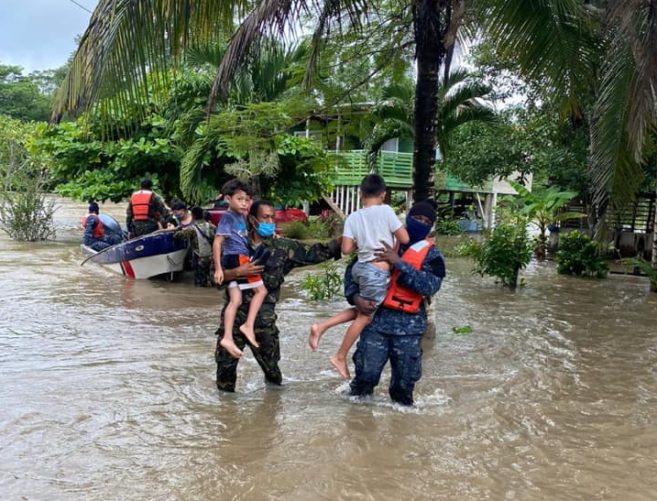 According to an advisory by the National Emergency Management Organization (NEMO), Iota may likely produce heavy rainfall across Belize on Wednesday and Thursday of this week. According to NEMO, Hurricane Iota is within Belize's zone of concern, as such the public is advised to remain alert and to continue monitoring the storm.
Despite the current track not directly hitting Belize, the public is also advised to take any necessary actions for the sake of saving lives and protect properties. In the case of the need to evacuate, NEMO informs Belizeans to be prepared in order to quickly move to higher grounds or a safe shelter. A way to prepare is by storing water, food, charge cell phones, first aid kit, and keep some form of emergency lighting.
Second major hurricane to hit same area
On November 3rd, Hurricane Eta made landfall as a Category 4 storm, causing landslides, massive flooding, displacing thousands and leaving scores of dead and missing people. Eta moved slowly towards Nicaragua and then over to Honduras and Guatemala with heavy rains.
In Belize, the weather disturbance arrived as a tropical depression, causing severe flooding in central and southern Belize. No fatalities were recorded, but many Belizeans in rural areas lost property and are still recovering from the flooding.
Belizeans are asked to continue following the developments of Hurricane Iota, particularly those living in areas prone to flooding. Stay safe and adhere to official releases only.
Follow The San Pedro Sun News on Twitter, become a fan on Facebook. Stay updated via RSS