Camp GLOW 2015 – inspiring our new leaders!
Friday, July 10th, 2015
The six-day leadership camp GLOW held in Blue Creek Village, Toledo saw the participation of 32 young women, including six from San Pedro Town. The GLOW (Girls Leading Our World) Camp 2015 was focused on self-esteem, self-reliance and self-expression, as well as leadership, education, health and team-building exercises, which came via sports and arts. Held at the Tumulk'in Center for Learning in Blue Creek Village, the camp lasted from Sunday June 28th to Saturday, July 4th. Girls from five communities in Belize gathered under the watchful eyes of four Peace Corps volunteers and six Belizean GLOW leaders.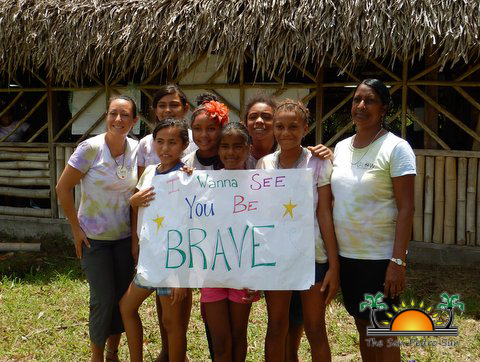 The camp was held in the hopes that the girls who participate go on to become active leaders in their community. There were several activities geared towards that goal, and guest speakers were invited to share their experiences and motivate the young women. On the list of invitees was Mary Gonzalez, Associate Editor of The San Pedro Sun. A Belizean of Maya descent who grew up in a Maya village in the Cayo District, she was able to share her experiences growing up and overcoming a few obstacles to become successful. She emphasized the importance of speaking up, seeking help rather than giving up, and to take education seriously; encouraging each of the young women present to be examples in their community. "I really hope that I was able to encourage the girls to realize that they matter, and that their voices can and should be heard," said Gonzalez. "I made a few new friends for sure! The [Peace Corps] volunteers are incredible, and the young girls I met and spoke to will hopefully benefit from this camp and take with them lessons for life. I am humbled to have been invited to speak, and definitely came back home with a renewed sense of vigor and gratitude…one of my new little friends did not know what a 'selfie' was…it reminded me of my first time seeing a computer…there is so much beauty and innocence in not being tied to technology, but also, to know that it is within their grasp if they do in fact, want to be a part of it. A big thanks to GLOW and the volunteers who put this camp together."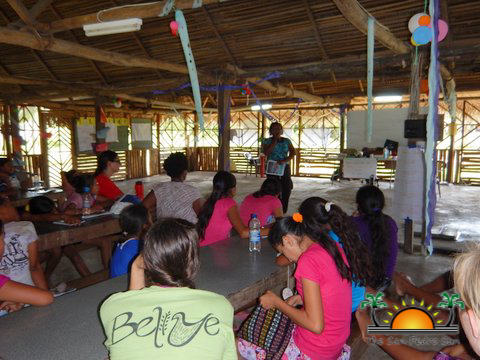 The six girls from San Pedro who participated in the camp were Ashley Chimilio, Taviana Olivarez, Janelly Valladarez, Zoila Hoare, Karina Moreira, and Afeni Rubio. They were quite active in the camp, and a few even received prizes at the end of camp. Most Helpful: Taviana Olivarez, Most Integrated: Ashley Chimilio, Cleanest Room: Zoila Hoare, and all the girls received Helpful prizes. Zoila even represented San Pedro in a radio interview and PSA promoting education for girls.
Diana Sanchez, San Pedro Peace Corps volunteer, would like to extend a few special thanks to the following people: Mrs. Lina Hoare from San Pedro who attended the camp, assisted with activities, and was an inspiration for all. Also, special thanks to The San Pedro Sun for their generous flight to Punta Gorda donation to allow Mary Gonzalez as a Special Guest Speaker from San Pedro. Camp was made possible through the generous support and funding by the following businesses in San Pedro: The Palms, Castillo's Hardware, Belize Marine Management, El Dorado, Atlantic Bank, Manelly's, Casa Pan Dulce, Xanadu Resort, Seaduced, Fido's, Belize Telemedia Limited, FC's Aluminum, Coral Cable, Caribeña Enterprises, Perfect Day Productions, Jan Jensen Foundation, the Dr. Otto Rodriguez Polyclinic II. Individual donations were made by Yvonne Temsik, Mary Dahlquist, and Tourist Kitty from the US. Over $1,600 in donations covered transportation costs to Blue Creek, Toledo, T-shirts, room and board for six days, meals and arts and craft supplies. Additional funding was provided by the PEPFAR Community Grants Program.
Follow The San Pedro Sun News on Twitter, become a fan on Facebook. Stay updated via RSS