Update on recent tourist deaths on Ambergris Caye
Thursday, April 26th, 2012
Snorkeling Tragedy Update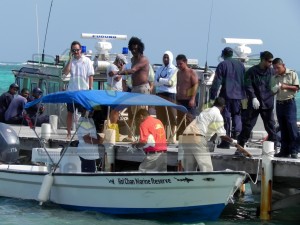 On Tuesday, April 3rd a snorkeling trip ended in tragedy when two tourists lost their lives while snorkeling at the Hol Chan Marine Reserve. As we reported on the incident in our article 'Two drown in snorkeling accident', several questions remained as to whether anyone was at fault and or in fact would be charged for the terrible incident.
American national 54 year old Roger Burger and Italian national Zyihe Florencia both lost their lives that day due to the tragic events. Post mortems were conducted on the bodies on Wednesday April 4th at 1PM where the causes of death were listed as Asphyxia due to drowning.
According to Ms. Sherlet Martinez, Operations Manager for Port Authority; the Port Authority's initial report indicated that the vessel was undermanned, having only one crew member onboard. This contradicts the Port Authority's policy requiring that a minimum of two crew members be onboard every water vessel. As a result, the vessel was in violation of Port Authority Laws. Martinez reported that once the report is completed, it will be submitted to the prosecution section where an investigation into further violations of the Port Act will be ascertained. Where there is a clear violation, the boat captain will be taken to court.
While the Meteorological Office of Belize issues daily weather warnings, it appears that the decision on whether or not tides and conditions are safe enough to take tourists out to sea falls on the Tour Operators.
According to the San Pedro Police, information is being compiled into a file which will be forwarded to the Director of Public Prosecution (DPP), where it will be reviewed and a decision will be made as to whether charges will be levied.
The Belize Tourism Board is working in collaboration with the Tourism Police Unit to get to the bottom of the matter, however the investigations into the circumstances that led to the fatalities are still ongoing, after which a release will be made.
Canadian found dead in SP
In regards to the death of 51 year old Jan Peter Sol, a Canadian National vacationing in the country, the case has been closed. According to San Pedro Police, Dr. Estradaban, Chief Pathologists ruled out any suspicion of foul play.
Follow The San Pedro Sun News on Twitter, become a fan on Facebook. Stay updated via RSS