Hurricane Earl causes over $10 million in damages on Ambergris Caye and Caulker Caulker
Thursday, August 11th, 2016
Hurricane Earl, a category one hurricane, battered the coastal areas of Belize on Thursday, August 4th, leaving a massive trail of destruction along its path. The final damage assessment by the National Emergency Management Organization (NEMO) for both Ambergris Caye and Caulker, amounts to millions of dollars in material losses. A total of 94 families on both islands were severely affected by the storm.

Earl was the fifth named hurricane of the 2016 Atlantic Hurricane Season, and was born on Sunday, July 31st in the Caribbean Sea. The tropical system quickly gained strength due to the favourable warm waters on its path, turning into a powerful category one hurricane that hit Belize five days later.
At dawn, after Earl swept through the island, NEMO began the arduous task of assessing the extent of the damage caused by the storm. It was evident that there was significant impact on the islands' eastern coastline, as many businesses and docks were completely wiped out. Hurricane shelters lodged victims for a couple of days while they were being assisted. On both islands, around 376 persons suffered partial or complete loss.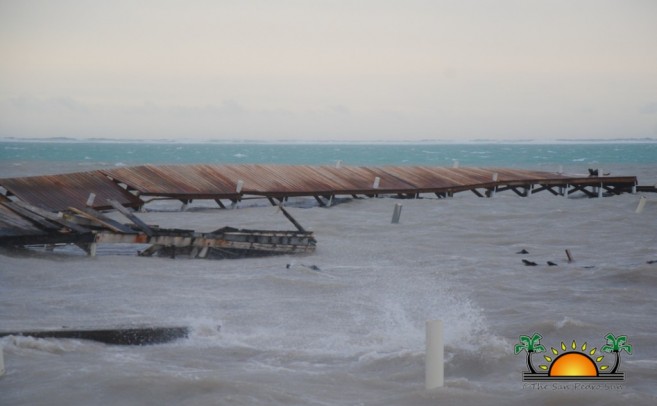 NEMO reports around $30,000 in damages to households in both Ambergris Caye and Caye Caulker were incurred. Along the eastern coast of Ambergris Caye, from the 252 docks that line the coast, 227 were affected, while 135 were totally destroyed. The assessment also includes several dive shops which were partially or totally destroyed due to the strong winds and surges caused by the hurricane. The grand total in damages is estimated at $11 million dollars. According to the report from NEMO, each dock is estimated to cost between $80,000 and $95,000 without any additional structures on them.
Meanwhile, on the neighbouring island of Caye Caulker, out of the 54 docks which also includes dive shops, a total of 49 were affected. The amount of docks completely destroyed amounted to 30, while the total figure in damages added up to $2.5 million.

According to NEMO Coordinator on Ambergris Caye, Timrose Augustine, now that the damage assessment has been completed for both islands, assistance can be better distributed. "Besides the results of the assessment, we continue assisting people at the Emergency Operating Committee and NEMO, which remains active at the San Pedro Town Council conference room. We listen to their needs and do our best to help every victim we can," said Augustine.
Many of the families affected on Ambergris Caye are from the San Mateo subdivision, where several homes were heavily damaged. Such is the case of Marcial Humberto, who shared a house along with four other adults. The house collapsed and the rain destroyed all of their belongings and house items. He is in need of assistance to make repairs to his house and put it back in place so they can live in it again. Currently he is staying with family members who are supporting him with a place to stay.
Other residents like Roy Arana experienced partial damages. However, one of the most important sections of his house was badly damaged – his bathroom. He is asking the general public if they can help with building materials for his bathroom. At the moment his family remains on the mainland, but he hopes he can get things back in order at his home before school opens for his children.
Additionally a young couple who fled the island for safety on the mainland came back to find their home destroyed. Giovannie Mejia and his common-law wife Rosie Chavez were made aware about the tragedy even before they made their way back to San Pedro. "Right after the hurricane, the morning after we received a call saying that our house was gone," said Mejia. "We would appreciate assistance with building materials. Also some help with household items and clothing will be welcomed." At the moment they are staying with relatives, who are providing them with a place to stay.
However, not everyone was lucky enough to find a helping hand that would lodge them for a few days. Rachael Bradley of the same division, along with her family were also affected by Earl. Their house walls were knocked down and the roof ripped off. All household items were destroyed, except for a refrigerator. Bradley told The San Pedro Sun that for the first days, she and her husband had to sleep outside under the open in order to safeguard the remaining of their belongings. "We still don't have all our walls at my home but we have a roof now. Also Minister Heredia helped us with building materials and that's how we are trying to build back our home. However, we still need help with household times, and more building materials," said Bradley. While she initially received help from her mother, she was put out shortly. "That is one of the reasons why we need to speed up the process of fixing our house because we don't have the assistance from any relative whatsoever," she said.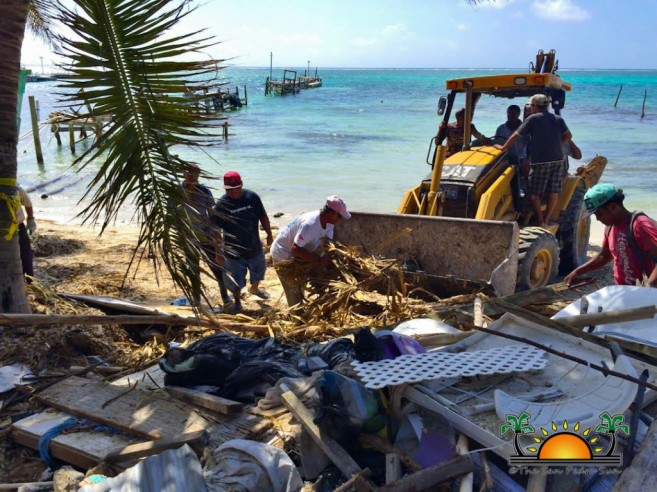 While there were no reported injuries or deaths, on the mainland the damage was catastrophic as well. Floods inundated several villages and towns, causing several families to lose everything before dawn on Thursday, August 4th. According to Jose Alpuche, Chief Executive Officer in the Ministry of Agriculture, the hurricane toll on the agriculture industry is around the $100 million mark. "What we have right now indicates millions worth of damage, when we combined the affected areas-bananas, corn, and vegetables," said Alpuche. He added that it is bad news, especially against the backdrop of reports from the Statistical Institute of Belize which indicated that Belize's exports have been contracting.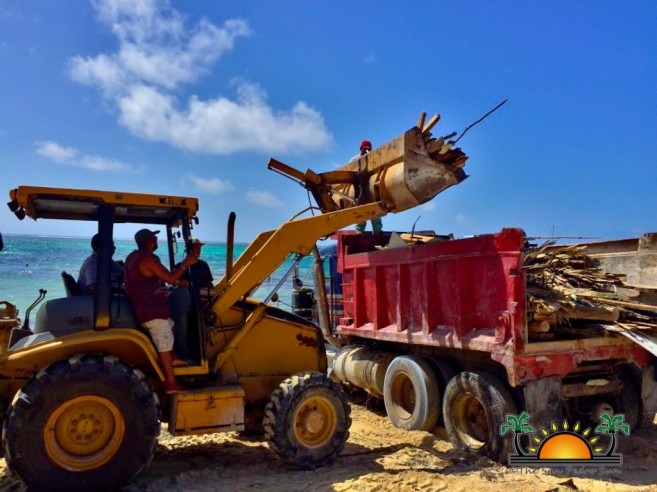 He stated that there is no estimated figure for the damage caused on the citrus industry and that the sugar sector did not receive uch damages. However, the sugar industry infrastructure did receive some damages by the storm. Alpuche also pointed out that cane planted for the next crop may be adversely affected.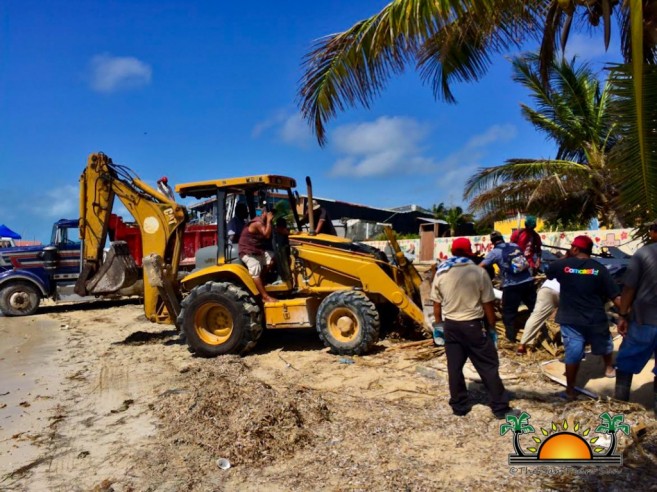 As for the Tourism Industry, the Belize Tourism Board sent out a short press release on August 9th informing everyone that Belize is ready to receive visitors. The release states that following the effects of Hurricane Earl on much of Belize – including major tourist areas, they are either already rebuilt, or are in the process of doing so. The note encourages people considering traveling to Belize, to do so as we are ready.

Adding to BTB's stamen The San Pedro Town Council issued a press release on Wednesday, August 10th where they pointed out how fortunate Belize was for not having suffered any human loss. The main damages were only in material form, and so far the island continues rapidly recovering from the hurricane aftermath. "Ambergris Caye was one of the cayes majorly affected by the hurricane. Many piers washed ashore due to the high and powerful waves that came with the hurricane and a few establishments had minor damages. The entire island of Ambergris Caye is fully restored with the main utilities, which include electricity, water and telephone/internet, which guarantee a very comfortable stay for all visitors. Thanks to the unity of the entire community of San Pedro Town, we are all back in business and ready to cater to all our visitors. Although many dive shops lost their piers, they did not lose their boats or their spirit to share with our friendly visitors the beautify of Belize. The restaurants are fully equipped and ready to serve you with exotic and exquisite Belizean Cuisine." End of quote.

NEMO's Augustine expresses her sincere thanks to the following: members of the San Pedro Town/Caye Caulker EOC Members, the Public Officers who responded to the call and needs of the community during Hurricane Earl, and the Area Representative and EOC Chairperson, Hon. Manuel Heredia for his dedication and support to all members of the EOC. She also thanks Enelda Rosado, Caye Caulker EOC Chairman and Village Council and her team and everyone who has been kind to contribute to the recovery after the hurricane.
Follow The San Pedro Sun News on Twitter, become a fan on Facebook. Stay updated via RSS