Morning fire destroys home in DFC
Friday, August 12th, 2016
Shortly around 2:45AM, on Friday, August 12th, neighbors alerted Stephanie Hemingway that her newly refurbished home on Black Pearl Street, DFC, was on fire. After quickly calling the San Pedro Fire Department, neighbors got in formation to do what they could to help. Buckets were collected and water began pouring, as the fire trucks arrived quickly, and joined in the efforts.
According to Hemingway, it was clear that the home was not salvageable at that point, and so the gathered group and officials concentrated on preventing the fire from spreading. "I am so thankful that this did not get worse. The fire officials were so amazing, and showed up so fast," said a grateful Hemingway. "And my neighbors were so kind and helpful. From Miss Helen alerting me then Gene Lopez organizing the manpower, everyone pitched in. This really is a wonderful community."
Volunteers, upon noticing that the closest neighbor's home was quickly getting smoke and heat damage, began dousing its walls, focusing on preventing the further spreading of the flames. Coupled with low to no winds, the night was favorable in preventing a catastrophe. By 3:50AM, the small bursts of blazes were being put out, and by 4:42AM, the fire had been completely brought under control.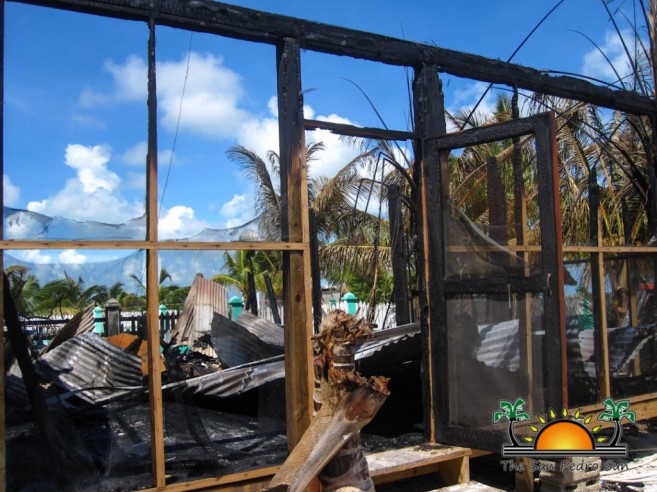 While there was complete and total structure loss, Hemingway is practical about it. "This could have been so much worse had the winds picked up. There were a lot of memories, but I am just so thankful that it was controlled as quickly as it was. I cannot thank all my neighbors enough. Their help was invaluable."
An official report will be filed and prepared by the San Pedro Police and Fire departments, the details of which we'll share once made available. This is the second fire in as many months on La Isla Bonita.
Follow The San Pedro Sun News on Twitter, become a fan on Facebook. Stay updated via RSS