Island boat Captain Jesse Smith charged for fatal February accident
Tuesday, August 22nd, 2023
The investigation on the February boating accident that took the life of 17-year-old American tourist Logan Ceylon Pratt ended with the arrest of island boat captain Jesse Smith. He has been arraigned at the San Pedro Magistrate Court on the charge of Causing Death by Careless Conduct and remanded to the Kolbe Foundation-Belize Central Prison. According to police, Smith's arrest and indictment were on directives from the Director of Public Prosecutions (DPP) office. Smith is due back in court on the island on September 28, 2023.
The fatal incident occurred on February 14th off the northern coast of San Pedro, Ambergris Caye. An official report named Smith was operating the boat that ran over Pratt and her mother, Tamra Pratt while swimming in the sea. The injured teenager was transported to a private clinic in downtown San Pedro, where she succumbed to her injuries. As the investigation continued, the case was sent to the DPP for a final recommendation on whether Smith would be held liable.
The Pratts were reportedly swimming in an area considered a busy boat lane. However, Tamra denied this allegation, saying they were in shallow waters and nowhere near the boat lane. She explained that they had been snorkeling under a pier and then walked beyond the dock when the accident happened. Tamra said the boat operated by Smith was moving at a high rate of speed, and no one was in the front part looking out. Tamra added that Smith did not assist them immediately following the collision with his boat.
Smith refuted such allegations and indicated that he followed safety measures and rendered help. Smith emphasized that he was in the boat lane and pointed out that this area north of San Pedro is heavily traversed by boats. He noted that someone took the Pratts to that area to swim. Smith said that person should have advised them of the dangers of swimming beyond the piers. Police never revealed who took Tamra and her daughter to such an area for a swim.
The Smith family is disappointed with the DPP's decision. They question why the person who took Tamra and her daughter to that island area to swim has not been investigated. They noted that their relative should not be liable for the unfortunate boating accident.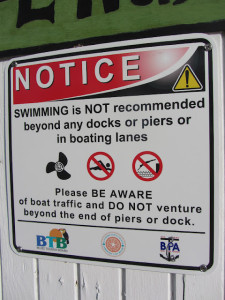 To avoid these types of accidents, it is essential to note that swimming beyond piers is unsafe because of the heavy boat traffic along Ambergris Caye's east coast. Many beachfront properties and resorts have posted signs or buoys advising people of the safe swimming zones. The Belize Port Authority urges stakeholders to do the right thing, have this critical signage on their docks, and advise people/customers of the risks when swimming beyond these structures to avoid unfortunate incidents like the one the Pratts experienced.
Follow The San Pedro Sun News on Twitter, become a fan on Facebook. Stay updated via RSS