"Dias de Los Finados" celebrated in San Pedro Town
Friday, November 2nd, 2012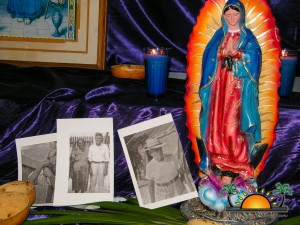 The celebration of "Dia de Los Finados" is a long lived tradition in the Maya, Mestizo and the Garifuna cultures. The first and second day of November is traditionally when family members remember and commemorate their deceased loved ones. Over the years, this cultural custom has been forgotten in Belize, and for this reason the San Pedro Cultural Committee has taken the initiative to revive the tradition. The two days of celebration merges religion, cultural and authentic traditional cuisine into one area, all remembering the dead under the theme "Los Finados: A loving encounter between the living and dead."
The HanalPixan (Maya) or Los Finados (Garifuna/Mestizo) is intended to bring families together and remember their loved ones who have died over the years. According to San Pedro Town Councilor Mito Paz, Chairman of the San Pedro Cultural Committee (SPCC), the event is being organized by several stakeholders who want to revive the Los Finados celebration on the island how is used to be many years ago. Paz explained that on November first, it is the day set aside to remember the young souls. It is commonly referred to as "All Saints Day" because the young children are said to have pure, clean souls. The second day, November 2nd is referred to as "All Souls Day," which is set aside to remember the adults that have died.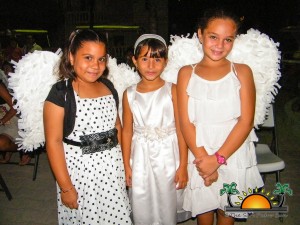 On Thursday, a number of island children dressed as saints, complete with costume and angelic wings to represent innocence. After having a short chat with the children about the significance of the celebration, the presiding priest prayed the rosary with them, blessing the altar and the food.
On both days, bereaved families traditionally take an offering to either the place of burial of their loved one, to a special altar at the church or will set up a private altar at their homes referred to as the "Altar of the Dead." The altar is decorated in purple and black, with candles and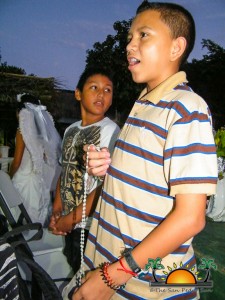 portraits of favorite saints of the family and a portrait of the dead person or persons. The offerings that are place on the altar of the dead would be the favorite food and drinks that that their loved one once enjoyed in life.
According to Paz, as part of the SPCC involvement, a large altar was placed at the Friendship Park located next to the San Pedro Catholic Church. The Altar of the Dead was decorated with saints, candles and flowers. "Anyone wishing to bring pictures of their loved one on the altar can do so and they can also bring their offerings," said Paz. The SPCC set up the altar for the two days and with the support of the Roman Catholic Church have the prayers "resos" at different intervals along with other cultural entertainments. Families who wish to share stories of their loved one can also do so.
Traditional food and drinks that are given out on the occasion of "Los Finados" will served to those in attendance.
The event is being sponsored partly by the San Pedro Town Council, the National Institute for Culture and History (NICH), The Museum of Belize, The San Pedro House of Culture and the San Pedro Cultural Committee. The event is open to the public free of cost. The Dia de Los Muertos festivity, dedicated to the dead, was inscribed by United Nations Educational, Scientific and Cultural Organization (UNESCO) in 2008 on the Representative List of Intangible Cultural Heritage of Humanity.
Photo Gallery
Follow The San Pedro Sun News on Twitter, become a fan on Facebook. Stay updated via RSS