SPCC to celebrate "El Dia de la Virgen de Guadalupe"
Monday, December 10th, 2012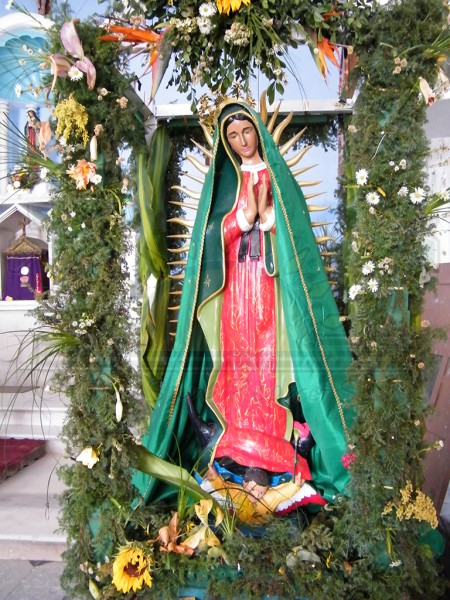 The San Pedro Cultural Committee (SPCC), through the San Pedro House of Culture and other residents are making final preparations to celebrate "El Dia de la Virgen de Guadalupe" of "Our Lady of Guadalupe." The celebration is set aside by believers of the Roman Catholic faith to commemorate the date that Saint Guadalupe appeared before Saint Juan Diego at the hill of Tepeyac in Mexico in 1531.
In Mexico and many other parts of the world where the Catholic Church is dominant, the Day of the Virgin of Guadalupe is celebrated on December 12th in honor of the Saint's image. According to catholic teachings, it commemorates the day in which Our Lady of Guadalupe appeared to St. Juan Diego. For that reason the Basilica of Our Lady of Guadalupe in Mexico City and the temples and churches that have her as patron Saint is visited by millions of pilgrims and worshippers. It represents one of the most significant traditional religious celebrations of the liturgical calendar of the region.
In San Pedro Town, where the Catholic faith is larger than other churches, the SPCC has also planned activities to coincide with the Catholic celebration on the 12th of December. Following the annual evening procession and open mass at the San Pedro Roman Catholic Church, the statue of the Our Lady of Guadalupe will be placed on an altar, depicting an old San Pedro setting. After the altar is blessed by the Priest, visitors as well as islanders will have the opportunity to place their candles and other offerings before the statue, after which dedications in the form of songs, poems and prayers will be made. In addition, warm beverages and traditional Mestizo food will be served throughout the course of the night until midnight.
The hosting of the event is a joint collaboration between the SPCC, the San Pedro House of Culture, the San Pedro Roman Catholic Church and other island residents. The event is open to members of the public and is another activity geared to promote cultural tourism in San Pedro Town.
Follow The San Pedro Sun News on Twitter, become a fan on Facebook. Stay updated via RSS