Islander Jeshua Muñoz wins Young Minister's Award at the 2020 Belize Youth Awards
Monday, November 9th, 2020
San Pedro Town, Ambergris Caye is full of talented individuals. From academia to sports to community leadership, the island is blessed with youth who excel. Often times, they garner national attention for their inspiring activities, making them the perfect candidates worthy of awards. This was the case on Friday, November 6th, when islander Jeshua Muñoz was awarded the Young Minister's Award for Leadership and Advocacy at the 2020 Belize Youth Awards. This is the second year in a row that an islander has been awarded this honor, as Nayobie Rivero was given the award in 2019.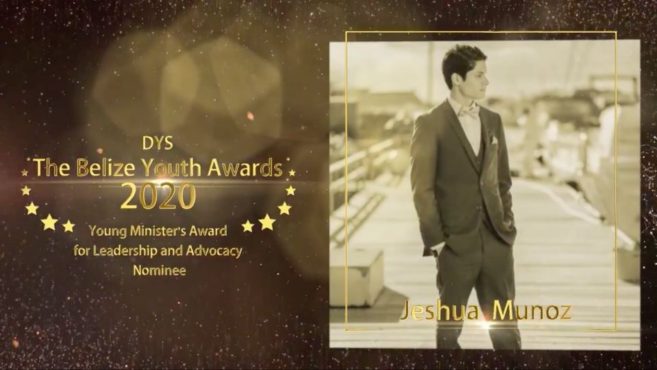 Several talented Belizeans from across the country were awarded during the annual event. They were recognized for their outstanding participation in areas such as poverty alleviation, democracy, environmental preservation, leadership, education, sports, technology, and science among others.
The youths awarded this year were not able to receive their prizes in person due to the COVID-19 pandemic. The program was broadcast virtually, featuring hosts Kris Miller and Youth Ambassador for Belize and Miss Universe Belize 2018 Jenelli Fraser. After almost an hour of inspired programming, Minister of Education, Youth and Sports Honourable Patrick Faber shared some remarks before the last category for youth awards was announced. Muñoz and Kelsey Codd were the nominees in the Leadership and Advocacy category. This category awards an individual that demonstrates and advocates, promotes, organizes and manages group activities in the interest of empowering young people. It honors a leader that demonstrate commitment and involvement for the advancement of youth development work.
Jeshua Muñoz takes the 2020 Minister's Award for Leadership and Advocacy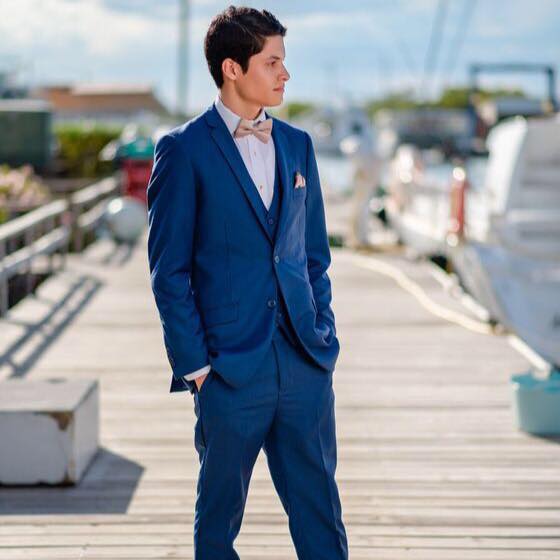 After mentioning the nominees, Fraser announced San Pedro's very own, Jeshua Muñoz as the winner of such award. Muñoz is described as a motivated youth leader on the island, guiding teenagers through their most difficult times. He started his leadership with seven students and he now has over 50 teens in weekly sessions ranging from volunteering and learning about Jesus Christ. Muñoz is a proud and active member of Sagebrush Church and follows the guidance of Timothy 4:1 that says 'Don't let anyone think less of you because you are young.'
Mental Health Advocate
Muñoz is also a young mental health advocate, strongly incorporating the need to bring awareness to depression and anxiety among the Belizean youth. He shared that his goal is not to have success but to live a life with significance and with a purpose to be an inspiration to the youth of San Pedro and the rest of the country. His family and friends are more than proud of his achievement and wish him all the best in his future working with the youth. They stated that Muñoz will always have their support in activities assisting young people.
The Belize Youth Award aims to demonstrate to leaders and other policy-makers the importance of young people's role in development. Additionally, the awards also serve to inspire other young Belizeans to take action in their communities and build a better for the country. The other winners of the night include Kelsey Balderamos – Outstanding Female in Sports, Francis Hauze – Outstanding Male in Sports, Kirwin Ramirez – Young Musician Award, Kevin Moralez – Visual Artist Award, Brianie Chavarria – Diversely Abled, Samantha Tasker – Academic Excellence, Jasmine Bennett – Entrepreneurship Award, Ronalee Mckenzie (Save the Seas) – Environmental Steward, Vistro by Aziel Ku – Innovation in Technology and Oceana in Belize – Social Media Influencer Award.
The San Pedro Sun joins the island community in congratulating Muñoz, and all winners, on a job well done. We wish them all the very best in future community projects.
Follow The San Pedro Sun News on Twitter, become a fan on Facebook. Stay updated via RSS