PM Barrow announces international airport to come to North Ambergris Caye
Wednesday, September 23rd, 2015
Ambergris Caye continues to grow as the top tourism destination in Belize and with that comes continued investment in infrastructure. Currently, the Government of Belize (GOB) is investing in Northern Ambergris Caye with the construction of 11 miles of paved road. GOB has also confirmed that once the road is complete, they will venture into a new project which will see the construction of an international airport on Ambergris Caye. The airport will serve to continue promoting the island as Belize's top tourism destination as it will provide easier access to the international tourism market.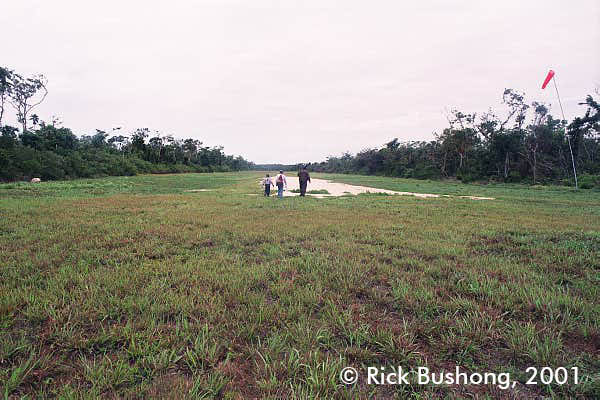 Prime Minister Barrow first announced the possibility of an international airport in San Pedro during the United Democratic Party's (UDP) pre-election rally on February 28, 2015. During Barrow's Independence Day Speech delivered on Monday, September 21st at the Belmopan City ceremonies, he further elaborated on the project. "A while ago I spoke of the economy and was pleased to emphasize its basic soundness. What I wish now to do, is to underscore that tourism remains our single largest driver, and talk a little about our plans to continue encouraging its star turn. These include additional marketing and quality improvement efforts. But they also include destination infrastructure improvement, and there are three projects in that connection that I wish to highlight. First, there is the continuation of the North Ambergris Caye road project. We have just signed a contract for the construction of another four miles of the road providing land access to the premier resorts on North Ambergris, making for a total of 11 miles that we have already funded. When this next phase is completed we will sign for the last few miles to take us to the Basil Jones airstrip, which we will redevelop, redesign and expand into an international airport," said Barrow.
Barrow also announced the new name for the airport. "I am also happy to announce that Basil Jones will be renamed the Efrain Guerrero International Airport in honor of the eponymous, recently deceased San Pedro patriot. With this, we expect a phenomenal new opening up, a veritable tourism explosion, in Ambergris Caye, which is of course already our market leader," said Barrow. It is the hopes of GOB that the projects of both the paved road and the airport will greatly benefit tourism and business development on Northern Ambergris Caye.
The Basil Jones Airstrip is located west of the Punta Azul (Latitude: 18°4'59.99″ Longitude: -87°52'59.99″) area and was the first airstrip on the island, with its terrain being three meters above sea level. No time line was given as to when the airport project will materialize.
Follow The San Pedro Sun News on Twitter, become a fan on Facebook. Stay updated via RSS