Prime Minister and Leader of Opposition deliver Independence Day Address; Barrow hints at early General Elections
Thursday, September 24th, 2015
The official ceremonies commemorating Belize's 34th Independence anniversary took place on Monday, September 21st at Independence Hill in Belmopan City. The event sees the attendance of foreign dignitaries as well as members of the Belize Diplomatic Corp among other invited guests. Per tradition, both the Prime Minister of Belize and the Leader of the Opposition addressed the Belizean public during this ceremony, highlighting main issues and future plans for the country.
After establishing protocol, Leader of the Peoples United Party (PUP), Francis Fonseca was first to take to the podium to deliver his address. In his speech, Fonseca emphasized the importance of unity and coming together in patriotism for a better Belize. "Indeed there are important lessons to be drawn from the past 34 years, but today for me, the more important question is what will we make of the next 34 years? What is our national vision for this next chapter of our young nation's life? And are we, each of us, prepared to work, and sacrifice to achieve that vision and create the society we say we aspire to?" asked Fonseca.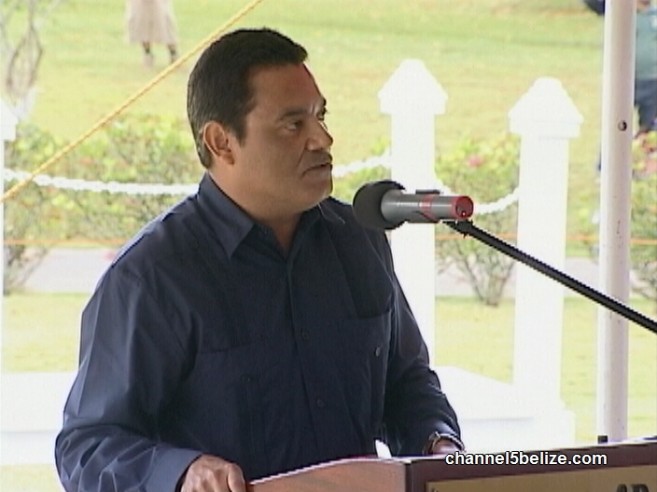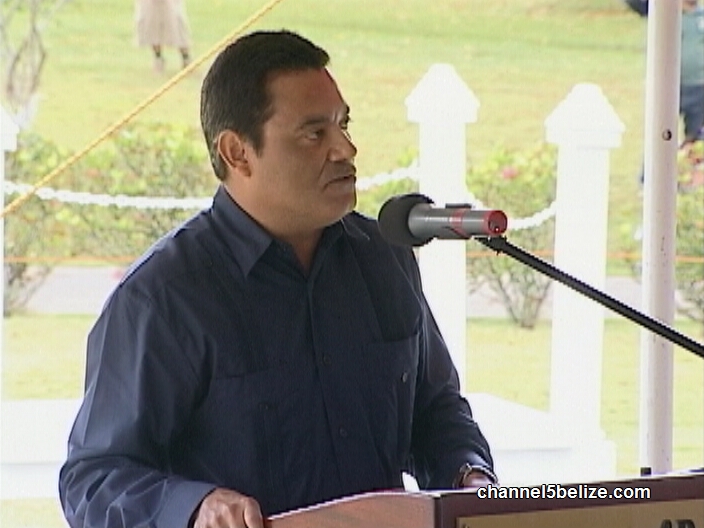 Fonseca proceeded to mention the struggles Belize has experienced in its years after receiving independence. "Our efforts to combat poverty, and inequality, demand and require an equal sense of purpose and unity. True development calls for profound qualitative change, not only of the economy, but also of the society. Central to this change is governance reform. Governance is the hallmark of a democratic, peaceful, just society, and is fundamental in eradicating poverty and corruption, bringing about economic growth, and social progress. It is concern with the rules, regulations and procedures that apply to the decision making process. Decisions made in our governance systems and structures, determine how the collective wealth and resources of the nation is managed and allocated, and ultimately the quality of life of each and every Belizean. 34 years after Independence, 17 years of PUP, 17 years of United Democratic Party (UDP), our responsibility and obligation is to work together in good faith, to change improve and strengthen. To change, improve, and strengthen the failing systems and structures we have in place to govern and develop Belize," said Fonseca. "On this Independence Day, let us embrace governance reform by committing to the appointment of the 13th Senator, to reactivating the integrity commission and to restructuring the public accounts committee. On this 21st day of September let us resolve to renew our commitment as a nation and people, to build a society based on equality, justice and opportunity."
In his address, Prime Minister Dean Barrow talked about the country's current status of the country, referring to the nationalization of utility companies and upcoming development projects. "September 21st this year arrives to the accompaniment of an even greater than usual celebratory chorus. And the multiple positive developments occurring during the first three quarters of 2015, have appeared to reach a flood just in time for Independence Day. Thus it is that we have now procured vindication in what was an ongoing battle to win final acceptance of our decision to take back the Belizean patrimony constituted by our nation's essential public utilities. For my administration, it is almost impossible to overstate the significance of the Belize Electricity Limited and Belize Telemedia Limited settlements. After all, this has been for us a kind of second sovereignty campaign. Now, after six years of struggle, those two fundamental Belizean assets are ours to have and hold forevermore," said Barrow.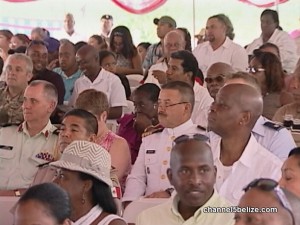 He went on to boast on the growth of the country's economy. "But on the social side I want at once to express my great satisfaction at the record salary increases that, for the second year in a row, we have been able to give to our civil servants: to our teachers and nurses and doctors and soldiers and policemen and all public officers. Our economy is doing well. The great growth of the first quarter was succeeded by a small contraction in the second, due to some difficulties with commodities and in particular the huge resource decline in oil. Meantime we are still at 2.7% in GDP year-over-year increase, inflation is just about the lowest in the region, and unemployment is significantly down. Because we expect continued economic and revenue growth, next year should see a third salary raise for government workers, and this is really quite extraordinary. They are the largest individual sector workforce, and the multiplier effect of these big boosts in their disposable income cannot be stressed enough," said Barrow. He indicated that there will also be a salary increase for the workers at the Karl Heusner Memorial Hospital as well as an investment in equipment to improve the quality of service offered to the public.
Barrow also spoke on the PetroCaribe loan agreement and all the future projects and municipalities that will benefit from the loan. "I want to point out that I had said earlier this year that we were going to roll out PetroCaribe to the rural areas, and we have done so with a vengeance. Since March we have spent around 20 million dollars in village constituencies, and we are not done yet. We have reached every single constituency, if not every single village, and this UDP transformation phenomenon is now truly countrywide, truly national," stated Barrow.
As tourism remains the single largest economic drive, Barrow plans to put much emphasis in the tourism industry. Among the projects is the pavement of 11 miles of road in Northern Ambergris Caye and construction of an international airport in the Basil Jones Area, also on Ambergris Caye. "We are also constructing a new road to Lamanai via Bermudan Landing and Lemonal. That contract has also been signed, and this will mean that Lamanai will now form part of the day trip circuit for cruise passengers and provide increased tourism opportunities to Orange Walk and to the Belize Rural North villages along the route. Finally, and this really will constitute a new jewel in the tourism crown, we are going to do a paved highway to Caracol, with two points of origin from Georgeville and Santa Elena. We are funding locally, and have already signed the contract for road rehabilitation from Cristo Rey to San Antonio and thereafter to the junction with the Georgeville road. Then the Organization of the Petroleum Exporting Countries (OPEC) and Kuwaiti Funds, which are already doing the rehabilitation of the Hummingbird Highway, will partner together to take us the 40 plus miles from the junction to Mountain Pine Ridge and then to Caracol," explained Barrow.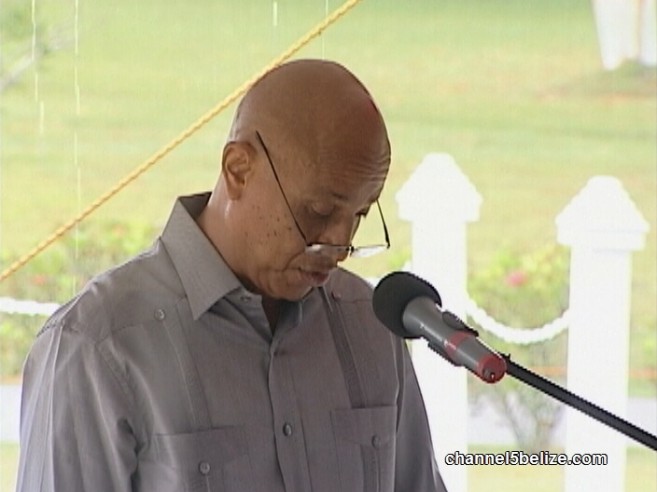 Another issue Barrow discussed was the nation's security and poverty alleviation. He indicated that Belize has received a 30 million US Cabei loan which will be used for these matters. "As has been detailed, the monies will assist the police, the BDF and the Coast Guard. The improvement in forensic capability that is part of the deal should, together with improved policing, lead to a better crime solving and conviction rate. The community outreach of the police, especially on Southside Belize City, will combine with a second surge in hope and improved living and job conditions that the commencement now of Southside Poverty Alleviation Project Phase two represents. The money funds improved streets and drains; land reclamation and landfill; construction of new homes and home improvement; education, training and social development. This dramatic GOB infusion of money and resources, together with the revised Southside strategy of the police high command, should contribute to the reversal of the alarming spike in the murder rate, especially in Belize City, that this year brought. The Coast Guard will get two new, latest model vessels for maritime protection and illegal drugs and fishing interdiction. And the BDF will be able to acquire multiple additional assets that, along with the one helicopter already confiscated and the two more coming from Taiwan by Christmas, will greatly increase its capacity as the front line guardian of our territorial integrity. Of course, the BDF will also build the forward operating base on the North Bank of the Sarstoon River as it continues to assert and exercise Belizean sovereignty in that area," said Barrow.
The Prime Minister concluded by retaliating the work his administration has done and indicated his desire to hold General Elections before Belize's next independence celebrations. "George Price was the father of our Independence and Philip Goldson the defender of our democracy. There is, in my view, quite a confluence occurring now and we are proceeding to build on two foundational legacies. We do so by consolidating economic sovereignty and cross hatching it with George Price's political sovereignty and territorial integrity; and by expanding social protection and increasing individual opportunity to make perdurable Philip Goldson's free speech, libertarian democracy. In doing this, my Administration, as always, seeks to do right by all the people of Belize. And as a Government on this last Independence Day before the next general elections, we stand before the bar of history fully expectant of a judgment recognizing us as the good and faithful servants we have always striven to be. So, confident in the job we have done and the support of our citizens, my Cabinet and I wish each and every Belizean, at home and abroad, a Happy Independence Day."
Follow The San Pedro Sun News on Twitter, become a fan on Facebook. Stay updated via RSS