Big renovations to come to the Air Traffic Control Sector in 2016
Wednesday, December 16th, 2015
The New Year will see some major improvements to Belize's Air Traffic Control Sector with the signing of a $9 million renovation project contract. The project is scheduled to commence in early 2016, and will see the upgrade of air traffic controls, radar systems and meteorological devices. This much needed upgrade comes after a long petition from Air Traffic Control workers and the Public Service Union who claimed the facilities at The Philip Goldson International Airport are not up to par with today's demanding aviation industry. The project contract was signed on Wednesday, December 2nd as part International Civil Aviation Day and is expected to take up to 18 months to complete.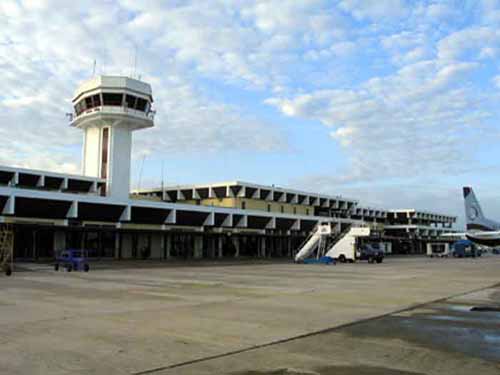 Present at the signing of the project contract were Corporacion Centroamericana de Servicios de Navegacion Area (COCESNA)'s Executive President, Jorge Vargas, Minister of Tourism and Civil Aviation, Honorable Manuel Heredia Jr., Director of Civil Aviation Lindsay Garbutt and Director of Latin America Affairs for Indra Systems, Enrique Castillo. Indra Systems will be providing all the equipment necessary for the renovation will CONCESNA and the Ministry of Civil Aviation will be jointly overseeing the that the project is completed in a satisfactory manner.
Heredia remarked on the great benefits the upgrade will bring for Belize's Aviation Industry and even the Tourism Industry. "This is a very important milestone for civil aviation in Belize; the signing of this contract with Indra Systems, an international equipment supplier from Spain. The government of Belize and COCESNA are in the process of carrying out a $9.5 million project for a state of the art modernization of our air traffic control center, radar system, meteorological system and all other associated equipment of the air traffic control system. Such modernization will immensely enhance the provisions of the air traffic services in Belize and is in line with the world's huge technological advancement in air traffic management," said Heredia.
While this single upgrade is to benefit Belize greatly, Vargas also announced that there are still more improvements to come to the Belize Aviation Sector. "We're doing a huge investment for Belize. COCESNA, with the planning of [Lindsay] Garbutt as a representative of the Government of Belize on the board of COCESNA, we will be investing $12 to $14 million in the next five years into projects that benefit Belize. This will be done to accomplish requirements for safety and efficiency for the air navigation sector for the industry," said Vargas.
In an effort to not only improve the Air Traffic Control systems but also those operating it, all senior personnel will be sent to Spain to receive training under Indra systems to ensure that they can properly utilize the new equipment.
Follow The San Pedro Sun News on Twitter, become a fan on Facebook. Stay updated via RSS