Belize State of Emergency restrictions further amended by the GOB
Saturday, May 30th, 2020
Belize continues to lead in the fight against the COVID-19 pandemic as it has been free of the disease since May 5th. Having maintained that status for nearly a month, Prime Minister Right Honourable Dean Barrow addressed the nation on Friday, May 29th, and announced the further loosening of measures under the current State of Emergency. Barrow spoke about amendments to the current curfew, approval for street-side vendor sales, the opening of casinos, gymnasiums, restoration of non-contact sporting events in public areas, and increased size of social gatherings. The Prime Minister's message also included the reinstitution of the weekly Boledo and Sunday lottery sales, the potential reopening of the Philip S.W. Goldson International Airport, and the current situation regarding health services and the economic aspect of the country.
In his virtual press conference, the Prime Minister began by informing Belizeans that the country continues to remain COVID-19 free, and he thanked all essential workers. The recent batch of tests has all returned negative, with a total to date of 1,572 tested. Barrow clarified the allegations that the average testing per week had decreased because of limited supplies. "According to our Director of Health Services, Dr. Marvin Manzanero, in our current circumstances, testing of asymptomatic people is a low-yield exercise," said Barrow. He added that Belize's current test level is entirely satisfactory to World Health Organization standards.
Barrow confirmed that certain monies that were to arrive in the country via international financial institutions like the InterAmerican Development Bank (IDB) and World Bank are still pending. Although there is an apparent delay, Barrow assured that this foreign funding would be available in June. "In fact, the first disbursement of US$6.2 million from the IDB is to arrive right after the bank's June 3rd signature of the amended loan contract," said Barrow. Another amount from the IDB, of US$12 million is scheduled to be approved formally on June 20, 2020. According to the Prime Minister, an amount of US$21 million from the World Bank will also be made available in June. In addition, the World Bank is expected to make available an additional US$50 million around July.
Changes on current restrictions under the State of Emergency
As of Monday, June 1st, the number allowed for gatherings (with social distancing measures in place) will increase from 10 to 40.
Taco salespeople and other street vendors can get back to business but will need to comply with certain health protocols. Those protocols are being finalized and will be handed to those who have emerged as the leaders of the street vendor community between today and tomorrow.
All restaurants are now permitted to operate. This, again, is on the condition that physical distancing and other rules will still apply.
The sale of Boledo will resume, and casinos will also be allowed to reopen. Smoking and alcohol consumption is prohibited within the casinos.
Gyms can resume business in accordance with strict guidelines.
All non-contact open-air sports are permitted for practice and exercise purposes, and exercise hours are no longer restricted to the 5AM to 8AM time slot.
Sportfishing is also allowed.
Regarding the general curfew hours, these are being broadened only for Fridays and Saturdays. Thus, on those two days, curfew will be from 9PM to 5AM. All other days it will remain at 8PM to 5AM. The children's curfew generally stays at 6PM to 8AM. Prime Minister Barrow added that minors could move about from 5AM up to 8PM on weekdays and 9PM on weekends if, and only if, a responsible adult accompanies them.
In the case of graduation at schools, there is the possibility of entertaining possible events, but no final decisions have been made as yet. This matter will be further discussed at a meeting on Monday, June 1st.
Borders and international airport to remain closed
PM Barrow made it clear that the opening of the land borders was never on the table, as cases of COVID-19 in Mexico, Guatemala, Honduras, and El Salvador continue to increase. "We agreed that there would likely be a considerable wait before we could unseal our land borders," said Barrow. With tourism being the country's largest job creator and source of foreign exchange earnings, the opening of the Philip S.W. Goldson International Airport (PGIA) is becoming more and more imperative. According to him, the total tourism expenditure in Belize in 2019 was over half a billion U.S. dollars. "The devastation is such that between January and April of this year, tourist spending in Belize fell by US$82 million over the same period last year. And until the PGIA can reopen, it is only going to get worse," said Barrow.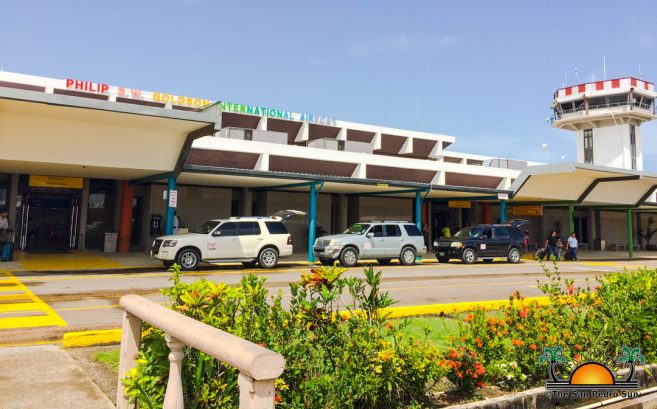 The government had made plans to reopen the international airport by July 1st by implementing a condition were travelers to Belize were required to produce a negative COVID-19 no more than 72-hours before travel. The PM stated that the airlines which fly to Belize agreed with this method, but on Thursday, May 28th, the International Air Transport Association (IATA) sent its disapproval to Belize. According to IATA, that method is not acceptable and declared that Belize should wait on the development of a reliable rapid test that can be conducted before passengers board the plane. "We will not be able to reopen until there is mass availability of approved rapid tests," said Barrow. He did add that if there are charter flights with travelers providing negative COVID-19 test within 72 hours, they would be allowed to enter the country.
Prime Minister Barrow shared his hope that things will change for the better and added that the country would get through this difficult time. He commented that they anticipate international tourism to resume in November but could not confirm when PGIA would reopen.
Follow The San Pedro Sun News on Twitter, become a fan on Facebook. Stay updated via RSS