Residents seeking answers after suspension of BWS water services
Friday, September 25th, 2020
Island residents are concerned as Belize Water Services (BWS) has apparently started to disconnect water supplies in different households across the island.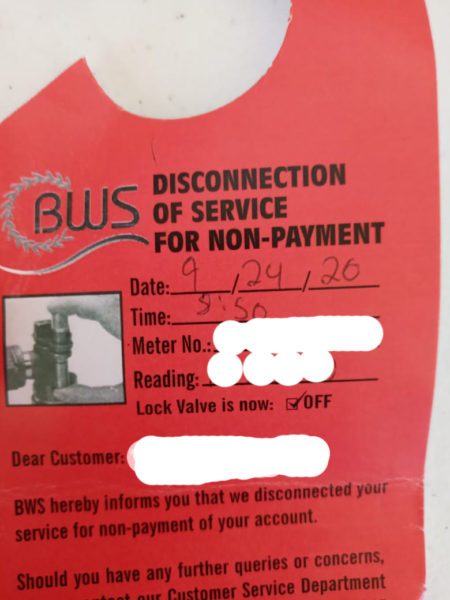 The disconnection is allegedly attributed to the lack of payment for the services. The affected residents claim to be struggling after months of being jobless due to COVID-19 and the ensuing lockdown and is asking the company to consider the current situation. BWS confirmed that complete lack of payment can lead to disconnection, but urges customers facing difficulties to visit their nearest office to make arrangements regarding their water bill.
An islander shared his experience with The San Pedro Sun, explaining that since March, when tourism and several businesses shut down on the island due to the pandemic, he has been jobless. According to him, paying utility bills and surviving has been a nightmare. The concerned resident says that due to strict measures in the country's State of Emergency, the business where he worked has not been able to open properly; thus, he continues without a job.
An arrangement was initially made with BWS at the end of July when the water bill was covered. A payment was due in August when the tourism industry was to re-open.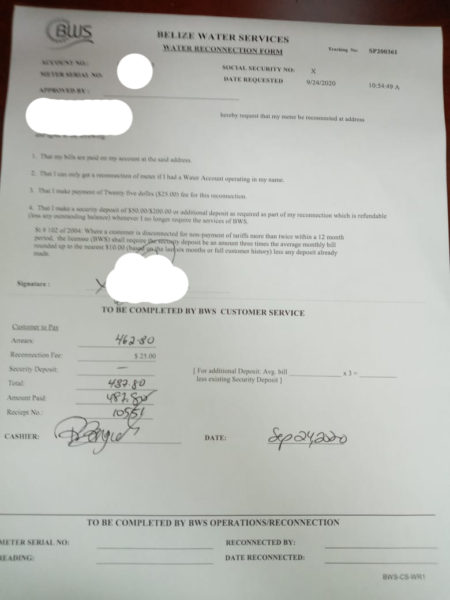 However, that did not happen. With no guaranteed source of income, the situation became dire, leading to the cutting off of water services. "I had to borrow money for the reconnection," the frustrated resident said. Based on the paperwork regarding the reconnection, a total of $487.80 was paid.
Like this resident, several others on the island, who once worked in the hospitality industry have been struggling to make ends meet. They look forward to a change in their lives once the tourism industry opens on October 1st, with the re-opening of the Philip Goldson International Airport.
A representative of BWS, who preferred not to be named, explained that initially, the company provided a 25% discount for three months (April, May, and June) to residential customers consuming below 3,000 gallons of water. They added that payment plans are offered to customers, and their staff has been out in the field trying to find out how they can help. Customers are urged to visit their nearest office, so they explain their situation and make arrangements. The payment agreement must be honoured to avoid disconnection. If there are any complications during the process, customers can visit their BWS' nearest office to discuss their situation further.
The local BWS office is on Manta Ray Street in San Pedro Town. Customers may also ask to speak to someone in the Customer Service Department at the BWS office located on Central American Boulevard in Belize City by calling phone number 222-4757.
Follow The San Pedro Sun News on Twitter, become a fan on Facebook. Stay updated via RSS