Caye International Bank in its 20th Anniversary Year Partakes in Belize Delegation trip to Iowa Investment Partner
Monday, August 7th, 2023
On Thursday July 20th, 2023, Caye International Bank's (CIB) senior leadership, led by Chairman Joel Nagel, embarked on an international journey to East Omaha/Council Bluffs, Iowa, USA. CIB's executive management and board of directors held formal meetings as well as met with their investment colleagues at TS Prosperity Group, a division of Treynor State Bank.
Joining Chairman Nagel's Belize delegation, included CIB President Luigi Wewege, Chief Operating Officer, Gladys J. Urbina, and Bank Directors; Michael K. Cobb, Dr. Kenneth Skorenko, Peter A. Zipper, as well as Consulting Director Joshua Guttau.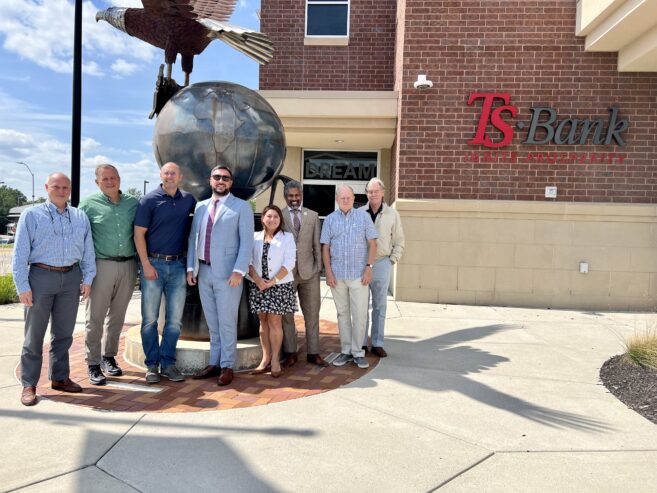 Lately markets have been at risk of more upheaval due to banking uncertainty, hence the two-day meeting was full of discussions ranging from the US Federal Reserve raising interest rates to the challenges and opportunities of mass adoption of digital currencies.
Reflecting on the visit, Chairman, Joel Nagel shared his admiration for the warmth and hospitality extended by the people of Iowa, drawing parallels between the friendliness of the people in Iowa and Belize. He also expressed his conviction that this American trip will significantly impact CIB's continued growth and expansion of its financial services. President, Luigi Wewege then shared his excitement for several of CIB's Belize-based staff to undertake training at TS Bank in Iowa within the next few months.
CIB is the only international bank headquartered on Ambergris Caye island and has been instrumental in fostering economic growth in Belize. In addition to offering traditional banking services such as checking, savings, and CD accounts, the bank provides commercial mortgages and residential construction loans to its foreign account holders within the country.
Notably, CIB has maintained its status as an industry leader in the region throughout its history, and this year has received a number of prestigious recognitions. Two recent awards which the bank has been honored with are the "Best Private Bank in Central America 2023" by Global Business & Finance Magazine and "Best Offshore Private Bank 2023 – Central America" by Corporate Vision Magazine, adding to its already impressive collection of awards to date.
"CIB continues to pave the way in the offshore banking industry, serving its clients with unwavering dedication to their financial wellbeing and fostering strong international partnerships to drive further growth and success," said President Wewege.
About Caye International Bank:
Caye International Bank, headquartered on Ambergris Caye island in Belize, is a leading financial institution providing a wide range of banking services to clients worldwide. With a firm commitment to client excellence and a focus on cultivating strong relationships, CIB has emerged as a prominent player in the regional and international banking landscape. For more information, please visit: www.cayebank.bz.
Follow The San Pedro Sun News on Twitter, become a fan on Facebook. Stay updated via RSS