DFC and Mama Vilma's Family Home hosts Christmas joy to underprivileged children
Saturday, December 15th, 2012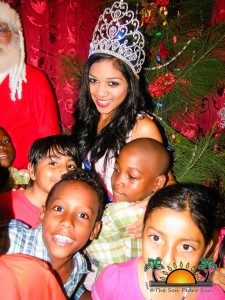 The Development Finance Corporation (DFC), San Pedro branch, in collaboration with the Mama Vilma's Family Home hosted a party on December 10th. The festivities were initially scheduled for fifty underprivileged children of San Pedro, but that number quickly escalated to over one hundred. The kids were invited to Bistro Mestizo Restaurant to celebrate and bring in the Christmas season in a more than merry fashion.
The youngsters enjoyed treats including food, drink, gifts and even a visit from Santa Clause. All in attendance had a blast playing and even dancing the night away with upbeat music. Debby Gomez, Officer in Charge of DFC San Pedro sub-branch believes that this activity is one of DFC's few efforts to bring holiday cheer to the less fortunate residents of San Pedro who may otherwise be deprived of holiday treats. It is the hope of DFC that in the coming years there will be more support from the community to make a grander affair of this event.
DFC thanks its staff, and of course Mrs. Shelly Huber of Mama Vilma and Bistro Mestizo for providing a location for the party and for helping in identifying the children in need. According to Gomez, DFC is also willing to help in other worthy causes that benefit children in need in San Pedro.
Photo Gallery
Follow The San Pedro Sun News on Twitter, become a fan on Facebook. Stay updated via RSS