Fashion show brings in over $10k for Mama Vilma Family Home
Saturday, February 11th, 2012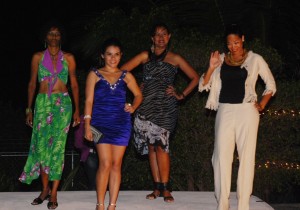 The Mama Vilma's Family Home Committee held a very successful fashion show on the night of Saturday, January 28th. It was their second annual fashion show fund raiser which took place at the San Pedro Family Fitness Club. The organization and community volunteers are raising funds for a family home, where they hope to offer housing and support to women, families and men who are not only in need but subjected to domestic abuse.
According to the committee, all indications are that the show was a great success, bringing in $10,826.07, with more money still trickling in. Mrs. Shelley Huber, one of the organizers, stated that they are "encouraged by the overwhelming support given by the community." The event was well attended, and models of all ages showcased clothing provided by many local boutiques.
The committee is thankful to Top Notch, Love Belize, Sarai's Boutique, Mambo Chill, Island Gear, Marlin's, Caribe Creations and 4:20 Men's Wear. Helping out with appetizers were Chap Ross, Carolyn Kumar, Dave and Renae, MercieTrejo, Shelley Arceo, Terressa Moore, Susanne Janowitz, Renita and Cindy (Changes in Latitudes), PepperOni's Pizza and Susana of El Fogon. Bartenders Petey Palazza and Rebecca Coutant were dynamic behind the bar. Paul and Kelly German provided the venue, working hand in hand with the Mama Vilma committee to ensure the event was a successful one. Thank you to one and all for their invaluable support.
Mama Vilma's Family Home is also pleased to announce that in the interim, while land is acquired and a home is built on the island, Mary Open Doors of the Cayo District has offered refuge. By working hand in hand, both groups are providing a safe haven to the abused and in need. Anyone who is seeking help can contact anyone from the committee (Shelly – 651-3533, Eve at [email protected] or Cheryl at [email protected]).
To find out more about how you can help, visit www.mamavilmasfamilyhome.com. The website provides a wealth of information, including full financials, ways to donate and more.
Follow The San Pedro Sun News on Twitter, become a fan on Facebook. Stay updated via RSS