Mama Vilma's Family Home
Tuesday, January 25th, 2011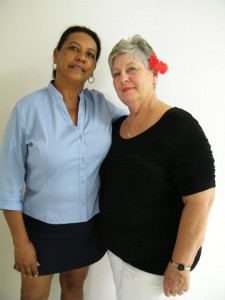 In a society where abuse happens but is often never reported, it is imperative that those abused have a haven to turn to when in need. Having seen the need for such a home, a group of dynamic volunteers have taken on the hefty task of planning a variety of activities in the hopes that the community comes together to build this much-needed home for women, children and men in need. The San Pedro Sun met with two of the ladies spearheading the group, Mrs. Shelley Huber (President) and Mrs. Eve Dirnback (Vice President), and they outlined their plans.
Mrs. Dirnback has been active in San Pedro, having (often single-handedly) raised funds for projects, especially at San Pedro Roman Catholic School. Mrs. Shelley of course, is known for her participation in community events, providing delicious food from her catering company, as well as offering support whenever necessary. With the saying "it takes a village to raise a child", and bearing in mind one of San Pedro's most beloved women, Mrs. Vilma Arceo, the volunteers are ready to work to build "Mama Vilma's Family Home". It is not just a home for women and children; there are single fathers who need help too.
Taking into account the legacy of love that Mama Vilma had for the children in her community, being herself a battered woman, the group decided that the home would be dedicated to her memory. The first fundraising effort will be a Fashion Show, to be held at the Coco Locos Bar on February 19th, from 4pm- 8pm. Local models (Recycled Teenagers) will be modeling clothing from various local boutiques and great food and entertainment will be provided. It will be a night of fun and fashion, and one that will help jumpstart a worthy cause. Everyone is invited to attend and all are asked to give their support to the project which will help those in our community that are most in need. An official meeting will be held on January 30th, 2011, at a location to be announced later.
To pledge your support, or to find out how you can be of assistance with this project, call 623-9962 or 651-3533. Help a worthy cause and let us all have a hand in stopping the abuse.
Follow The San Pedro Sun News on Twitter, become a fan on Facebook. Stay updated via RSS