Karen Waldrup shines onstage in benefit concert at Wet Willy's
Friday, September 28th, 2012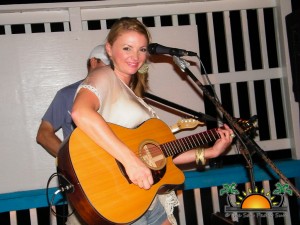 While the skies threatened a storm, the melodious voice of Karen Waldrup managed to shoo away the rain. The moon even came out and shone down on the crowd that had gathered on Wet Willy's deck. Singing several of her original songs, as well as covers of popular songs requested by those in attendance, Karen brought the house down indeed.
This writer's favorite song was definitely "Whiskey Straight", while others enjoyed "Save Paris for me". There were some raffles held during (whiskey?) breaks, and even one brave 4-year old got up and took over the stage to sing "Twinkle, Twinkle Little Star". It was an incredible night of good music, great fun, a good chance to catch up with friends over a few cocktails and super delicious $5 burgers, and all while supporting a good cause: the Mama Vilma Family Home.
Mrs. Shelly Huber got on stage to thank everyone for turning out to the event. She explained the concept of the home, which is a halfway home for women and children, and really, families – especially single parents who need a place for their children to be safe and cared for while they work to provide for them. She urged everyone to please show their support and to attend functions that will go towards building the home.
A singer/songwriter and artist based in Nashville Tennessee, USA, Karen has had quite a bit of exposure after her stint on Bravo Network's Platinum Hit fame. She received a vocal scholarship to the University of Southern Mississippi and landed a coveted spot opening for Rodney Atkins in 2009. She was also named "Top 25 Songwriter" by Great American Country in 2008. Her performance at Wet Willy's was a fantastic one indeed, complete with encore requests. Towards the very end, the skies could not hold any further, and a quick squall sent everyone inside to stay dry while mingling with the very sweet and friendly singer.
Karen will give a repeat performance for the Mama Vilma Family Home on Sunday, September 30th at Cowboy Doug's Poolside Bar and Grill at the Grand Caribe Resort from noon till 6PM.
Thanks Karen, for your generosity in donating your time and talent to such a worthy cause.
Photo Gallery
Follow The San Pedro Sun News on Twitter, become a fan on Facebook. Stay updated via RSS