Belize's Jaguars make history in 2-1 win against Nicaragua
Tuesday, January 22nd, 2013
The Belize National Football Team gave a stellar performance in the Estadio Nacional de San Jose, Costa Rica late on Tuesday, January 22nd when it faced off against the Nicaraguan National Football team. In a stunning, last minute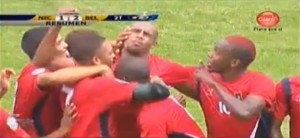 fashion, Belize's Jaguars took an impressive victory of 2-1 in its third game at the Central American Cup (UNCAF). This is the first time that Belize has won a game in the UNCAF, and the win has captured the attention of the football world. Many media houses were optimistic about the chances of Belize to do well, as there has been marked improvement in the quality of football displayed on the field.
In the game against Nicaragua, Belizeans across the nation and abroad were glued to their TV's and computer screens, anxious for a win to catapult Belize into the second round and into the history books. After 28 minutes, Trevor "Bruce" Lennon delivered, drawing first blood against Nicaragua with an impressive goal that put Belize in the lead for the first half. It certainly gave the Jaguars that boost of pride, and the
defense put up a valiant effort against the struggling Nicaraguan team. When the first half ended, it was still 1-0 in favor of Belize. Spirits were high, and upon the start of the second half, there were many attempts on the part of both teams, but it wasn't until the 84th minute, six minutes before the end of the regular time that Nicaragua evened the game.
Belize had two clear attempts following the equalizing goal, but Nicaragua's defense was hot to keep the football out of the goal. It was not until the second minute of injury time (after regulation) that Belize's superstar striker Deon McCaulay delivered the final blow to Nicaragua, scoring another heart-stopping goal and bringing the final score to 2-1.
The win puts Belize at second place with four points in Group A, and depending on the 8PM match between Guatemala and Costa Rica, may automatically qualify for the semi-finals of the tournament. The worst case scenario is that if Guatemala wins, which has been deemed highly unlikely, Belize will have to play a fourth game to win the fifth spot available for the Gold Cup.

The win for Belize is significant since it is the first time that Belize has won an international match in the UNCAF tournament. Belize lost its first game against Costa Rica 1 to 0 and drew with Guatemala in a scoreless (0-0) game. Whatever the outcome, Belize's Jaguars have put on an impressive show, and the entire nation of Belize salutes them!
GO BELIZE, GO!!
Follow The San Pedro Sun News on Twitter, become a fan on Facebook. Stay updated via RSS