Football and Family – the Deon McCaulay story
Monday, March 17th, 2014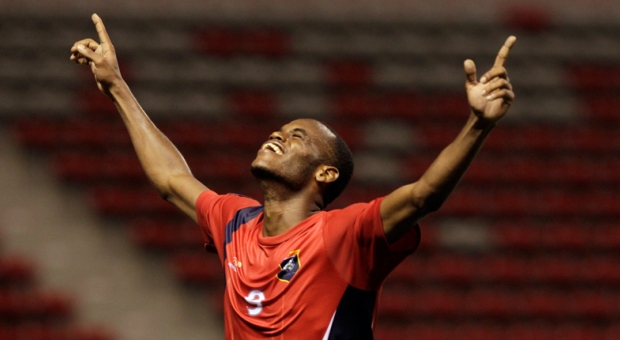 "Football saved my life." Belize's top football player, striker Deon McCaulay can thank football for much more now. He grew up in a less than ideal neighborhood, but through perseverance, has made a big breakthrough after being drafted to play with the Silverbacks of Atlanta, USA. Despite facing a dilemma when the Belmopan Bandits initially refused to give him his local football club release, the Belizean superstar has settled in and begun the pre-season with his new club. Deon McCaulay is the first Belizean to play professional football with a North American team, and has thus written yet another piece of Belizean football history.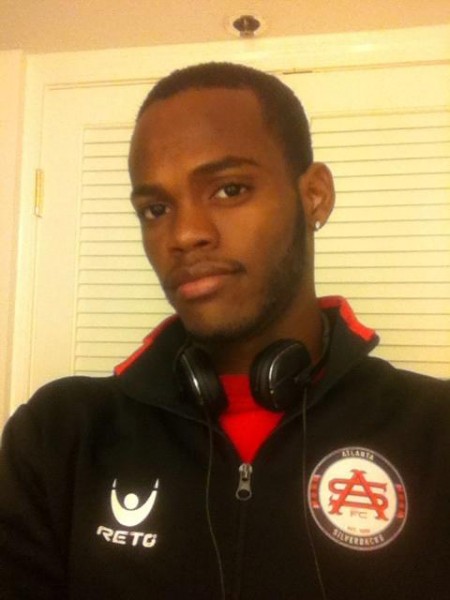 26-year-old McCaulay, father of one, spoke to The San Pedro Sun's Jorge Aldana about his dreams, his early childhood in a society that often throws curveballs at its youth, and how he succeeded in life as a player and as a Belizean man.
The McCaulay family lived on Mayflower Street, in an area of Belize City that is considered the center of a gang-ridden area. Exposure to drugs, guns and gang violence is nothing unusual for a normal youngster in the southern part of the old capital. "I played football at the Berger's Field on Vernon Street along with Raptures Football team," recalls Deon. "Instead of gangs, drug and violence, I chose playing football. I could have been on the street, but instead I concentrated on playing, spending many hours kicking ball." When asked what kept him away from the norm in his challenging neighborhood, Deon credits family and discipline. "It is not easy, but you have to have the right people around you to help you overcome those challenges. You have to be a leader and know what you want in life. My grandmother, Mrs. Evonie, was a very strict woman and if she knew that I was doing something wrong, she would discipline me. I also had a very strict uncle as well." Like any other Belizean child, McCaulay said he took "chances" and ran away to play football when growing up, opting to "deal with the consequences" when he returned home.
McCaulay grew up with six other siblings; two sisters and four brothers. "My father and mother worked hard to give us what we needed, not what we wanted," says Deon. Despite the lack of luxuries, Deon states that their childhood was filled with fun, and the best of their times was with family. Those strong family values played an important role in his becoming a professional footballer. "My dad, David McCaulay Sr. was a well-respected footballer in Belize, and is my main source of inspiration," says McCaulay. He can recall how, as a youngster, he, David Sr. and his brother David Jr. would run together every day around the Marion Jones Stadium. That ultimately led them to playing throughout their school years. "My brother and I played football together in primary school. He was the midfielder and I was the forward. We worked with each other to develop our techniques. Then we went to separate high schools; I went to Saint John's College and he went to Gwen Lizarraga High School. We would always clash at the finals, but we also looked out for each other. When we graduated from high school, we began playing football on the same teams." Football remains McCaulay's passion. "All I see in my life is football. I see it as a means of making me live a better life."
The Belizean football superstar shot to international fame when he became one of only three players in the world to score 11 goals in the qualifying games for the 2014 World Cup [scheduled to take place in Brazil]. As such he was given the opportunity to try out for several teams internationally, going as far as Greece, but none of the opportunities materialized. "When you go for these trials and do not get recruited, it is very hard on an athlete. You know you have given your best and when you are finally tested, you are told it is still not enough. It takes a toll on your mind and emotions but you have to be strong and determined," said Deon. Perseverance eventually paid off, and he was snapped up by the Atlanta Silverbacks. According to Technical Director Eric Wynalda, he had his "eye on Deon for a long time, and got a chance to see him up close at last year's Gold Cup. His talent, speed, explosiveness, and knack for scoring goals are exactly what our team needs."
Speaking about his new opportunity to play with the Silverbacks, McCaulay said he is more than humbled. "I will embrace this new opportunity. For me, it is a stepping stone. I knew that [dedication and discipline] would payoff someday, and that I would eventually succeed and reach the goals I have aspired to: playing in one of the top teams in the world. I wish for success, and this is something I will embrace and be humble about." As always, the impressive young athlete never forgets where he came from. "I am not doing this for me alone; first and foremost I am doing it for my family and for my country. I want our Belizean youth to have an example. I want them to see and understand the struggles I went through – and learn that despite growing up in a hard area, it was never an excuse for me not to succeed."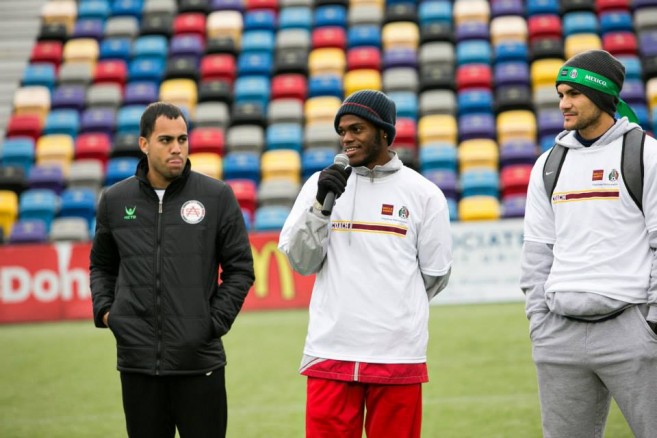 McCaulay's first international exposure was in Honduras with Deportes Savio, and he also trained with the Portland Timbers of Major League Soccer during their preseason camp prior to the 2013 Gold Cup. The Belizean has played 28 international matches with the Belize National Selection, and he scored a total of 16 goals. The 5'9" player said he is in good physical condition, having come off fresh from the 2014 Belikin Football Premier League of Belize. McCaulay, who played for Belmopan Bandits, was the top scorer with four goals scored in the finals. Those scores also earned him his MVP title.
McCaulay hopes that more Belizeans find inspiration and are encouraged to chase their dreams, seeking positivity for a better life. Deon may look up to international superstar Cristiano Ronaldo at the moment, but we're hoping that someday soon, with his passion and talent, Belizean children will be looking up to Deon McCaulay.
Follow The San Pedro Sun News on Twitter, become a fan on Facebook. Stay updated via RSS