Lobster Fest 2013- It's hAPPening!
Wednesday, June 12th, 2013
It's almost that time again and with lobster season literally right around the corner our favorite crustacean is looking to make its way ashore! In preparation for its arrival the San Pedro Lobster Festival committee has been working hard getting everything in place for the big event. The 2013 Lobster Fest promises to be nothing but amazing-and most definitely worth while to say the least. In addition to the loyal participants that partake in the event, some new businesses have jumped on board, adding to the array.

This week San Pedro Town will be sporting it's finest in lobster décor, as banners and posters for the event will be going up all around town. The much anticipated passports are also back again. All carriers are advised to attend the Lobster Crawl in order to acquire passport stamps that entitle each person's entry into a Grand Raffle which will be held at Central Park. Lobster Fest 2013 has also debuted its very own mobile APP. The app http://appsbelize.co/links/g-lobsterhttp:// which can be used throughout the week long event right through to next year's fest also offers participants a chance promote their businesses.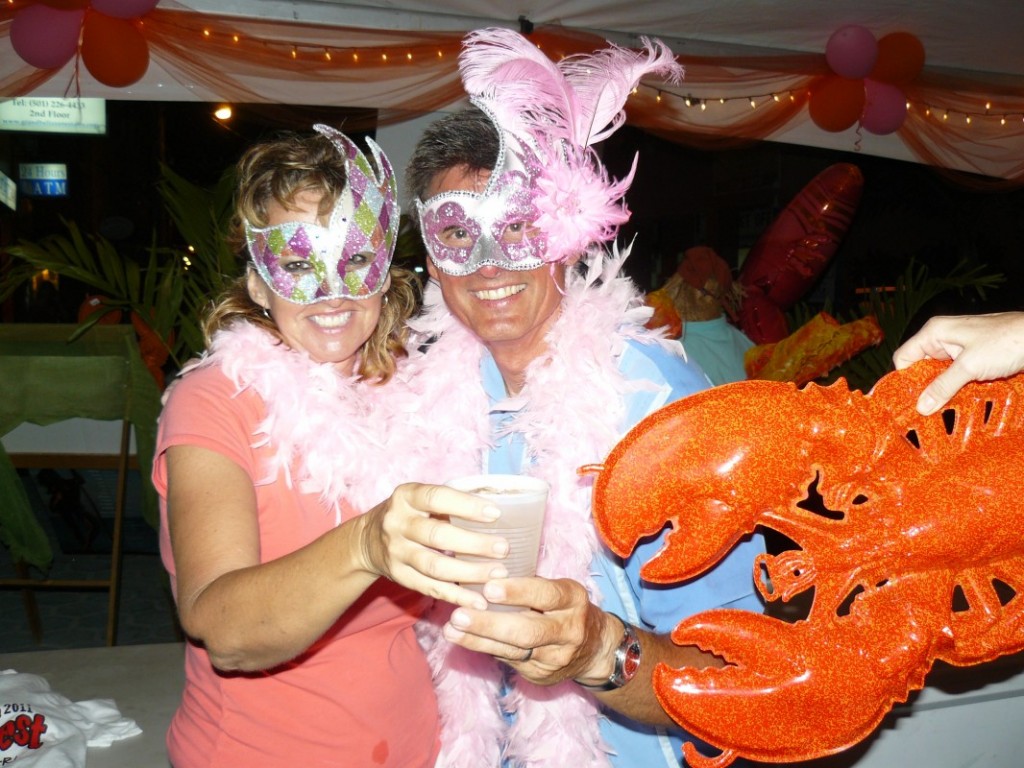 Come out and be a part of what's hAPPening! Scrumptious new dishes and drinks await you at the 2013 Lobster Fest. More information on the event can be acquired at [email protected]
Below is the Lobster Fest 2013 calendar of events:
Saturday, June 15 – Night Event – OPENING NIGHT at El Divino Restaurant at Banana Beach Resort
Sunday, June 16 – Day Event – POOL PARTY at Cowboy Doug's Pool Bar & Grill at Grand Caribe Resort
Sunday, June 16 – Night Event – Kama Lounge Beach Club
Monday, June 17 – Day Event – Hol Chan Marine Reserve
Monday, June 17 – Night Event – Crazy Canucks Beach Bar at Exotic Caye Beach Resort
Tuesday, June 18 – Day Event – Sunrise Realty on Barrier Reef Drive
Tuesday, June 18 – Night Event – Pineapples Restaurant at Ramon's Village Resort
Wednesday, June 19 – Day Event – Belize Chocolate Company
Wednesday, June 19 – Night Event – Pedro's Sport Bar & Pizzeria at Pedro's Inn
Thursday, June 20 – Day Event – SeaDuced By Belize
Thursday, June 20 – Night Event – Fido's Courtyard
Friday, June 21 – Day Event – Bistro Mestizo
Friday, June 21 – Night Event – Wet Willy's Cantina over the water bar
Saturday June 22 – Day Event – San Pedro Sailing Club at The Villas at Banyan Bay
Saturday June 22 – Night Event – Central Park Block party and Grand Raffle draw
Lobster Lovers, Please NOTE:
Due to the high demand for lobster, the Belize Fisheries department has set laws and regulations to safeguard the population of the spiny lobster for future generations. In Belize, the legal weight of a lobster tail for consumption must be over four ounces, or the carapace must exceed three inches. The carapace of a lobster is referred to the part of the crustacean where the head connects to the tail all the way to the center of the pair of small spines located between the two eyes. While lobster season will last till February 15, 2014 The San Pedro Sun reminds all fishermen to fish responsibly, and consumers to adhere to the laws in place to ensure delicious lobsters for many years to come!
Follow The San Pedro Sun News on Twitter, become a fan on Facebook. Stay updated via RSS