San Pedro Lobster Fest Committee announce activities for 2012
Friday, June 1st, 2012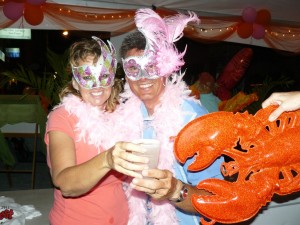 The San Pedro Business Association (SPBA) has released the list of activities for the San Pedro Lobster Festival. The one-week celebration is being held under the theme "Lobster Crawl 2012" and is scheduled to coincide with the start of the lobster season.  One of the main highlights is the annual San Pedro Lobster Fest Block Party and the introduction of a Lobster Crawl 2012 passport which is new twist to the celebration. Entertainment for the week will feature Belize's well-known Garifuna Collective, Panerrifix Steel Band hailing from Our Lady of Guadalupe RC School in Belmopan and San Pedro's Gino and the Shack Shakers.
Get your Lobster Crawl Passport stamped at each location described below, and each stamp will entitle the passport holder with a ticket to enter into a grand raffle of a vacation package for two to the San Pedro Lobster Festival 2013. The package includes complimentary hotel stays, tours, golf cart rental, bar tabs, dinner and many more surprises. The raffle will be drawn on the night of the Block Party.
Lobster Fest and Lobster Crawl 2012 Activities:
Friday June 15th: The kick-off event is at El Divino (Banana Beach Resort) featuring the opening ceremonies and a whole lot of fun. With great food, great friends and a fun atmosphere, this is always a 'must do' event, and a great way to kick off Lobster Season in Belize
Saturday June 16th: All day and night event at Fido's Courtyard. Located right on the beach in the center of San Pedro, Belize. Fido's Restaurant and Bar has evolved into one of San Pedro's most popular tourist attractions. Dance the night away to live music and feast on lobster specials. The party is always rocking at Fido's.
Sunday June 17th: DAY– Sea Horse Bar at Corona Del Mar – featuring Lobster Skewers from Caroline's Kitchen
Sunday June 17th: NIGHT – Kama Lounge – Live entertainment, Beach Party, Pool Party, Happy Father's Day!! Just North of Bridge.Criteria for guest or customer to receive raffle ticket: 2 drinks min. and will stamp your Lobster Crawl Passport. It's a Traveller's Rum Taste OFF
Monday June 18th: DAY – Lola's Pub Located at the end of Front Street. Come see us from noon to 6:00 pm, mix & match to receive your Passport Stamp. Alcoholic beverages or beer accompanied by a shot or one of our great appetizers.
Monday June 18th: NIGHT – Mojito's Bar and Grill at Aqua Marina Suites – Lobster Luau – Live music by Man at Work. The fun starts at 4pm. Free Leis for everyone dressed in Hawaiian clothing. Lobster ceviche or prepared as a curry, bbq, kebabs, tostados and more – Appetizers and Main courses available. Limbo and pineapple bowling contests – lots of prizes and surpises
Tuesday June 19th: DAY – 7am – 6pm at SEArious Adventures Get your Lobster Crawl Passport stamped when you book a tour between the hours of 7am and 6pm.
Tuesday June 19th: NIGHT – Pinapples Restaurant at Ramon's Village Resort with a Beach BBQ and Live Music on the best beach on Ambergris Caye. An exotic beachside paradise awaits you at the beautiful Ramon's Village.
Wednesday June 20th: DAY – 9am to 4pm Estel's Dine By the Sea Drink One of Estel's Fab. Bloody Mary or Sangria, Receive a Stamp on your Lobster Crawl Passport
Wednesday June 20th: NIGHT – Pedro's Inn and Sports Bar with the 'All You Can Eat' Lobster Pizza event. While enjoying live music, try your luck in the 5th annual Lobsterfest Texas Hold'em Poker Tournament or prove how smart you are in the Lobster Trivia Challenge. Be sure to arrive early, Pedro's thin-crust Lobster Pizza is always wildly popular.
Thursday June 21st: DAY – Wayo's Beach Bar All day live entertainment with Wil & Dale and delicious food from Ms. Shelly Huber. Cold drinks and great company. Get your Lobster Crawl Passport stamped when you buy one plate of food and one cocktail.
Thursday June 21st: NIGHT– Crazy Canucks – 6pm til midnight. Beach party all night long! We will be cooking up POPCORN LOBSTER and have the drinks flowing! Passport Criteria: Basket of Popcorn Lobster and a drink off the LOBSTAR menu
Friday June 22nd: DAY – Enjoy the start of the Eco-Pro Kayak Challenge during the day on board the SEAduced Catamaran Seduction, sailing along the beautiful coast of Ambergris Caye and cheering on the competitors.
Friday June 22nd: NIGHT– Wet Willy's Bar and Grill. Wet Willy's Ribs, Rum, Rock, Rap and Reggae Rodeo with DJ Raul. 6pm-Midnight. Come out early to experience a special selection of appetizers and entrees from 6pm-9pm. Enjoy delicious cocktails on the pier, as the moon rises. Raul starts the Karaoke Party at 9pm
Saturday June 23rd: Head over to Central Park during the day to catch the final leg of the 2 day Eco-Pro Kayak Challenge around Ambergris Caye. Join the Coral Ed ventures group, ( teacher students from smith collage USA) that will have beach games and competitions. And the San Pedro Sailing Club/Belize Sailing Association will be holding its first international optimist dinghy sailing race against a team from Guatemala. There will also be swimming races and food and drink for sale til 5 pm. The activities continue through the night with the annual Lobster Festival Block Party at Central Park featuring live musical performances
Sunday June 24th: (noon to 6pm) Cowboy Doug's Grill at Grand Caribe Resort at the Lobster fest after party. Lobstermania will be an interactive Facebook prize giveaway party where people can tune to Cowboy Doug's Grill Facebook page in on their smart phones and tablets, and complete challenges posted hourly to win prizes. There will also be girl 'n' guy swimsuit contest, relay races in the pool and a fill the pool float contest with prizes for strangest, silliest and biggest blow ups.
Follow The San Pedro Sun News on Twitter, become a fan on Facebook. Stay updated via RSS