SPTC and Cultural Committee host first ever Dia de la Raza celebration
Thursday, October 17th, 2013
The San Pedro Town Council working along with the San Pedro Cultural Committee celebrated, for the first time, the Dia de la Raza. The event was geared to celebrate the island's rich ethnicity while showcasing how multi-cultural Belize is. Dia de la Raza was celebrated under the theme "Promoting Unity through Cultural Diversity – Belize, a Melting Pot," and was held to coincide with Pan-American Day on October 12th.

The event kicked off with a short ceremony where the Mayor of San Pedro Daniel Guerrero applauded the organizers for keeping culture at the forefront of the island's events. In addressing the gathering, Carla Rosado of the Museum of Belize explained that San Pedro Town is living up to the national tourism mandate of "promoting cultural tourism."
Guest speaker at the event was Minister of Tourism and Culture Honorable Manuel Heredia Jr. "We at the Ministry applaud these efforts that seek to highlight our culture while promoting our country. It showcases how rich we are and how diverse Belize is when compared to our neighbors," said Heredia.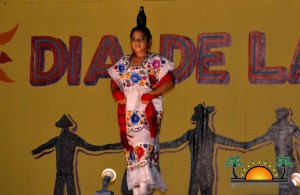 Deputy Mayor of San Pedro and Chairman of San Pedro Cultural Committee Mito Paz outlined how Belize's culture was shaped. "Belize's society today is ethnically diverse and culturally rich. Historically it is a country of immigrants, with even most of the Mayas tracing their roots to Mexico or Guatemala. The ancestors of the Mestizo population lived at one time in the Yucatan. Both groups of Belizeans – the Creoles and the Garifunas – trace their origins to Africa by way of the Caribbean."
Following the short ceremony, the stage served as the platform of unity as various cultural dances depicted diverse aspects of Belize. The San Pedro Dance Academy brought life on stage when they highlighted the East Indian and Creole in two dance segments. Meanwhile the Grupo Musical Maya Kopchen blessed the town in a traditional Maya ceremony after which they graced the stage with several indigenous dances as practiced in their home communities. Grupo Kim Pan Xa'Al of San Jose Palmar brought the Mestizo culture on the stage with the various Mestizadas. Two groups, Garifuna Melody and Punta in Belize, highlighted the Garifuna culture with various traditional dances such as the Chumba, Punta, Paranda and Jankunu dances.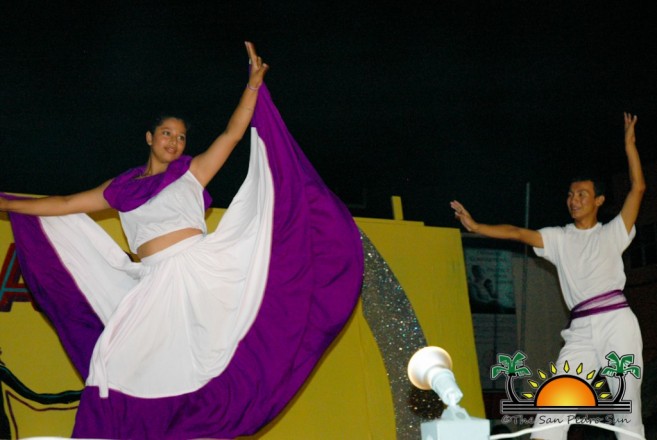 Besides the cultural presentations, there was plenty of food to enjoy. Tamalitos de chaya with pigtail, to tamales, boil corn, dukunu, rice and beans, hudut, darasa and bundiga were plentiful, and there were many happy, satisfied bellies!
According to the organizers, the event was held to coincide with other regional Latin celebrations highlighting their culture on Dia de La Raza on October 12th. It is the hope of the committee to make the cultural event on October 12th an annual celebration. The organizers took the opportunity to thank Karl H Menzies, the official distributors of Heineken, for their support in making the event successful.
Photo Gallery
Follow The San Pedro Sun News on Twitter, become a fan on Facebook. Stay updated via RSS