Guest Editorial: People of San Pedro, Enough Is Enough: ARISE!
Friday, March 28th, 2014
People of San Pedro, Enough Is Enough: ARISE, LET'S KICK ASS!
Submitted by Corry McDermott
My brother Jerry McDermott and I tried over 12 years ago to help give better living conditions for the police force on this island. We gave a house and lumber to them and nothing happened.
You ask, "Why hasn't the local and federal or national government helped us. Partly, I believe that hasn't happened for the last 28 years I have lived here, and worked and enjoyed this beautiful island and its people, not the PUP or the UDP have ever given more than $69,000BZ yearly to us these past 28 years to San Pedro. Instead, the politicians have taken millions from this island and they have talked, and talked about helping with our very much needed infrastructure, but little has happened.
Look what has happened for Placencia: fancy roads, electricity, water and sewer, and even a proposed airport and golf course.

Unbelievable, when I do believe we give the most millions to the national government than anyone. When I talked to our leaders years ago they wanted to raise the hotel tax from 6% to 7% and they would give us the 1% to stay here to help better our falling down infrastructure. That never happened, when I believe the hotel tax is now 9% and still we haven't received even half of the one percent, but after seeing we have been recently named twice in a row the number one island in the world is us, Ambergris Caye and you would think the government would want our infrastructure to be the best so our visiting tourists would want to come back over and over and as I told George Price in the 80's that the tourists couldn't hurt us. They wouldn't take jobs from our Belizeans but create more jobs for them by leaving their money when they left. He agreed and at that point tourism became the main source of income for all of Belize.
I congratulate Blue Water Grill for not being afraid for coming out and telling all 20,000 of us. ENOUGH IS ENOUGH.
If you kill the Golden Goose by not taking care of proper business on Ambergris Caye such as good roads, clean sanitation, 24 hour medical emergency care with proper doctors and nurses, better equipped and trained police officers with proper living quarters so they can be happy in their work of protecting all of the island.
Why is it that we don't have anyone running for office other than relatives of the local families, not that I'm against their being in politics and taking part with the running of our town but it is our town being all 20,000 of us, we should at least have people now living and working here legally from other countries that could have the knowledge of running other towns that they are willing to help. While for a few months I live in Minnesota I am on the appeals committee of the local town planning which I receive no income but I have gotten 5 out of the last 6 appeals approval.
I feel that at least 50% of the population here on the island are not being treated properly by the politicians, especially when they are in many cases paying more in property taxes than some of the locals or the other 50%.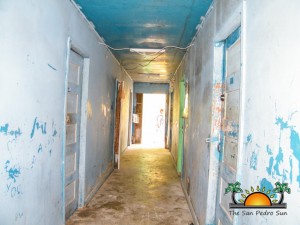 As the Blue Water Grill mentioned in The San Pedro Sun "Enough is enough." We can't just have rallies when bad things happen such as the death of the Eiley boy and others, we need to take action. We need to make our voices heard as a group writing letters or signing petitions for all the politicians involved here to make our voices and feelings heard.
Government at Belmopan let us have at least 10% to 20% of the tax monies held back here to operate our island in a proper way so when the tourists come here that they want to come back over and over as in past years and not come here to travel over water pot holes and hear about all the killings and burglaries and assaulting going on.
Enough is enough.Let's take our town back for if we just talk and not be forceful our politicians will keep doing the same thing, over and over, taking our hard earned money and give us nothing in return.

My wife asked me, where is all the accounting for all these monies we have paid especially over the past 15 years and I tell her,"Honey, I don't really know for all the accounting that we were told would happen especially at the re-election time has not been given out to the public, the ones who pay the money in, but I bet all the Politicians know up to the penny."
People of San Pedro and our police force who badly need to finish the new barracks, I will donate $30,000BZ if the Town Council through our Mayor and our Area Representative Manuel Heredia Jr. will donate the $30,000BZ also as they said they would as you stated in the last article in The San Pedro Sun. I will also put my $30,000 on the table when do they do.
People of San Pedro. Let's work together to take our town back from the bad guys to the peace and calm it once was for the benefit of all of us including our friends and the tourists that come here after hearing how great our island and community is.
Follow The San Pedro Sun News on Twitter, become a fan on Facebook. Stay updated via RSS