Ambergris Caye residents help build our blood supply.
Monday, June 16th, 2014
Submitted by The San Pedro Red Cross
Have you considered that your blood donation can one day save a life? Many Ambergris Caye residents are regularly attending San Pedro Red Cross blood drives and helping save lives by building a supply for Ambergris Caye. San Pedro Red Cross currently holds quarterly blood drives, and the next one will be September 6, 2014. The location is to be announced.
San Pedro Red Cross will e-mail any regular donors who want to be reminded about the next blood drive. If you would like to be on the Blood Drive notification list please contact: Shirlee Arnould at [email protected] or Laurie Norton at [email protected] with "Regular Blood Donor" as the email title. If you are an island resident with a rare blood type, we would like to hear from you too. We are starting an emergency contact list and if you'd like to be on that, you can also send information to either email listed above.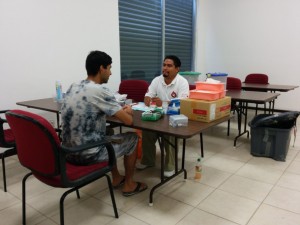 The donation process is relatively quick and takes about 20 minutes. The Belize Blood Bank have procedures in place to ensure every donation is safe for both the donor and the recipient. Thanks to everyone who helped spread the word or came out and donated. 19 pints were collected making a total of 91 pints in our island blood supply.
Please note that the blood collected in San Pedro is not sold or transferred to other communities inside or outside the country of Belize. The blood is held in trust at the Belize Blood Bank for utilization specifically by the Ambergris Caye Community. As was the case this weekend. A local resident contacted the San Pedro Red Cross Chairman Eiden Salazar, stating there was need for O- blood. Following specific procedures put in place by the Blood Bank, Salazar was happy to accommodate their request. If you are an island resident or visitor in need of blood, simply contact Eiden Salazar at [email protected] or Anthony Anderson, [email protected], and they will be happy to assist.
The San Pedro Red Cross Branch would like to thank the following businesses, organizations and individuals for making blood drives a success, and for their on-going support in creating a safe community: Tropic Air, Air Strip Taxi Association, Island Supermarket, Crossfit CSF, Freddie Gonzalez. A special thank you to Washington University Medical School for their help. In addition to hosting the blood drive, they provided cutlery and plates, posted to Facebook during the event, and provided a team of wonderful volunteers.
Follow The San Pedro Sun News on Twitter, become a fan on Facebook. Stay updated via RSS