Editorial: Seeing through the smoke
Sunday, July 20th, 2014
Now that the smoke has cleared from the recent Boca del Rio fire, it is time to take stock of the inferno that destroyed seven buildings, damaged two and left 66 men, women and children homeless.As they say 'hindsight is 20/20', and it is pretty clear to me how and why this fire was so devastating. First, let's take a look at building codes and the lack of enforcing them.

To my knowledge,one of the building codes within San Pedro Town mandates a four foot building perimeter from property lines. And why is this important you may ask; when people are trying to make the most of every square inch of land they own? If you do the math, when structures are indeed four feet away from property lines, this equals an eight foot buffer zone between buildings. In the case of a fire this distance helps in preventing the spread of fires. Chances are this is the reason behind the code in the first place. However, in any one of our neighborhoods you can see where NEW buildings are erected up to the very last centimeter of the property line, often leaving mere inches away from the next building. According to Phillip Mencias, Officer in Charge at the San Pedro Fire Department, the close proximity of the buildings was one of the main reasons the fire spread so quickly.
I also have to wonder what is the humane and HEALTHY limit to the amount of people who cohabitatein one domicile. It is astonishing that 66 people lived within these few structures. There's no doubt San Pedro Town has a shortage of affordable housing for families, but to turn a blind eye to substandard accommodations that defy building code regulations, safety and health standards is irresponsible. There are a number of neighborhoods in our community that are on the brink of a disaster just like this one, so what are we doing to avoid another fire like this?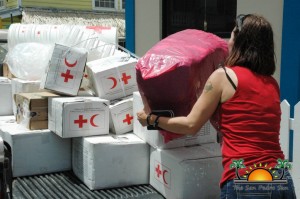 It was very impressive to see the entities that came to the rescue of these displaced individuals. From the San Pedro Lions, to Reef Radio, San Pedro Town Council, Red Cross and the National Emergency Management Organization (NEMO), as always our community takes care of our own. But I am wondering; can NEMO and our Town Council help us be better prepared for a fire? I know they work hard at advocating hurricane preparedness but can they help educate our community on how to be prepared for a fire? What do we do when our neighbor's house goes up in flames? What can we do to avoid a fire in the first place? Do we need to have a family evacuation plan for a fire, just as we should in the case of a hurricane? If we are forced to live in conditions that are a fire disaster waiting to happen what can we do to make it safer? These measures all add up to ways of preventing another disaster.
During the fire at Boca del Rio, the streets were ridiculously crowded with onlookers. What are the responsibilities of our local police during a time like this? They should be a support team for the firemen and take all steps possible in assisting them in doing their job. First and foremost crowds and street congestion must be controlled by the police so that emergency vehicles can freely pass. At one point carts and vehicles driving over the fire hose burst it, making the situation even more challenging for the firemen. To add insult to injury, some of the home items recovered from the victims during the blaze were stolen while left unattended. What kind of lowlife person would do that in the first place, and where were the police?
Instead of pointing fingers and finding blame let's try and learn from this disaster and figure out how things should be done differently the next time this happens. Let's take measures to prevent a fire in the first place, and be prepared when it does happen, because you know it will.
Follow The San Pedro Sun News on Twitter, become a fan on Facebook. Stay updated via RSS