Officer in Charge Luis Castellanos takes training leave
Thursday, September 25th, 2014
Officer in Charge (OC) of the Coastal Executive Unit, Superintendent Luis Castellanos has left the San Pedro Police Department on a training leave. To commemorate his time in office, San Pedro Police Department, along with Mayor Daniel Guerrero and Area Representative Honorable Manuel Heredia Jr., held a farewell party for OC Castellanos on Friday, September 19th at Fido's Courtyard. In addition, OC Castellanos was honored with a certificate of appreciation for his time of duty.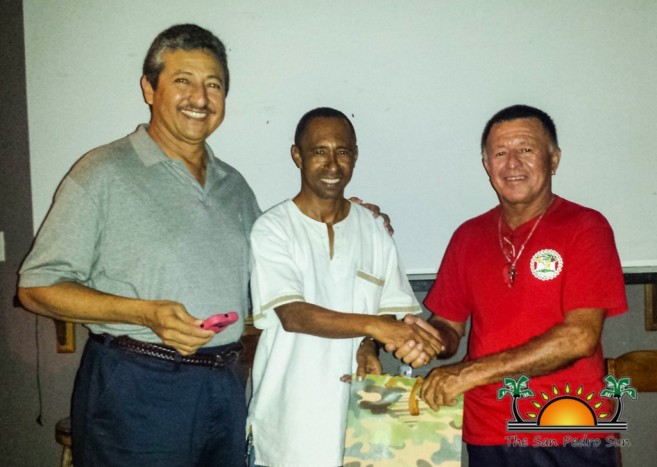 Before the party started, Heredia took the time to thank OC Castellanos for his hard work and dedication to San Pedro. "Officer Castellanos has worked diligently to improve the police department. On behalf of all the community of San Pedro, we thank Castellanos for all the efforts and achievements he has made in San Pedro," said Heredia. Mayor Guerrero also addressed those in attendance. "Superintendent Castellanos is a hardworking man. Since coming to San Pedro he has tried his best to work hand in hand with the San Pedro Town Council. We could never complain about his methods. He is a man that puts people first and encourages all his police officers to treat the community with respect. Castellanos also took into consideration his officers, and has improved their living conditions since coming here. Castellanos has truly helped improve the San Pedro community," said Guerrero.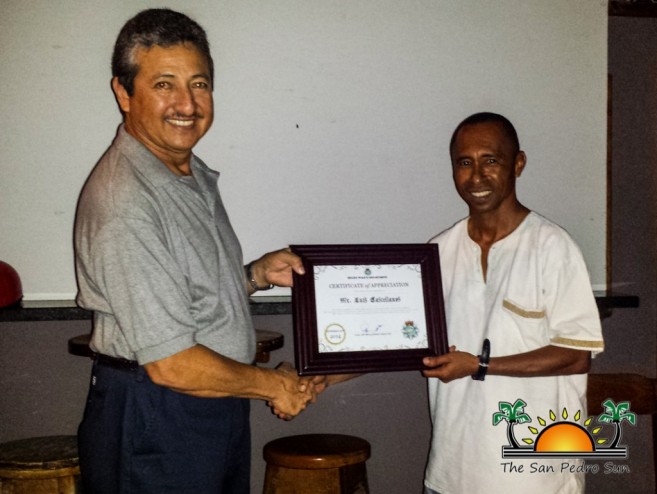 Castellanos thanked everyone who attended and encouraged the San Pedro Police Department to continue working toward improving the island. "Crime can't be stopped overnight. We all have to work together to end it. It is not only a police issue, but a community issue. The police and the community need to work together in making the island a safer environment for residents and tourists. I encourage my officers to continue practicing customer service relationships and avoid alienating the community from the police. We are here to make the people feel safe. Finally, I would like to thank the San Pedro community for welcoming me and assisting me throughout my time in office," said Castellanos.
Castellanos has served as OC since January 14, 2013. Since coming here, he has rallied for the improvement of the officers' living conditions and with the help of the San Pedro business community completed an eight bedroom police barrack. Castellanos also resurrected the community policing efforts as well as the San Pedro Youth Cadet Corp.
Castellanos has stated that his training will take place in the USA over a period of three months, more details could not be given due to confidentiality.
The San Pedro Sun congratulates OC Castellanos on his achievements and wishes him the best of luck in his future endeavors.
Follow The San Pedro Sun News on Twitter, become a fan on Facebook. Stay updated via RSS