Ramon's Village donates Speed bumps
Wednesday, October 22nd, 2014
On Monday, October 20th, the San Pedro Town Council (SPTC) was recipients of a donation of 12 pairs of rubber speed bumps from Ramon's Village Resort. On hand to make the donation was resort manager, Einer Gomez, who officially presented the speed bumps to Mayor Daniel Guerrero and Councilor in charge of traffic, Kenrick Brackett.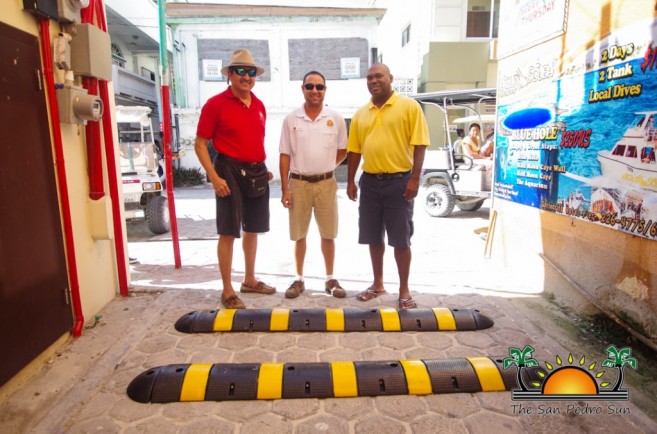 According to Brackett the speed bumps will serve to alleviate speeding in San Pedro Town. With the increase in vehicles on the island, speeding has become a major issue, and at times result in traffic accidents. "This donation is very much appreciated. We cannot take care of the traffic problem alone and these types of donation assist us greatly. We have noticed that placing speed bumps are effective at controlling speeding in San Pedro Town," said Brackett.
The speed bumps will be strategically placed in the busy areas of San Pedro, especially around the primary schools and the high school. "We are seeing an increase in traffic, and with it comes problems. What we want to do is control the problem so as to ensure that all residents are safe, especially the children. Children are not as careful as adults so it is the task of the driver to be mindful of his/her surrounding and drive with care," said Brackett.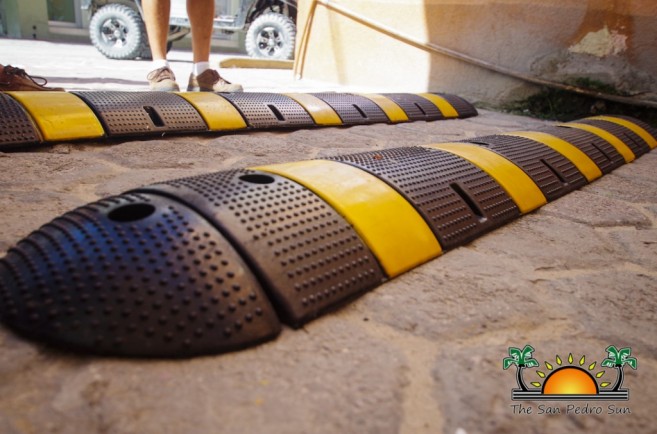 In addition, SPTC is asking the resorts of North Ambergris Caye to consider a donation of more speed bumps to be used for the newly constructed road in the area. A total of 17 pairs of speed bumps will be required to properly control traffic on the three mile cement road. "It is a must to place speed bumps in the road up north so that no accidents occur. We are asking the business community to come along with us in this effort to alleviate speeding and prevent traffic accidents. We are looking forward to more donations in the near future," said Brackett.
The SPTC would like to take this opportunity to thank Ramon's Village Resort for their generous donation. Motorists are urged to follow traffic regulations and drive at assigned speed limits, and SLOW DOWN!
Follow The San Pedro Sun News on Twitter, become a fan on Facebook. Stay updated via RSS