San Pedro Red Cross airs Vampire Commercial to inspire blood donation
Friday, November 7th, 2014
The San Pedro Red Cross (SPRC) have created an attention-grabbing commercial to promote blood donation. Featuring island telenovela stars, Josh Nuñez and Horacio "Chito" Guerrero, the commercial shows the importance of donating blood in a fun manner. SPRC aims to have at least 100 pints of blood at any point in time to be stored at the Belize Blood Bank, and used when needed by island residents.

The commercial, created in the Halloween spirit, is both scary and funny. Guerrero plays the role of a vampire who is turning SPRC members in to zombies after draining out their blood. The vampire then sets his sights on asking for blood from the Polyclinic. He is greeted by Nuñez and SPRC nurse Shirlee Arnould who are in the process of donating blood. Nuñez then explains to the vampire the importance of donating blood. The commercial was aired on Reef TV and according to SPRC member Laurie Norton, it is proving to be a great success.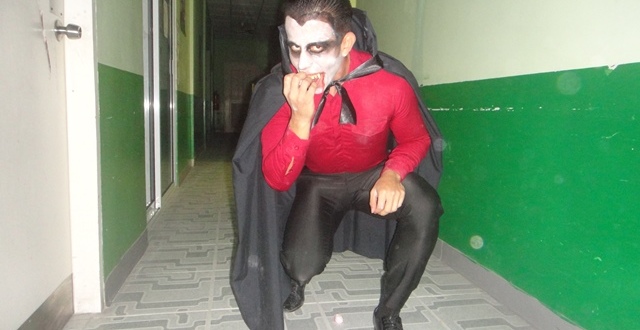 "We wanted to do a scary fun commercial to tie in Halloween and our upcoming blood drive. Telenovela stars Josh Nuñez and Horacio Guerrero were willing to play good guy-bad guy once more for a great cause. We also had some great set help, wonderful zombies and our very own Shirlee. Last-minute volunteer Matt Hoy ran with our vampire vision and we all worked together to create a masterpiece. The public response to our commercial has been amazing," said Norton.

A blood drive will be held on Saturday, November 8th at the San Carlos Clinic on Pescador Drive. The blood drive is being sponsored by DigiCell and Tropic Air and hosted by SPRC and the Belize Blood Bank. "SPRC is working hard to increase our blood supply for locals and tourists of Ambergris Caye. Donating blood is a simple process that can save lives. A single unit of blood (475 mL or 1 pint) taken during a donation which is about 8-10% of the total in your system. Your body keeps on replenishing blood all the time, whether you give blood or not, so this amount is quickly replaced. After you donate, the blood is then delivered to Belize City by Blood Services and equally allocated there for use by Ambergris Caye," said Norton.

SPRC are also inviting residents to attend a public meeting at El Divino Restaurant on Thursday, November 20th. Interested persons can also take the opportunity at the meeting to sign up to become either volunteers or members of the group.
SPRC would like to thank everyone that made the commercial possible: DigiCell, Tropic Air, Banana Beach Resort, Carts Belize, Lola's Pub, Casa Picasso Restaurant, Doctor Otto Rodriguez San Pedro Polyclinic II, Horacio Louis Guerrero, Josh Daniel Nunez, Martin Dawson, Catherine Dawson, Jack Burnette, Shirlee Arnould, Sara Brodie, Karen Brodie Photography, Kendall Beymar, Teacher Lisa, Barb Minniear, Matt Hoy, tacogirl.com, Make Belize Films, Robert Greig, Alex Gilroy Nicholas, nurses at the Polyclinic and Reef TV.

To get the latest on the work done by the San Pedro Red Cross like their Facebook page: https://www.facebook.com/sanpedrobelizeredcross.
Follow The San Pedro Sun News on Twitter, become a fan on Facebook. Stay updated via RSS